"Clean is never clean enough": Are white countertops good for obsessive cooks?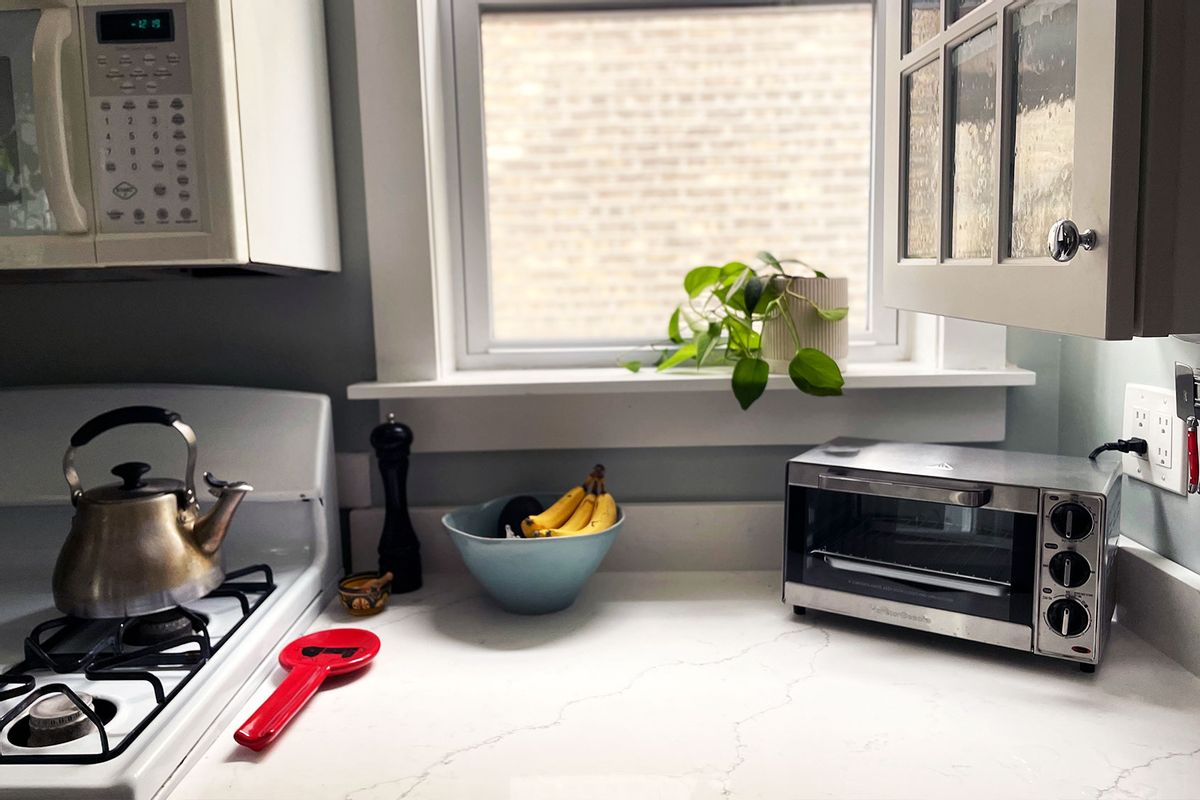 I moved into a new apartment last week. It's an old one — 120 years give or take — in a converted brick mansion with slanting maple wood floors and a non-functional butler bell in the wall of the hallway. Its kitchen cabinets are much too narrow for my oversized Le Creuset pots; oil pools to one side of the skillet when I cook on my crooked little stove; and every time I sear something, I set off the fire alarm. But none of this matters, because I've achieved an unspoken goal I've had ever since I started documenting my own cooking as a food writer in 2009: white-quartz countertops.
If you pay attention to this sort of thing (and I sincerely hope you don't), you may already know that quartz overtook poor old granite some years ago as the trendy kitchen countertop material of choice. However, my obsession with white countertops began years before I even knew what quartz was, when I started following one of the OG food bloggers-turned-cookbook author, Heidi Swanson.
A longtime photographer, Swanson started 101 Cookbooks in 2003 to document recipes from her namesake collection of plant-based cooking volumes. She lives in one of those unattainably beautiful, airy yet inviting California homes. Her kitchen is almost entirely white — like, down to her oven hood.
She shoots all of her colorful rice bowls, lush salads and pots of long-simmered soup on her white-marble countertops, occasionally accented with a dusting of spilled spices or a strategically haphazard tea towel. I remember at one point early in my food blogging days feeling viscerally devastated that I had no excuse to replace our ugly, yet perfectly serviceable, beige-granite countertops. When my husband and I installed a new backsplash in 2010, I chose white subway tile specifically to mimic Swanson's. This will at least get me halfway there, I thought bitterly. I promptly began angling all of my crappy food photos such that the snow-white tile was visible in the background.
So when, over a dozen years later, the landlord of our new place told me he was installing white-quartz countertops just before we moved in, it felt like Christmas came early for yours truly. Every backdrop a canvas of pure white, tracked ever so delicately with gray veining! I figured there'd be extra cleaning required before photographing dishes, of course. What I didn't realize was how dangerous immaculate countertops are for an already Type A person.
When you add countertops the color of freshly fallen snow to this already neurotic equation, spot-cleaning takes on Sisyphean proportions.
I am a clean-as-I-go sort of cook. I loathe the sight of piled-up dishes and prefer a tidy workspace bordering on unfeasible. When you add countertops the color of freshly fallen snow to this already neurotic equation, spot-cleaning takes on Sisyphean proportions. Every time I come into the kitchen, I find a few coffee grounds to sponge up here, or a dried-up splatter of last night's red sauce to blot out there. Clean is never clean enough when there's nowhere for the crumbies to hide.
The whole thing reminds me a little bit of saving up and waiting in line for the latest sneaker release. Once you have those coveted white Nikes in your grasp, you lovingly clean and swaddle them in protective shoe covers, and save wearing them only for favorable weather days. In this case at least, the caretaking ritual is wrapped into the joy and pride of owning those hardwon shoes, which make a bold statement every time you put them on. Other than looking amazing, I've so far found that white countertops' main function is to pile an extra chore on top of the already time-consuming task of home cooking meals most days of the week.
I remember reading an interview with Swanson on "Remodelista" back in 2015, in which she said she never bothered to seal her white marble countertops; after all, it's not meant to be a show kitchen, she said. (Isn't it though?) She is careful with saffron and turmeric — "even with micro-drops, you'll end up with yellow freckles," she noted — and red wine.
Otherwise, she just lives on it, "etchings" and all (a far posher descriptor for scratches that I have decided to adopt). Part of quartz's appeal over marble, and like granite, is its durability and resistance to stains. Yet having that knowledge somehow doesn't assuage the anxiety that strikes the moment I see a ring of oil-slicked curry from the pot lid besmirching my flawless countertop.
I suppose I'm just not cut out for real-life aspirational living. I appreciate the grace that fusty, grainy-looking granite counters afford, allowing us to leave paprika spills and dried-up lemon juice for another day because we simply can't see them. Yet like so many things, it took netting that elusive white whale to treasure what I had
Read more
from this author