Shou Zi Chew: Who is the TikTok CEO?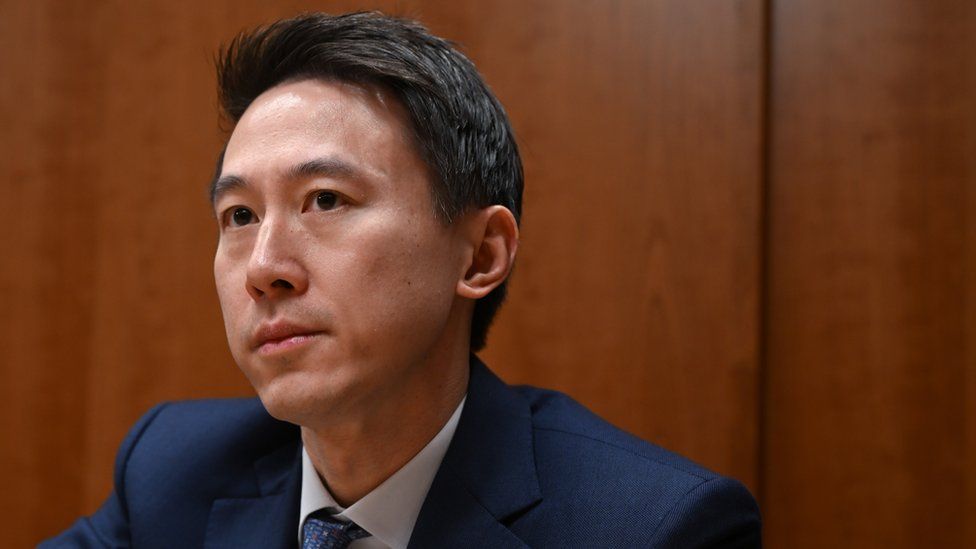 Amid growing global suspicion of TikTok that may lead to a US ban of the Chinese app, the spotlight has now fallen on its enigmatic chief executive Shou Zi Chew.
The 40-year-old Singaporean will testify before the US House Energy and Commerce Committee on Thursday about the app's data security and privacy practices, and its alleged ties to Beijing.
Little is known about the way he operates or even how much power he truly holds at the company.
Chief operating officer Vanessa Pappas has been the public face of TikTok, and was grilled by Congress last September about US data flows to China.
A New York Times profile last September, citing former TikTok and ByteDance executives, also suggested that Mr Chew's ability to make decisions is limited, and that ByteDance founder Zhang Yiming holds the reins at the company.
But TikTok is now putting Mr Chew front and centre publicly, at a time when TikTok's connections to the Chinese government are under great scrutiny.
In a letter to lawmakers last June stressing that it operates autonomously of parent company ByteDance, the company took pains to note that he is not from China but "a Singaporean based in Singapore".
Born and raised in the city state, he attended an elite Chinese-language school and is fluent in both English and Mandarin. He was an officer in Singapore's armed forces – a prestigious posting – while serving his military conscription.
Mr Chew obtained a bachelor's degree in economics from University College London before heading to Harvard Business School, where he earned an MBA and also interned at social media giant Facebook while it was still a start-up.
According to media reports, he had a five-year stint at investment firm DST, where he led a team that became early investors in ByteDance in 2013. He also worked as an investment banker at Goldman Sachs for two years.
Mr Chew then went on to play a significant role at Chinese smartphone giant Xiaomi, where he was its chief financial officer and international business president, and shepherded it through its public listing in 2018.
He jumped ship to ByteDance in March 2021, becoming the first person to fill the role of chief financial officer at the media giant.
Just two months later, he stepped into the role of TikTok CEO, in the wake of his predecessor Kevin Mayer's abrupt resignation amid the Trump administration's attempts to force a sale of TikTok's US assets.
Mr Chew now faces one of the biggest challenges of his career with TikTok, as US lawmakers call for the company to divest ownership of its US assets or face a ban.
The issue has become a sticking point for the Chinese as well.
State media outlet Global Times said in an opinion piece on Tuesday that the push for a TikTok ban is driven by a "toxic American political atmosphere" and would be a violation of free market principles. "In the eyes of American officials and politicians, TikTok's Chinese background is an 'original sin'," it added.
Facing close scrutiny on both sides, Mr Chew appears to have embarked on a charm offensive of sorts in recent months.
He set up his own TikTok account @shou.time last February to showcase glimpses of his personal life – nearly a year after he took the helm of the platform. Mr Chew's almost 18,000 followers have since seen him attending the Super Bowl and NBA games, meeting celebrities like Bill Murray, and awkwardly attempting a dance with the singer Ciara.
He has worked the media circuit, revealing in interviews that he is a golfing enthusiast and a fan of comedian Kevin Hart. The father of two, who is married to investment firm CEO Vivian Kao, has also said he does not allow his children to use TikTok as they are "too young".
In recent days he has done the rounds of major US media outlets repeating assurances that TikTok does not pose a threat to US interests.
He has also appealed directly to the app's US users for help. In a video posted on TikTok's official account on Monday evening in Washington, he asked them to tell him what they want to say to lawmakers.
In the clip which has garnered more than half a million likes, he says: "This comes at a pivotal moment for us. This could take TikTok away from all 150 million of you."