Imprisoned "Tiger King" star, Joe Exotic, is running for president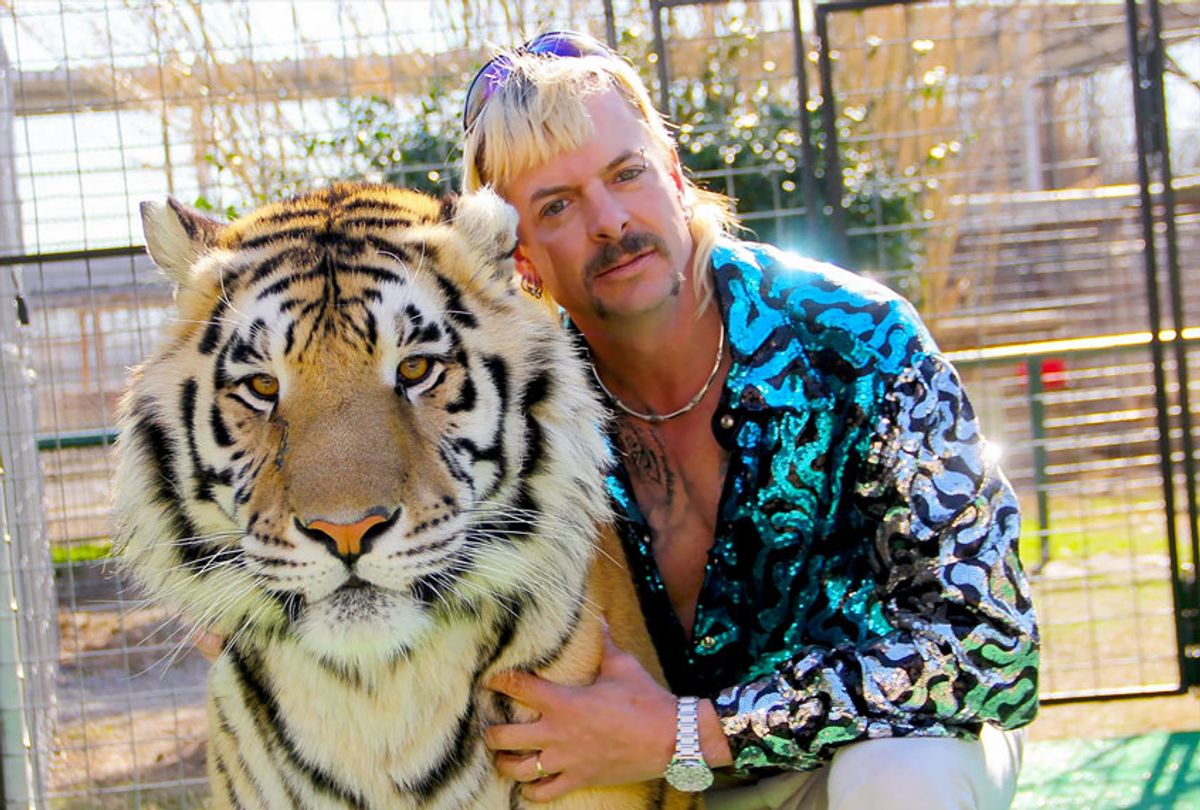 Joseph Allen Maldonado, who is best known as Joe Exotic from the 2020 Netflix true crime documentary, "Tiger King," announced last week that he's running for president. And he's serious.
Currently serving a 21-year federal prison sentence in Fort Worth, Texas after being found guilty of crimes related to a murder-for-hire plot against wildlife activist Carol Baskin, as well as a string of violations of the Endangered Species Act, Maldonado has tapped former Rep. Liz Cheney (R-Wyo.) as his running mate saying "the woman has guts."
According to New York Post, the controversial reality TV star will be running as a Libertarian, which is something he'll have to work around when it comes to his pick for VP.
"I mean, obviously she's a Republican and I'm a Libertarian, so we'd have to discuss some items," Maldonado said in an interview with NYP from prison.
After gaining notoriety from "Tiger King," Maldonado caught the attention of the Trump family in 2020, resulting in buzz of a possible pardon, which ended up being more of a joke than anything else.
"I think Melania may have shown him [Trump] one of the memes that I had posted," Trump Jr. said during a question-and-answer session on Facebook. "It was like Donald Trump's face with a Tiger King mullet, which was pretty epic."
Per NYP's reporting, this "joke" put false hope in Maldonado's mind and after he was unable to convince the president to actually set him free, he came up with the decision to run himself.
---
Want a daily wrap-up of all the news and commentary Salon has to offer? Subscribe to our morning newsletter, Crash Course.
---
"I am going to have a voice this time, whether it's with the Libertarian Party or if I have to change it at the last minute to a different party, Maldonado said. "I'm going to make America listen to what's really going on in this country."
"Vote Joe Exotic. Let's fix this s**t," he says in a campaign clip posted to Twitter.
"What this country needs is a president that's gonna say, f**k this s**t, we're not gonna take this anymore," he says in another clip.
A lengthy announcement was posted to Maldonado's campaign website, a portion of which can be read here:
"Thank you for your interest in my Campaign. Yes, I know I am in Federal Prison and you might think this is a joke but it's not. It is my Constitutional right to do this even from here.

I have been put here only because of the corruption in the Department of Justice, three felons that were told how to lie under oath to further this agenda, two corrupt Assistant U.S. Attorneys, two corrupt FBI Agents. and one corrupt Federal Wildlife Agent.

As seen by the evidence at www.joeexoticusa.com/evidence, you can see that they have admitted to perjury and they even had a plot to kill me before they set me up. I hope that you would take the time to educate yourself before judging me any further than most of you already have, because during this campaign and my life, I have not, and will not, judge you. That is why I am doing this, to finally give you a voice and your freedom back without fear of living in a country that thinks they own you and can tell you how to live your life.

The only thing I did was put five very old, crippled tigers to sleep in the most humane way possible and it was approved by my USDA Inspector, so it's time to get over it. PeTA kills thousands of animals a year. Carole has killed over 226 big cats and most of you eat some kind of animal everyday, so it's time to move past this issue.

I am here because I have a world platform to make these politicians listen to your and my concerns and give us some answers for once because all they do is lie to all of us, take our hard earned money calling it taxes, and give it away to foreign countries without them giving us anything back."
Read more
about this topic