How Napoli, the team of Maradona and 'Kvaradona,' became Europe's best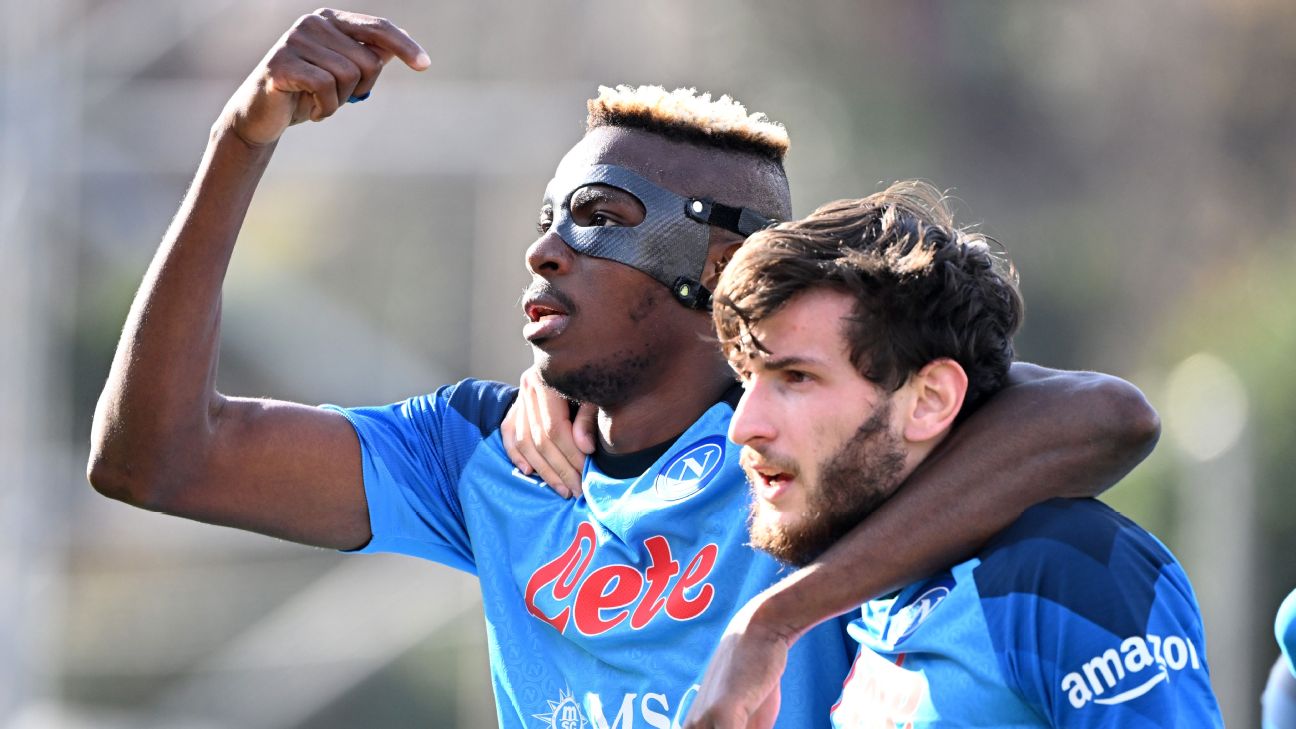 Every week, Luis Miguel Echegaray offers his latest thoughts from the world of football. You have the analysis; now comes LME's commentary.
Welcome to The Tap-In.
---
A ballad for Napoli
There's a scene in "Maradona," Asif Kapadia's wonderful documentary about the iconic Argentine player, that essentially paints the perfect picture of Napoli as a cathedral of Italian football. It's actually the opening sequence.
It was the summer of 1984 and moments after his arrival to the city, Maradona entered the Stadio Sao Paolo (which was renamed after the man himself passed in 2020) where more than 75,000 Neapolitans greeted him with overwhelming warmth.
At the time, the city felt the unwanted child of Italy, forced to accept its role as the proverbial "peasant" while the North sneered. Maradona's introduction, therefore, represented the beginning of a new chapter for him and Napoli. This was a revolution for a mainland Southern team, and the people were ready to create history. The noise inside the stadium was overwhelming and Maradona soaked it in, both a protagonist and a witness of history. He may have been born and raised in Lanús, Argentina, but he could sense he was finally home.
Less than three years later, thanks to a gradual rebuilding project, Napoli were finally kings of Italy as they won their first-ever Serie A title in the 1986-87 season. They even became the third Italian team to win the double after beating Atalanta in the Coppa Italia. The 1989-90 season gave them their second league title … and their last.
– Stream on ESPN+: LaLiga, Bundesliga, more (U.S.)
Trophies have been scarce since then, and many supporters wondered if Maradona's era was a cruel anomaly as Juventus and the two teams in Milan continued their winning trend. The late 1990s were notably tough as Napoli suffered relegation in 1998; things worsened when they declared bankruptcy in 2004 and were forced to play in the third division.
The door seemed to be closing on this proud franchise. But eventually, something amazing happened as famous movie producer Aurelio De Laurentiis bought the club. The promise was simple: financial stability and a sense of redemption. Fans were apprehensive — he was from a totally different industry and surely did not understand the intricacies of a blue-collar, resilient fanbase. In the end, ownership began the process of getting the club out of Serie C and the support never disappeared. Not only did supporters continue to stand behind their team during these tough times, their love for Napoli strengthened. In fact, attendance was bigger in those days than for some clubs in Serie A, helping fuel the club's resurgence.
That's the thing about Neapolitans, something Kalidou Koulibaly would often say. The love, and the support, is always there, no matter the challenges. Eventually, the club would crawl its way back to the top flight, step by step, brick by brick. It only took them three years.
Securing top-flight soccer was one target, but the proverbial treasure — their dream of becoming league champions once again — was the bigger, almost impossible challenge. In the past 10 years, they have come close as Napoli have finished in second place four times, but alas, the ghosts of Maradona, relegation and financial insecurity continued to pressure Napoli players who wore the shirt.
Well, here we are. It's been 33 years since their last Scudetto and this city, which I deeply admire as it reminds me of New York and its chaotic nature, is alive once again because their club — saved by a man who loves to make money out of movie magic — is turning dreams into a reality.
– O'Hanlon: Picking a Champions League winner in 2022-23 (E+)
The Napoli of today, managed by the charismatic, eccentric and well-respected Luciano Spalletti, are currently top of the table and they're not just leading Serie A — they're dominating it. As I write this, the club leads the table with 59 points, fully 15 points ahead of their closest adversaries, Inter Milan. They have only lost once in the league this season (1-0 to Inter on Jan. 4) and quite honestly, as they also prepare for an encounter against Eintracht Frankfurt next week in the round of 16, they could also win the Champions League.
There is no hyperbole here: Napoli are the real deal.
"Much of the success is thanks to their director Cristiano Giuntoli," says my good friend, the king of transfers and Naples-born Fabrizio Romano. "Together with De Laurentiis, they decided to sell many of the legendary players that were not so well-known. … It was a big risk, but so far it's been excellent and together with Spalletti, they did an incredible job finding the right players for low fees. All these new players are worth three times more than what they paid for. The team is unbelievable."
Echoing the words of Romano and my colleague Gab Marcotti, who wrote about it in October, Napoli's renaissance is an example of smart reloading, budget-saving and smart scouting. Older players, or those on relatively big contracts (Lorenzo Insigne, Dries Mertens, Fabian Ruiz, Koulibaly), were allowed to leave in exchange for a number of smart acquisitions that were either forgotten, overlooked or even — in the case of the wonderful Georgia international Khvicha Kvaratskhelia — essentially ignored by almost every big club in Europe.
Signed for €10 million from Dinamo Batumi, "Kvaradona" (as he is known in these parts) is a wizard. He and the equally electric Nigeria striker Victor Osimhen are creating havoc against any opponent who dares cross them. Together, they have 26 goals (Osimhen leads the league with 17) and 12 assists (Kvaratskhelia leads the league with nine). It's not just about them, however, as players who either arrived last summer or veterans who feel rejuvenated are contributing. That's all thanks to Spalletti, who has been able to help each player understand the pressures of delivering results while also creating a cohesive chemistry.
Defensively, they freshened up thanks to the arrivals of South Korea international Kim Min-jae from Fenerbahce and the Uruguayan defender Mathías Olivera from Getafe, the latter of whom features as a strong squad player. How about the Macedonian 23-year-old Eljif Elmas, who often comes off the bench to create havoc? Or Mexico's most important attacker Chucky Lozano who, under Spalletti, has discovered a strong role, perfectly fitting on the right wing? He has three goals and three assists this season and is a potent menace in attack.
Speaking of assists, like apples from a seasoned tree, they are dropping everywhere. The veteran Piotr Zieliński — he's only 28, but has played almost 250 matches for Napoli — has six, the same number as Portuguese left-back Mario Rui. Spalletti's message is clear: Everyone must contribute. In fact, seven Napoli players have at least three assist contributions, and this type of collective productivity speaks to how they're a team that don't care about what you have; they only care about how they can hurt you from multiple angles.
There is a fire that burns under Diego Maradona Stadium these days, and Napoli fans know that finally the league title is there for the taking. The focus, therefore, is on winning every game. Every single one.
This focus might explain why they're canceling out the noise in the transfer market and did very little in January. If it ain't broke, Spalletti is thinking, no need to fix it, right? There is obvious interest for some of their players, specifically from the Premier League, as big teams from the richest league in the world see Kvaratskhelia and Osimhen as must-get-no-matter-what summer targets. But Napoli are not biting. They're not even picking up the phone. In fact, players also aren't doing many external interviews as the club guard against any distractions. Everything — absolutely everything — is about the title.
"The reality is that it's impossible to describe what's going on in Napoli right now because they're not even negotiating," says Romano. "They don't want to speak to any club or any agent; they just want to isolate the squad. … They haven't won the Serie A title in more than 30 years … so to have this opportunity is too special for them.
"We have to see what happens at the end of the season because interest is everywhere for these players, but the reality is that no one knows how much Napoli will ask."
Equally, just like their team, Napoli fans are not concerned about the future as their eyes are solely focused on what's happening right now. They know they're so close. Can we even dare imagine what the city will be like if it happens? How are Neapolitans feeling?
"The mood in the city is mad," says Romano. "I've recently been there, and it's a city I of course know very well. [The fans] are completely crazy for this team. They are preparing a big, big party. They will never say it in public because it's not in Napoli's style — they prefer to keep things quiet — but they're preparing something really historic. Get ready, because the images you will see from Napoli are something many have never seen in the club's history."
Oh, I think we are ready — including Diego, who is surely smiling from above.
Napoli, oh Napoli. Like a mountainous series of formidable waves crashing against the cracking rocks of Italian football, you are most definitely back.
If I were Juventus, Milan or any team in Serie A, I would take cover.
Napoli's universal support
When you support a club, that unconditional love through the good and bad transcends any kind of limitation, including geography. My cousin Allegra Camaiora is a perfect example. Born and raised in Lima with Italian roots, Allegra is an obsessive soccer fan and an even bigger Napoli supporter. She's also the president of Napoli Club Perú and nearing an official announcement of being named a Peruvian/South American representative for the club.
"Napoli supporters in South America have increased enormously over the past couple of years," she tells me. "You can find die-hard fans in every country who follow every game and support the team in all possible ways, even if most have never been able to watch a single live game. There are also some undeniable connections between Napoli and South America.
"Maradona's legacy is definitively the strongest and most obvious. In my case, I started following the team after admiring what Edinson Cavani did in the 2010 World Cup. In that season (2010-11), there were seven South Americans playing for Napoli."
There is a quintessentially global identity to Napoli and in many ways, the club feel like an immigrant's story. Sure, there is a tremendous amount of respect and support for their academy-developed, local players who have worn the shirt with indomitable pride — Insigne, Fabio and Paolo Cannavaro, Ciro Ferrara and many more — through the years, but it has also been a symbol of international recognition. The fact that their stadium is named after an Argentinian says it all.
"When asked how we became such big fans of a team located more than 6,000 miles away, we like to use a phrase that is sung by ultras in the stadium: Un giorno all'improvviso mi innamorai di te," says Allegra. "This translates to: 'One day suddenly, I fell in love with you.' Most of us don't have any connection to the city or the club itself, but we somehow developed such strong feelings towards the team."
Napoli's success, therefore, is felt far beyond the neighborhoods of Fuorigrotta, Rione Sanità and the upscale Rione Sanità, and if they win their first title for more than three decades, the party Romano is talking about will also be felt in Lima, Buenos Aires, Montevideo and beyond.
Tweet of the week
The great, iconic Raquel Welch passed away Wednesday. One of the most influential actresses, the Golden Globe winner, died "peacefully early this morning after a brief illness," her manager Steve Sauer confirmed to outlets.
Here she is kicking a ball about, wearing a Chelsea shirt.
Rest in Peace, Raquel Welch, an absolute icon.

Born Jo Raquel Tejada, her father was Bolivian. "The essence of who I am is a Latina," she once said.

Here she is on the set of Hannie Caulder wearing a Chelsea shirt kicking a ball around.

(photos by Terry O'Neil) pic.twitter.com/zs6tYocud2

— Luis Miguel Echegaray (@lmechegaray) February 15, 2023