The origins and evolution of Galentine's Day
Sure, Valentine's Day continues to steal the show in February, the month of all things love and romance, but the far more inclusive and arguably better holiday is Galentine's Day.
Galentine's Day began as a fictitious holiday introduced on prime-time television and is a friendship version of Valentine's Day. Think Galentine's Day is to Valentine's Day as Friendsgiving is to Thanksgiving. In the same vein as its successor, Galentine's Day is celebrated via gift giving, endearing acts of service and quality time. So, be sure to send your close friends a sweet message, surprise them with their favorite treats or share another kind gesture that lets them know you're thinking of them.
What makes Galentine's Day so fun is that it can be celebrated by everyone, whether you're married, in a relationship or single. And although the pseudo-holiday did begin as a festivity just for the "gals," Galentine's Day has transformed into an inclusive celebration in recent years.
Here's a closer look at the fictional holiday, from its origins and evolution to its celebrations today:
What exactly is Galentine's Day?
Galentine's Day is celebrated on Feb.13, the day before Valentine's Day. The term was first coined over a decade ago by Amy Poehler's Leslie Knope, the plucky protagonist of NBC's hit sitcom "Parks and Recreation." In the 16th episode of the show's second season, Leslie gathers a group of her close friends at a restaurant, where they enjoy breakfast foods in true Leslie fashion:
"What's Galentine's Day? Oh, it's only the best day of the year," she explains. "Every February 13th, Leslie Knope and her lady friends leave their husbands and their boyfriends at home and just kick it breakfast-style. Ladies celebrating ladies. It's like Lilith Fair, minus the angst. Plus, frittatas!"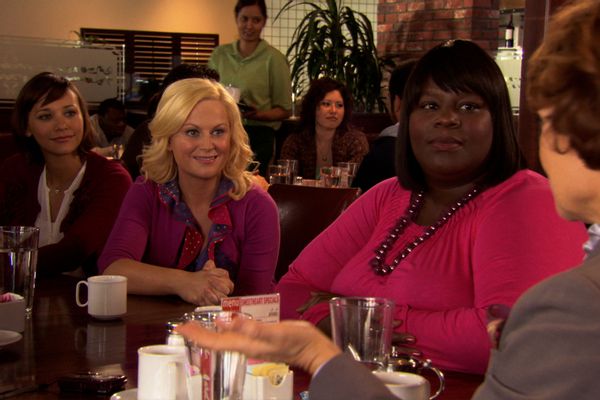 "Parks and Recreation" Season 2, Episode 16 "Galentine's Day" (Courtesy of Peacock)
Leslie then gives her friends gift bags, each filled with a bouquet of hand-crocheted flower pens, a personalized mosaic portrait made from the crushed bottles of their favorite diet soda, and a 5,000-word essay of why they're all amazing.
Years after the episode's release, Galentine's Day has been adopted in the real world as more individuals celebrate the joys of friendship. Major retailers, companies and brands have also jumped on the bandwagon, releasing Galentine's Day-themed merchandise in addition to Valentine's Day goodies.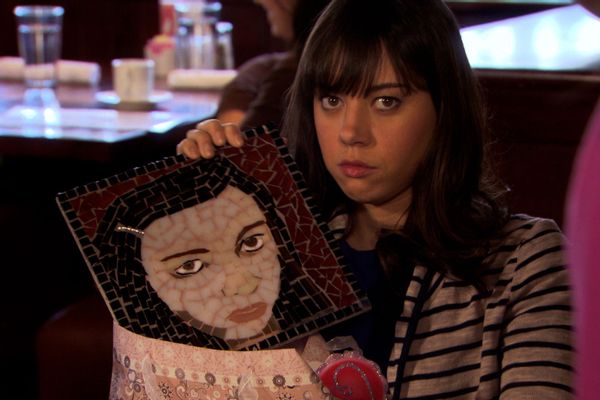 "Parks and Recreation" Season 2, Episode 16 "Galentine's Day" (Courtesy of Peacock)
The evolution of Galentine's Day
Although Galentine's Day is now synonymous with girl power and female empowerment, that wasn't always the case. In fact, Feb. 13 used to be widely known as "Mistress Day," when unfaithful men indulged in their affairs before spending the 14th with their wives and girlfriends. Take it from Ryan (B.J. Novak) from "The Office," who knows that the day before Valentine's Day is the worst time to hook up with someone, especially your coworker.
Galentine's Day has since changed that narrative. As Megan Garber wrote for The Atlantic, "Galentine's Day was, in its initial conception, the character of Leslie Knope, fictional woman, realized in micro-holiday form: insistently earnest, aggressively generous, finding deeply canny methods of ensuring that every social occasion will involve the consuming of waffles."
At its core, Galentine's Day is fun. It's joyous and it's lighthearted. But its original concept only spotlighted cishet women and female friendships (hence the "gal" in Galentine's).
To make the holiday more inclusive, Galentine's Day is also called "Palentine's Day" by many. Similar to Galentine's Day, Palentine's Day is the time to celebrate and appreciate all of your friends, regardless of their gender.
Galentine's Day today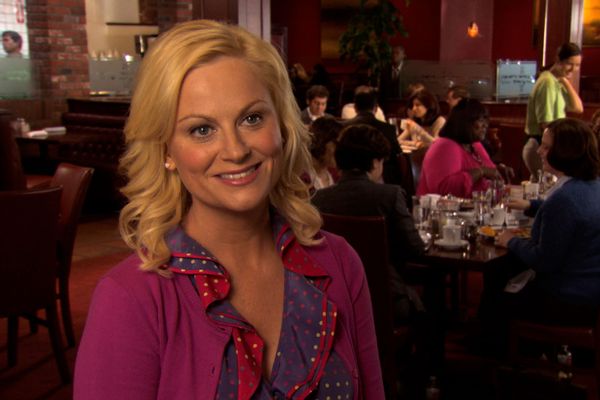 "Parks and Recreation" Season 2, Episode 16 "Galentine's Day" (Courtesy of Peacock)Like Festivus, the made-up holiday on "Seinfeld," Galentine's Day seems to have taken hold. Even more so since it seems to have been adopted more universally.
Per an annual survey released by the National Retail Federation (NRF) — the world's largest retail trade association — and Prosper Insights & Analytics in 2019, people are spending more on chocolates, roses, cards and gifts during the week of Valentine's Day.
"The vast majority of Valentine's Day dollars are still spent on significant others, but there's a big increase this year in consumers spreading the love to children, parents, friends and coworkers," said NRF President and CEO Matthew Shay.
Overall, 51% of individuals said they were planning on celebrating Valentine's Day while 49% said they were not. Among the latter group, "11% plan to treat themselves to gifts like clothing or jewelry and 9% plan to get together with other single friends or family," the survey noted.
As for Galentine's Day merch, there's plenty available on Amazon, Target and Walmart, including themed cards, jewelry, toys and decorations.
It's fascinating to see just how popular Galentine's Day is today, all because Leslie Knope wanted to eat waffles with friends.
All episodes of "Parks and Recreation," including "Galentine's Day," are now streaming on Peacock.
Read more
about fictional holidays: