I Struggled With PCOS-Induced Hirsutism. Here's How I Found My Confidence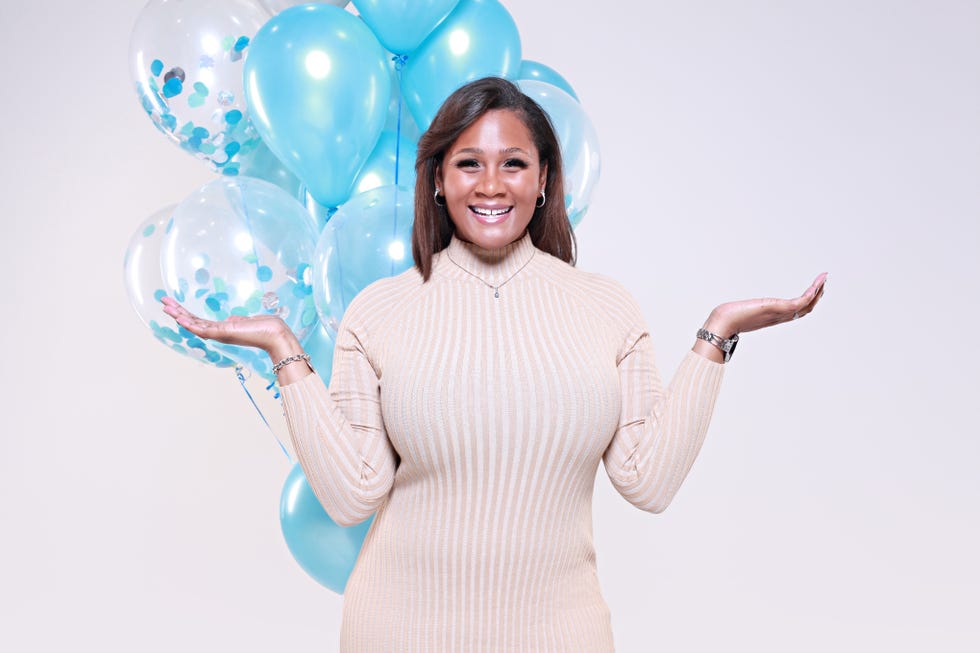 The teenage experience is fraught with angsty firsts—navigating puberty and the bodily changes that come with it, finding a place among the high school social hierarchy, the pangs of a classroom crush. Dealing with it all is a lot. Then imagine if you threw a condition with debilitating physical and mental symptoms into the mix.
This was the case for Megan Stewart, who was diagnosed with polycystic ovary syndrome (PCOS) at 16, years after first experiencing a litany of symptoms. PCOS is an endocrine disorder caused by an imbalance of reproductive hormones. It can produce cysts in the ovaries, which impede the natural ovulation process, leading to irregular periods. It also has symptoms like weight gain, chronic stomach pain, mood swings, and excessive body hair growth (hirsutism). Ultimately, PCOS is the most common cause of infertility among women of childbearing age, according to the Endocrine Society.
Thanks to higher levels of androgens (male hormones), as many as 70 percent of women with PCOS can experience excessive hair growth in areas typically seen in men—the upper lip, chin, breasts, lower abdomen, inner thighs, and lower back. On an emotional level, this can be one of the most frustrating symptoms to deal with for those affected.
For Stewart, the hair growth also led to hyperpigmentation. "I kept my hair long my whole life to try to hide [the facial growth and marks] and I didn't put myself out there much because I was so embarrassed," she says.
Even so, Stewart, now in her 30s, was determined not to be defined by the disease—or suffer in silence. Ten years ago, she co-founded the PCOS Awareness Association to help support others with the condition, spread awareness, and provide resources. Today, it ranks as the world's largest nonprofit organization dedicated to polycystic ovarian syndrome.
Trial and Error
An estimated five million women in the U.S. suffer from PCOS, a lifelong condition. Management ranges from changes in diet and exercise to hormone therapies. On the cosmetic front, getting rid of unwanted hair is possible.
For Stewart, finding a method that worked was a long but ultimately successful road.
"Waxing, tweezing, electrolysis—I've tried them all over the years," Stewart says. "Tweezing caused inflammation and hyperpigmentation. Waxing left thick patches of dark skin. And electrolysis never got rid of the hair—it just kept growing back."
About a year ago, she tried Milan Laser Hair Removal for laser hair removal treatments on her face and neck, abdomen, and underarms—but not without some trepidation. "As a Black woman, I was a little worried about side effects," she says. "I tried laser hair removal 15 years ago and it burned my skin. But my provider at Milan explained that laser technology has advanced and is now more effective and safe for people of color."
PCOS and Laser Hair Removal
"Our laser has the ability to treat all skin tones," says Shikhar Saxena, M.D., CEO of Milan Laser, which has over 260 locations across the U.S. explains. "There are a few hair colors and types you can't treat—peach fuzz, grays, or white hair—but as long as there's some degree of pigment to your hair, the laser can pick up on that. And it's safe for all areas of the body."
A major difference with laser hair removal compared to other methods like shaving, waxing, or depilatories is that it's a permanent solution. Laser hair removal is successful in getting rid of hair in sensitive areas like the face, neck, and chest because it's precise enough to target the hair follicle and eliminate it at the root without damaging your skin, Dr. Saxena explains. This precision also helps reduce the chance of inflammation and hyperpigmentation.
While each person is unique, people with PCOS tend to require more sessions than the average patient, Dr. Saxena says. "Laser hair removal treats hairs that are actively growing, but PCOS can cause dormant hairs to become active at various times, causing new growth," he says. Because treatment needs vary, Milan Laser offers an Unlimited Package, which starts as low as $29 per month and covers as many sessions as needed for smooth results.
The Physical and Mental Results
Stewart calls her experience with laser hair removal a "blessing." A year in, she hasn't had to shave or pluck any excessive hair growth. "The last time I saw my mother, she looked at my skin—without any hair growth on my face and neck—and started crying," she recalls. "She says I've come out of my shadow."
And several months ago, Stewart had the confidence to do something she never would have imagined: She got seven inches cut from her hair.
"The fact that I can literally just throw on moisturizer and sunscreen in the morning and go, and not have to worry about being self-conscious about the dark marks or visible hair, has been amazing," she says.
For more information about laser hair removal visit Milanlaser.com or @milanlaser on social media.