AmazonSmile closes: Charities say they will suffer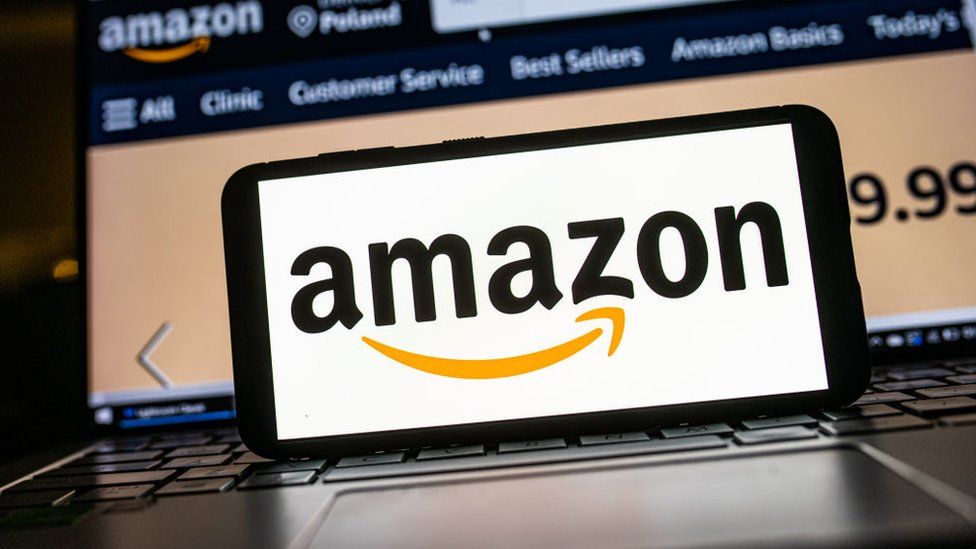 Charities have told the BBC of their disappointment at Amazon closing its charity donation scheme by 20 February.
The BBC has spoken to several UK charities about the end of AmazonSmile, a scheme that allows customers to donate to a charity of their choice when purchasing items on Amazon.
The firm said the scheme had not had the impact it had wanted it to.
But charities have said they are sad to see it go, with one saying small charities will suffer the most.
In an email, the online retail giant said AmazonSmile had not "grown to create the impact that we had originally hoped", noting that the average donation to UK charities in 2022 was less than £137.
It said it will donate an amount to participating organisations equivalent to six months of what they earned from AmazonSmile in 2022.
The scheme was launched in 2013, and saw the corporation donating a small percentage of the sale price of items on its website to a charity chosen by the customer.
James Jackson, RSPCA head of corporate partnerships, said it was "disappointed" by the closure of AmazonSmile, through which it has raised £430,000 since 2017.
"While we're saddened to see AmazonSmile close, we note Amazon's commitment to prioritising other philanthropic projects instead," he said.
Amazon engages with other charitable causes, as well as having a product donation programme, which it says provided more than 15 million essential goods to those in need in 2022.
Vanessa Martin, founder of the Childhood Tumour Trust, criticised Amazon for saying the scheme had not had the impact it hoped for.
"For tiny charities like ours that rely on fundraising to exist, the phrase 'every penny counts' couldn't be truer – particularly in the times we are living in," she said.
The charity she founded aims to help families with children who have been diagnosed with neurofibromatosis, a condition that causes tumours to grow on nerves.
She said it had raised £2,000 through the scheme – enough money to send five children to a therapeutic camp.
"It's still a lot of money," she said. "Their attitude is crazy… when we are happy with a £10 donation, are they saying it's better to not give anything?
"No doubt, it will be the lesser-known [charities] that suffer."
The impact has been felt at charities worldwide, with the Global Sanctuary for Elephants saying it was "upset by this inconsiderate decision", and US-based SquirrelWood Equine Sanctuary saying the donations it had received "meant the world".
Cheryl George, fundraising manager at Hope Rescue, which aims to save stray and abandoned dogs in South Wales, was also critical of Amazon for questioning the impact of its charity scheme.
"They haven't asked what the impact is," she said.
"They can ask us for an impact report, they can ask the charities out there – what impact is it making?"
She said the donations were not a one-way street.
Charities including Hope Rescue, and others the BBC spoke to, explained they would promote AmazonSmile when emailing patrons.
"They've had years and years of free marketing from small charities," she said. "It hasn't been all about goodwill, there's been benefits to them doing AmazonSmile as well.
"I think they have a social responsibility to give back."
This morning's inbox has been full of price increases from our suppliers & notification from @amazon that they are dropping their brilliant #AmazonSmile programme which raises @ £6k a year towards our running costs & supports so many charities. It's going to be a tough year ☹️ pic.twitter.com/xQW8gswqkd

— Hope Rescue (@HopeRescue) January 19, 2023
Paul Howard, chief executive of Lupus UK, told the BBC the charity has received £14,500 as of November 2022, and the closure would result in "sorely missed income".
"Our income has been significantly hit since 2020," he said.
"We have vastly increased our spending on welfare grants for lupus patients to help them manage throughout the pandemic and now the cost of living crisis."
Amazon has urged charities to create their own wish lists on its site.
It also says it has launched a new section of its website where charitable organisations can open their own storefronts and keep all of the profits on sales.
Large charities such as Cancer Research UK, which raised £1.4m through AmazonSmile donations, told the BBC it was "looking forward" to working with Amazon on its upcoming store.
But Becky Rowson, corporate partnerships manager at Crohn's and Colitis UK, which helps people living with inflammatory bowel disease, said the charity simply was not able to open a store on Amazon.
"We, like many other charities, do not have a retail arm, and building one would take us time," she said.
"The funds helped us support the 500,000 people living with Crohn's and Colitis.
"Every penny counts, so it is disappointing that this dependable source of income will come to an end, and we will now have to look at other ways to replace that vital funding."