Guardiola feels the strain as Arsenal, Man United reawaken with his own proteges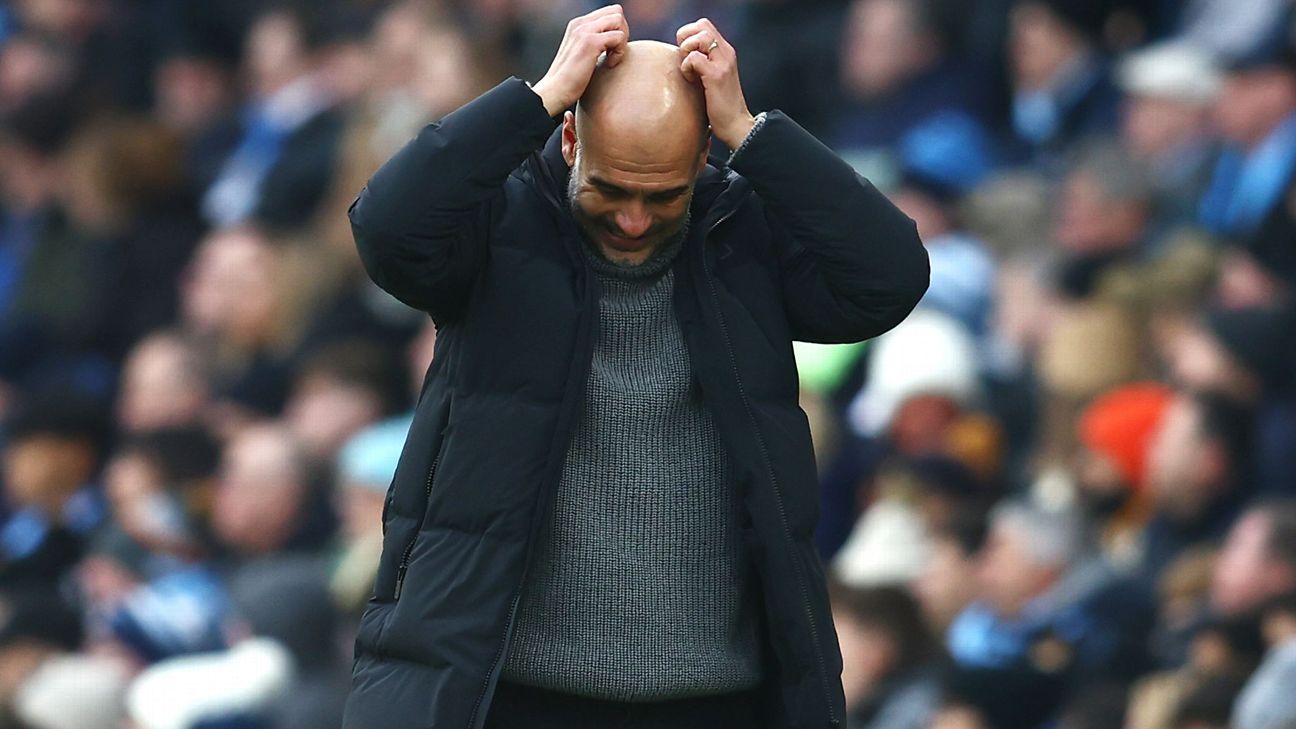 What is eating away at Pep Guardiola right now? Maybe, just maybe, the Manchester City manager senses that his era of dominance faces a new threat that is largely of his own creation.
– Stream on ESPN+: LaLiga, Bundesliga, FA Cup & more (U.S.)
On one flank, he has Mikel Arteta and Arsenal attempting to claim City's crown as Premier League champions — the two teams meet for the first time this season in Friday's FA Cup fourth-round tie (3 p.m. ET, stream live on ESPN+, US Only) at the Etihad — and closer to home, Guardiola can see Erik ten Hag breathing new life into Manchester United to the extent that City's neighbours may finally, after 10 years in the doldrums, be ready to compete for the biggest trophies again.
Ten Hag coached Bayern Munich's second team under Guardiola between 2013 and '15, while Arteta was his assistant manager at City between 2016 and '19. They are his proteges, now in charge of Premier League giants and both possessing a Guardiola-like focus and belief that they will soon be at the top, with Pep merely an obstacle that is blocking their path.
Like Guardiola with the likes of Zlatan Ibrahimovic, Joe Hart and Sergio Aguero, both coaches have both displayed a readiness to be ruthless in dropping or moving on players who don't fit their requirements. Arteta parted ways with Mesut Ozil and Pierre-Emerick Aubameyang, while Ten Hag quickly made it clear to Cristiano Ronaldo that it was his way or the highway at United — all the way to Saudi Arabia for the former Real Madrid forward.
Arteta and Ten Hag have seen Guardiola at close quarters, watched him coach and organise, heard him plot revolutionary tactical ideas and, perhaps most importantly, witnessed how he demands and imposes full control of the players at his disposal.
Arteta is three years into his project of reviving Arsenal and making them title challengers again. With the Gunners five points clear of City at the top of the Premier League, the 40-year-old would appear to be well ahead of schedule at the Emirates.
Ten Hag, meanwhile, is just six months into the job at United, having proved his calibre by winning three Eredivisie titles with Ajax in the Netherlands. But despite his relatively brief time at Old Trafford, Ten Hag has already changed the mood and outlook and could end the club's six-year trophy drought by winning the Carabao Cup next month, having beaten Nottingham Forest 3-0 in the first leg of their semifinal on Wednesday (stream a replay on ESPN+, US only).
So it's clear that Guardiola now has two serious rivals to contend with, and what potentially makes them more dangerous than those who have gone before is the fact that both have learned from the master himself. He may have inadvertently groomed the coaches most likely to steal his crown.
Since starting out in management with Barcelona in 2008, Guardiola has faced and overcome some formidable managerial rivals. From winning the Champions League in his first season, denying Sir Alex Ferguson the chance to win back-to-back European Cups (and his third as a manager) at United, Guardiola has won every personal battle with a rival coach.
He emerged from his tempestuous rivalry with Jose Mourinho in Spain as the man with most trophies at a time when Barcelona and Mourinho's Real were arguably the two best teams in the world.
And with Bayern Munich and City, Guardiola has engaged in a decade-long duel with Jurgen Klopp, first at Borussia Dortmund and then with Liverpool, and been forced to watch the German beat him to some of the biggest trophies. But if you look at the honours' list of the two men since their rivalry began in 2013, it is 16-7 in Guardiola's favour, so there is only one winner in that contest.
Guardiola blasts Man City players for lack of passion
Pep Guardiola vents his frustration after Manchester City's comeback win over Tottenham in the Premier League.
The 52-year-old is displaying signs that he is unsettled by the new threats to his supremacy, though. In recent weeks, he has singled out his players for criticism — individually and collectively — and even complained about his own team's supporters and the lack of atmosphere at the Etihad Stadium.
And just this week, Guardiola said that City had "no chance" of catching Arsenal in the title race if they continued to play as they have been in recent weeks.
Managerial mind games, perhaps, but Guardiola has rarely strayed into that domain in the past and by doing so now, he hints at being distracted and concerned by the threat posed by Arsenal and Arteta. With Ten Hag and United, the challenge is less immediate, but it is there nonetheless.
Throughout Guardiola's time at City, since arriving in 2016, United have been nothing more than a sporadic problem, winning the odd game against City and overspending to beat them to signings players such as Alexis Sanchez, Harry Maguire and Fred. Guardiola has never had to worry about United being a rival in terms of winning trophies.
But when powerful, historic clubs such as Arsenal and United build momentum, they can be difficult to stop.
Liverpool under Klopp have been an example of that. City came out on top in their rivalry with Liverpool, but dealing with two awakening giants, coached by determined, bright, forward-thinking managers, is a new problem for Guardiola and he is smart enough to know that it could be the toughest one he has faced since arriving at the Etihad.