Pattern Beauty's New Heat System Will Blow Your Mind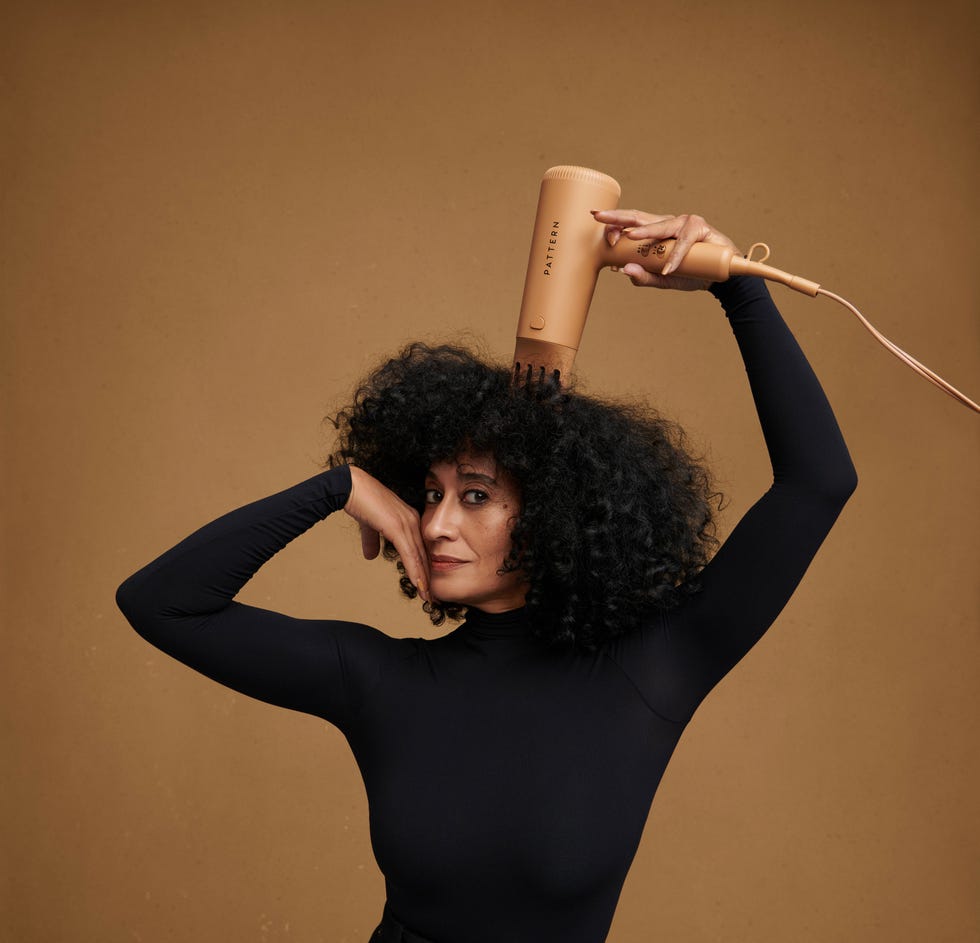 Of the many relationships Black women have to their hair, very few are as frowned upon as heat styling. Every woman's journey most likely began with the Black girl rite of passage of hot combs, which almost instantly conjure visuals (or audio memories) of a sizzle, crackle, or pop (in the head from our maternal figure standing above us with the culprit in hand). Heat styling is like that one ex we've been cautioned to avoid, yet keep going back to. Despite the potential trouble (heat damage) waiting for its chance to strike, the thrill of trying out a new tool is just as exhilarating as watching a budding romance develop.
There's no end to how far we'll go to morph, bend, and stretch our hair into the style we want, whether that means slathering it in a plethora of heat protectants or choosing protective styles to make the procedure more seamless and less damaging on the hair. But if Tracee Ellis Ross has her way, heat styling and hate don't have to go hand in hand when it comes to natural hair.
If you've watched Tracee Ellis Ross closely enough, she never leaves the house without her signature red lip and, of course, the plush bed of curls framing her face. From sleek straight backs to "Curly Bob" to Bantu knots, showcasing the versatility of Black hair has always been the cornerstone of Ross's looks. For so long, Ross's haircare routine was a mystery but highly sought after. In 2019, she quieted the storm with Pattern Beauty, the star's haircare brand explicitly formulated for thick, curly, natural hair, and continues that mission. However, shampoos and conditioners could only take the credit for so much of Ross's signature styles. It turns out that the multihyphenate's trick involves blow drying, a process that Black women have long loathed.
More From ELLE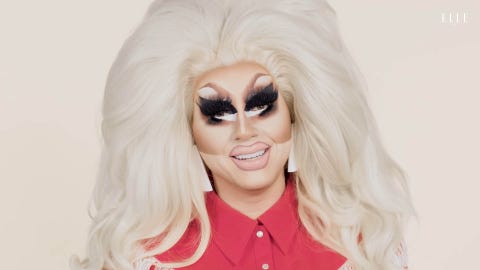 Today, January 9, Pattern Beauty enters the hot tools game with its first blow-drying system, The Pattern Blow Dryer ($189). Dipped in a matte caramel brown hue, the Pattern Blow Dryer is designed to be the solution for anyone looking to minimize drying time and stretch hair as best as possible to create a range of styles. No flailing or weak limbs on this side, especially when the system comes with four different attachments: a diffuser, wide tooth comb, brush, and concentrator. In this new wave of high-tech tools, buzzy multi-stylers have high expectations to live up to—just look to your TikTok FYP for thousands of reviews and debates on which styler is worth the hype. Sadly, the market isn't as saturated with drying tools that keep thick, coily strands top of mind. But with Pattern Beauty's foray into hot tools, could this be the sigh of relief Black women have been longing for? I put the Pattern Blow Dryer to the test to find out.
The Package
Upon opening the Pattern Blow Dryer box, I was immediately drawn to the light brown hue that would stand out like a sore thumb among the sea of black blow dryers, flat irons, and curling irons nestled in my hot tools organizer. The sleek semi-matte finish was a luxurious touch that made me feel like the proud owner of a salon, even in the comfort of my bedroom. I picked up the dryer to assess its weight and comfort in my hand. As a lazy beauty lover who wants nothing more than to never feel the pain of strained arms after a drying session, the weightless feel of Pattern's iteration was confirmation alone that this wash day would be different than previous ones.
The Features
So much of our hair routine relies on durable brushes, combs, heat tools that can withstand thicker textures, and hair that can hold up to a range of temperature settings. If Tracee Ellis Ross understands one thing, it's that hair is a Black woman's most prized possession—and so is her wallet. That said, the Pattern Blow Dryer retails for $189 and comes equipped with four attachments. The attachment accessories are easily the best parts of this drying system, which can be locked into place with a dual-locking button on the sides of the dryer mouth.
For starters, the comb attachment mimics the teeth on a wide tooth comb, a tool that I often employ to detangle my hair at the beginning of my wash day, and eliminates the need to rake an additional comb through your strands. Next up on my list of favorite attachments is the brush, which is fashioned after Pattern Beauty's Shower Brush, and is designed with scattered bristles that stretch the hair for straighter styles. The concentrator nozzle focuses the heat flow (or cool air, depending on your mood) exactly where it's intended to target, perfect for those trying to tap into the 90s blowout resurgence. Lastly, the diffuser serves as the team player working to impart high volume a la Ross's trademark voluminous ringlets or speed up drying time for juicy twist-outs.
Crawling my fingers down the heat tool, I land on a button that activates the cold air feature and, with a press of a button, locks down the temperature, unlike other traditional hair dryers that need to be pressed and released repeatedly for cold air to be released. As my fingers continue their tour, they meet the dryer's main function buttons: three heat temperatures and two-speed settings.
The Process
I'm as indecisive as one can be regarding my hair, so I often opt to throw a wig on to minimize manipulation of my natural hair. My wig prep includes a good wash routine and a simple and quick drying session. After dousing my hair with a heat protectant, I clipped on the bristle brush attachment to see how fast it could dry my hair. For the purpose of this review, I parted my hair in half to test the brush attachment on one side, and the wide-tooth comb on the other. Since my hair is a few months out from a "kiddie" relaxer, not all my curls showed up to the party, so the diffuser will have to sit out for this round. As for the concentrator, I decided to use that piece at the very end for a well-rounded blowout.
Flipping the temperature to the highest option and speed, the motor wasn't loud enough to wake up the neighboring rooms, but it wasn't the most silent either. I glanced over at my clock to time myself—8:08 AM. The scattered bristle design looked intimidating at first glance but effortlessly glided through my strands snag-free. I watched as my curls separated and elongated with each brush stroke, which resulted in voluminous, stretched-out strands on one side. It's 8:14 AM. I switched to the wide-tooth comb attachment and was even more amazed at how gentle the comb was on my hair. The rounded teeth weren't harsh on my scalp, but it did take a few more passes than the bristle brush for this side to completely dry, partly because the teeth are wider and sparse on this attachment. Not bad for it to only be 8:26 AM.
The Verdict
As shown in the photo above, the wide-tooth side was slightly flatter than the bristle brush side. Word of advice for those with thicker hair: The bristle brush attachment will be your best friend. Of the two attachments I tested, the brush seemed to dry my hair faster than the wide-tooth comb, which is an immediate A+ in my book because I no longer need to use harsh metal comb attachments or rough handheld bristle or Denman brushes that can tug and scrape the scalp. The wide-tooth comb attachment is still a favorite. It is better suited for those looking to lengthen their curls for a Flexi-rod set or other natural styles where volume isn't necessarily a priority. Overall, I love how quickly and easily my hair dried. Even with my hands covered in heat protectant spray and leave-in conditioner, the dryer didn't slip through my hands or cause any mishaps. Talk about a win! Plus, the heat settings were hot enough to get the job down without any hot flashes or burning smells reminiscent of a hair salon. Regardless of the style you're attempting to achieve, I love that Pattern's heat system has an attachment for all, well, hair patterns and textures.
Beauty Commerce Editor
Nerisha is the beauty commerce editor at ELLE.com, covering all things beauty (and fashion and music). She has a penchant for sneakers and nude lip glosses, and spends way too much time re-watching 90s sitcoms.