Selena Gomez Just Released a Gorgeous New Kitchen Collection with Our Place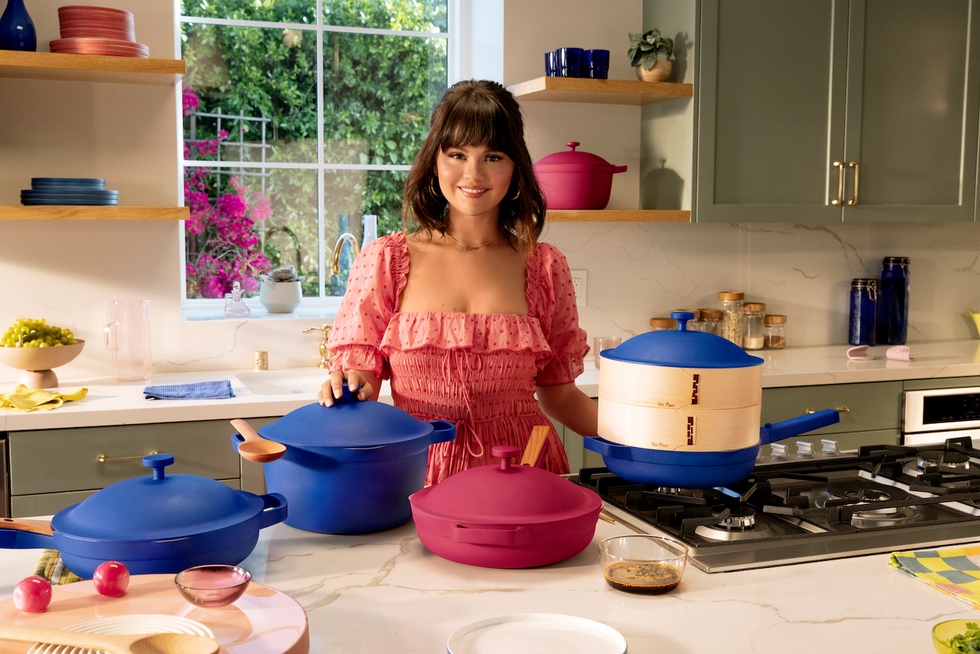 Make some room in your kitchen because Selena Gomez just launched the most gorgeous collection of kitchen essentials with Our Place. You probably already know Our Place as the makers of the Always Pan you've seen all over Instagram, but there are a ton of other items you'll want to get your hands on.
Gomez worked with Our Place to create two limited-edition colorways: Azul, a bright electric blue that livens up any kitchen, and Rosa, a lush berry pink inspired by the singer's favorite lip shades. You can buy a bunch of Our Place's signature items in these two new shades now on fromourplace.com.
The cult-fave Always Pan—a do-it-all kitchen accessory meant to replace eight traditional pieces of cookware—is available in both shades for $145. (In case you're curious, it can act as a frying pan, sauté pan, steamer, skillet, saucier, saucepan, nonstick pan, spatula, and spoon rest.)
You can also get the brand's Perfect Pot in the two new Selena-approved shades for $165. Like the Always Pan, the Perfect Pot is meant to be a kitchen tool that does basically everything. You can use it for boiling, baking, crisping, roasting, steaming, braising, and straining.
The collection also includes Our Place's Knife Trio—which features a chef's knife, a serrated knife, and a paring knife—in the two new colors. You can grab the trio for $145.
In addition to decking out your kitchen, you can also set your whole table with items from this new collaboration. Just grab some Azul- or Rose-colored drinking glasses ($50 for a set of four), main plates in either shade (also $50 for a set of four), or even side plates in the new hues ($40 for a set of four).
Or, you can spring for the Dinner at Selena Bundle, which includes an Always Pan, the drinking glasses, and the main plates for $215 altogether.
This content is created and maintained by a third party, and imported onto this page to help users provide their email addresses. You may be able to find more information about this and similar content at piano.io