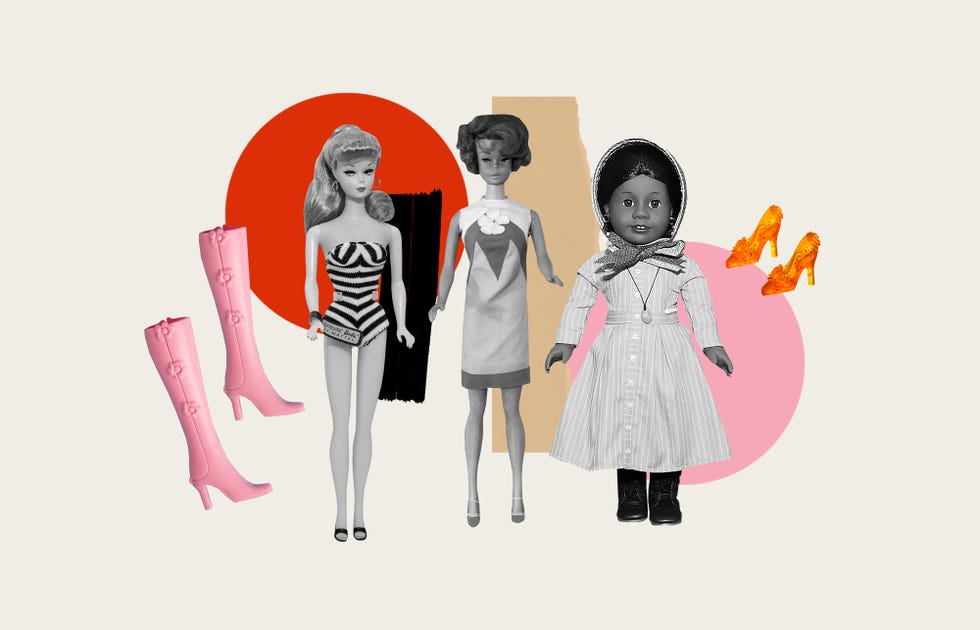 The culture of dolls, it seems, is everywhere. In February, the New York Times reported that the American Girl Cafe has become a go-to destination for the influencer set. Elsewhere, TikTok star Hal.Baddie has popularized the term "dolls" for her legion of 320.5k followers. Megan Fox recently got Bratz doll-inspired nails, a new season of Russian Doll is out this month, the New York Historical Society has a new exhibition centered around Black dolls, LoveShackFancy just collaborated with American Girl Dolls, and all over the runway, there were doll references both implied and direct, from Simone Rocha's indelible tutu dresses to Celine Homme naming its fall/winter 2022 collection "Boy Doll."
But why now? During the pandemic, at some point or other, we likely all experienced longing for something different or new—a pronounced feeling of wanderlust. Remember those subcultures that emerged, like cottagecore, dark academic, and even pop-punk, which were so prominent last summer? The cultural obsession with dolls gets at something similar.
"As we navigated through the pandemic, the sense of longing for a more carefree time was high, driving '90s and Y2K throwbacks and dressing back into the zeitgeist," says Jessica Richards, a trend forecaster. "The trend cycle has moved on, and while the focus continues on nostalgia, the shift toward an interest in doll culture is telling of our emotional state and how we want to dress in expressing it. That nostalgia for a time we had more comfort and whimsy—as well as the escapism of the world a doll subculture could provide—feels far away, but is also majorly important to so many childhoods. We just want to tap back into it."
And if it feels like a younger generation of designers is taking inspiration from dolls as a whole, too, you're not wrong. "As children of the '90s and early 2000s, we were constantly bombarded with advertisements from brands like Barbie, Bratz, American Girl, Polly Pocket, and more," explains designer Zoe Grinfeld, who went viral for her coat made out of 500 doll heads that took four months to complete. "I think exposure to that amount of consumerism linked to fashion at such a young age has played a huge role, not only aesthetically, but also in the popularity of fast-fashion brands and the constant need to expand one's wardrobe."
This content is imported from TikTok. You may be able to find the same content in another format, or you may be able to find more information, at their web site.
Grinfeld's video for her senior thesis, inspired by dolls (naturally), garnered over 100,000 likes on TikTok. "I think I had success sharing this body of work on that platform because dolls are so relatable to so many people, and interpreting them conceptually through fashion in this way is not something we typically see," she says. "I also think there's a level of shock value that comes with pieces such as the Doll Head Jacket, which fuel engagement and virality, especially on TikTok."
Likewise, Lucille Reynolds makes many of her designs in doll-size proportions first. She constructs extreme, sky-high frothy tutus in a mirage of pastel shades, along with over-the-top bodysuits that are dressed in puffs of ruffles. "Reflecting on my childhood has always been a launching point for me creatively, and so many of my early memories, in some way or another, feature a doll," she says. "It's probably safe to say that all of my first impressions of fashion, bodies, fantasy, escapism, and even sexuality, are all linked to dolls. Working with dolls feels comfortable, as I enjoy how connected to my childhood they make me."
It's also impossible to ignore the 23-year-old influencer Devin Halbal, who refers to herself and her over 300k fans lovingly as "dolls." Hal Baddie, as she is known, first started using the verbiage in late 2021. Since then, fans have co-opted her go-to greeting for their own videos. "I've always overheard my trans friends call themselves dolls," says Halbal, who is also trans. "And I thought this term was endearing and funny. So, about four months ago, I started adding it to my vocabulary. And I used it in one of my TikToks in December 2021. Everyone loved my use of the word, so I started making more TikToks with it. The word perfectly describes—I'm dolly and love to feel pretty!"
For Halbal, the use of the word is meaningful in its power of gender expression, not just in the traditional sense, but going far beyond all that: "Doll means to exhibit such powerful femininity in your life," she says. "Femininity is revolutionary, and it's a way for us to celebrate femme people. The term means a lot for trans women. But the term also means so much to cis women—who have also been called dolls in their life. My friend who is a cis woman recalls being told by her family when she was young and dressed up that she looks like a doll. She adds: "Being a doll is about expressing femininity and being proud of the power that comes with being feminine."
It's interesting to note, too, that the new doll obsession has a lot to do with American Girl Dolls. Unlike Barbie, Bratz, or other popular childhood toys, the roots of the American Girl Doll are firmly historic and educational, less concerned with visual appeal or playing house; they represent the narratives of different girls throughout various periods of history. LoveShackFancy designer Rebecca Hessel Cohen was thinking in an ephemeral frame of mind when she designed the American Girl Doll collaboration inspired by her daughters. "I love how there's a doll for everyone, and how each one has their own unique personalities with so many different ways to dress them up or down," she says. "They're keepsakes that we keep forever and can pass down from one generation to the next."
On the other side of things, people on TikTok have been showing off their "American Girl Doll Teeth" by opening their mouths subtly and showing the tops of their teeth peeking through their top lips. The trend is inspired by the dolls, who have two front teeth showing, with many girls claiming they used to hate their teeth and now like them because they're considered en vogue. If anything, the overshare is a positive one, rejecting the mainstream beauty ideals reinforced by other traditional dolls like Barbie and Bratz.
"While the Bratz dolls are aligned with the Y2K dressing resurgence and the maximalist ethos of that trend cycle, they are also symbolic of feminine ideals in aesthetics," adds Richards. "The American Girl trends we're seeing lean more toward our fragile emotional state and the recognition of more 'relatable,' achievable aesthetics—such as easy feminine dressing or, for the TikTok crowd, the viral teeth challenge—making them truly a source of solace. The polarity of these two doll cultures being so relevant simultaneously speaks to where we are now; the longing to be seen and present and bold in the world again, against the desire to be comforted, to find security and safety that feels comfortable and known."
This content is imported from Instagram. You may be able to find the same content in another format, or you may be able to find more information, at their web site.
Antonella, the student behind dollclub on Instagram and TikTok, curates fashion and beauty content through a doll-like lens. Often referred to as promoting the "dollette" or "coquette" aesthetic, she believes the association with dolls and what they stand for is changing majorly in 2022. It's as if women and non-binary people are reclaiming it. "In 2022, the word 'doll' has sort of been accepted into an even larger array of ages," she says, of its past association with childhood. "I'm in college, and I see people around my age and even older referring to themselves as a doll, or styling themselves in a dollette way, and not shying away from the word. I think it's beautiful that we are able to carry the word doll with us now into our adulthood and have it be a little less ridiculous than in previous years. Be a doll, be high-maintenance, dress up in pink and frills, but you can still maintain an adult and mature femininity."
"My position as the dollmaker is to not just create clothing, but to tell stories," explains Rachel Cheong, the designer behind Closet Children, who turned her models into live human dolls, complete with a doll mask made from a vacuum-formed mold of various antique and vintage dolls she owned. "Stories that talk about the darker side of femininity and identity. It's like getting to play with life-sized human dolls."
"I think it's nice that we are feeling more freedom to accept femininity," adds Antonella. "Being a doll is now seen as someone who wants to enjoy the finer things in life, have fun, and live shamelessly."
Maybe in 2022, embracing dollhood in fashion, pop culture, and your everyday routine feels like a radical act and acceptance of womanhood in its many different forms—and seeing it go mainstream feels like a much-needed revolution. Something tells me our childhood selves would be very proud.