Stranger Things' Millie Bobby Brown Calls Out 'Gross' Change in Treatment Since Turning 18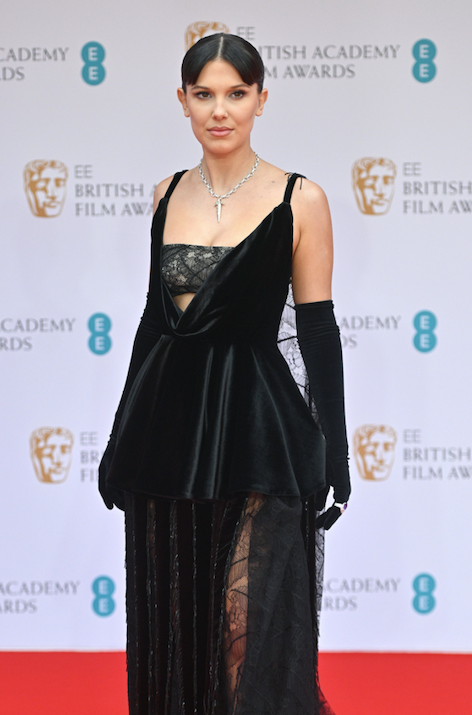 Stranger Things' Millie Bobby Brown has spoken out about the sexualization she's experienced since turning 18-years-old in February of this year. Previously, "creepy" forums had cropped up counting down to the teen actor's 18th birthday, with comparisons being drawn to the treatment other child stars also received, including Mary-Kate and Ashley Olsen, Britney Spears, and Emma Watson.
Speaking on the Guilty Feminist podcast, Brown–who has been in the public eye since she was 12-years-old–said: "[I'm] definitely seeing a difference between the way people act and the way the press and social media react to me coming of age. It's gross."
Although she points out that this is something she sadly knows most women experience, she noted that this is often exasperated when you're in the limelight. "I deal with the same things any 18-year-old is dealing with, navigating being an adult and having relationships and friendships, and it's all of those things," she said. "Being liked and trying to fit in, it's all a lot, and you're trying to [know] yourself while doing that. The only difference is obviously I'm doing that in the public eye."
Yet, this isn't a new phenomenon for the Netflix star, who added: "I have been dealing with that—but I have also been dealing with that for forever." In 2020, when she was just 16-years-old, she took to social media to call out the way she had been treated by the public and the press. "I get frustrated from the inaccuracy, inappropriate comments, sexualization and unnecessary insults that ultimately have resulted in pain and insecurity for me," Brown said in a post. "I hope this video informs you on the things that go on behind the scenes of the headlines and flashing lights."
On the podcast, the actor also called out the scrutiny she's faced for the outfits she wears–some of which were branded "too grown up." "I thought 'Is this really what we should be talking about?' We should be talking about the incredible people that were there at the awards show, the talent that was there, the people we are representing," she said of the focus on her clothing choices.
Because of that, Brown admits she's scaled back on sharing her life online and chooses to keep somewhat of a low-profile when it comes to social media, avoiding anything too "personal."
"You're not gonna see that part of me. You get to see the things I choose to put out in the world," she said.
This content is created and maintained by a third party, and imported onto this page to help users provide their email addresses. You may be able to find more information about this and similar content at piano.io