The Sex Lives of College Girls Is Getting a Season 2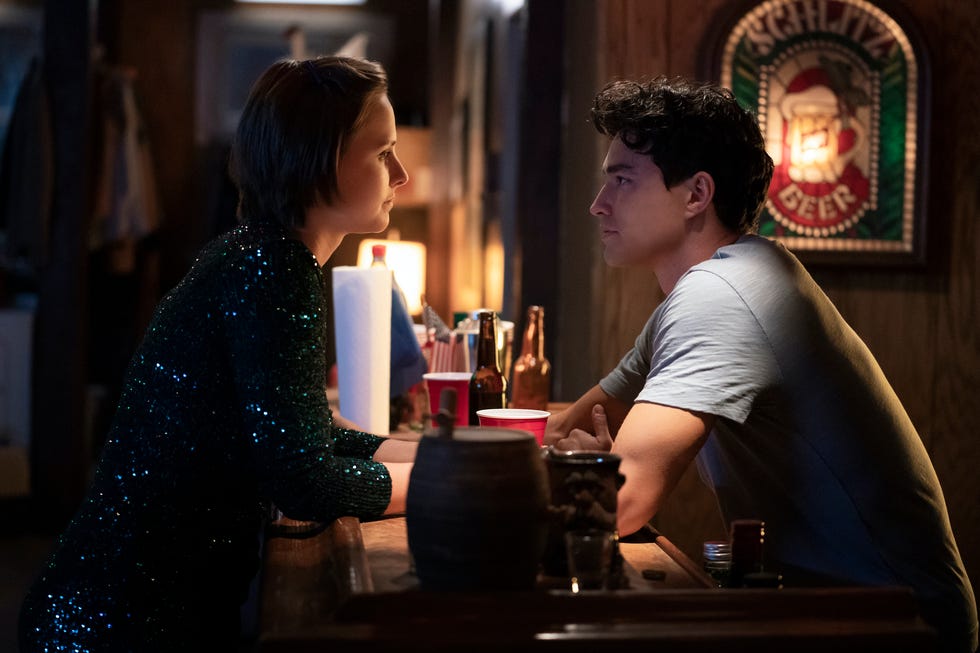 Spoilers for The Sex Lives of College Girls below.
The Sex Lives of College Girls will be back for sophomore year. The irreverent yet lovable comedy from producer Mindy Kaling and showrunner Justin Noble was renewed for a second season on HBO Max, just days ahead of the season 1 finale in December.
"We are delighted that this comic, honest portrayal of the college condition has resonated for everyone, whether they had sex in college or not," HBO's head of original content, Sarah Aubrey, said in a statement. "We can't wait to see where these uniquely complex yet relatable characters will go next."
TSLOCG premiered on Nov. 18 and and became an instant hit, marking the biggest launch by an original comedy on HBO Max in 2021. The series even hits "new platform highs each week," according to the streamer. No wonder the show was renewed so quickly.
Now that season 1 is done though, we're rounding up details about what's coming next while we wait for the new season.
Who's in the cast?
The comedy follows four college roommates at the fictional Essex College as they navigate campus life, sex, identity, and friendships during their freshman year. Stars Pauline Chalamet (Kimberly), Amrit Kaur (Bela), Reneé Rapp (Leighton), and Alyah Chanelle Scott (Whitney) are likely to return, but it's unclear whether we'll see more of returning cast members like Midori Francis (Alicia), and Lauren Spencer (Jocelyn).
Gavin Leatherwood, who plays Nico, will not be returning to the show, he told Us Weekly. (A source confirmed the news to TVLine too.) "There is a season 2, but I'm not going to go back," Leatherwood said. He added that he was "happy to do the first season" but will be "branching off and going in a different direction." The actor continued, "It was such an incredible experience. I think Mindy is brilliant and the cast, everyone's lovely. But with so many amazing opportunities out there, we want to keep spreading our wings and leading ourselves to other projects so that's the move."
This content is imported from Twitter. You may be able to find the same content in another format, or you may be able to find more information, at their web site.
Speaking to ELLE.com in November, the cast shared how important it was to be a part of a show that portrays young women's sex lives in an honest light, with all of its awkwardness, imperfections, and, at times, humorous moments.
"It's about the messiness, especially at that age—everyone's figuring it out, it's awkward," Chalamet said. "I mean, few people know their bodies exactly and what they like. I think that there's room with these characters to explore further what that means for them."
"We're just breaking that stigma," Scott added. "There's no shame. You're in the time period of your life where you should be exploring your sexuality and what you like and what you don't like. And that's what you could just see us do." Stay tuned for more.
What will it be about?
Obviously, it's too early for definitive plot details, but the season 1 finale offers some clues for what comes next. Let's recap, shall we?
Bela leaves The Catullan, an exclusive comedy group on campus. After she and fellow members were able to kick out one of the co-editors for sexually assaulting her and another woman in the club, she realizes the sexism and toxicity persists in the group even with him gone. Other a couple female members in The Catullan also leave and want start a new group with Bela.
"Opening the door to a world where Bela is doing something that she loves, but now with female cohorts, seems really exciting to us. But as you can imagine, of course, that might come with some new challenges that are presented to her," showrunner Justin Noble told TVLine.
Are sparks flying between her and Eric (another co-editor played by Mekki Leeper) too? All Noble says is that "a seed has been planted" for next season.
Whitney comes clean to her mom about her former affair with her married coach, Dalton, and they reach a new level of trust in their relationship. Now Whitney's moved on with another man, Canaan (Chris Meyer), which could be explored more next season. "I love watching them together. Alyah [Chanelle Scott] and Chris [Meyer] are just so fantastic, and the screen just loves them together. So hopefully better things on the horizon for Whitney, romantically, and in all other ways," Noble added to TVLine.
Leighton's relationship with Alicia ends (Alicia says she can't date someone who's still closeted), which leaves her heartbroken. When Kimberly finds her crying in bed, Leighton comes out to her and reveals that no one else knows yet. Her journey in season 2 is still being figured out. "Will it [her sexuality] be a secret between the two of them that the other two suitemates don't know about? Will Leighton jump out of the closet with two feet? That remains to be seen," Noble said.
And finally, Kimberly doesn't get expelled for cheating on her exam, but her scholarship was revoked, which means she'll need to find a way to pay an extra $23,000 per semester to stay at Essex. That'll be tough since her family is tight on money. "It leaves her in a whole lot of trouble," Noble explained. "We'll just have to see now that we're lucky enough to keep her story going, how she's going to get out of that hole."
This content is created and maintained by a third party, and imported onto this page to help users provide their email addresses. You may be able to find more information about this and similar content at piano.io