Aquarius Monthly Horoscope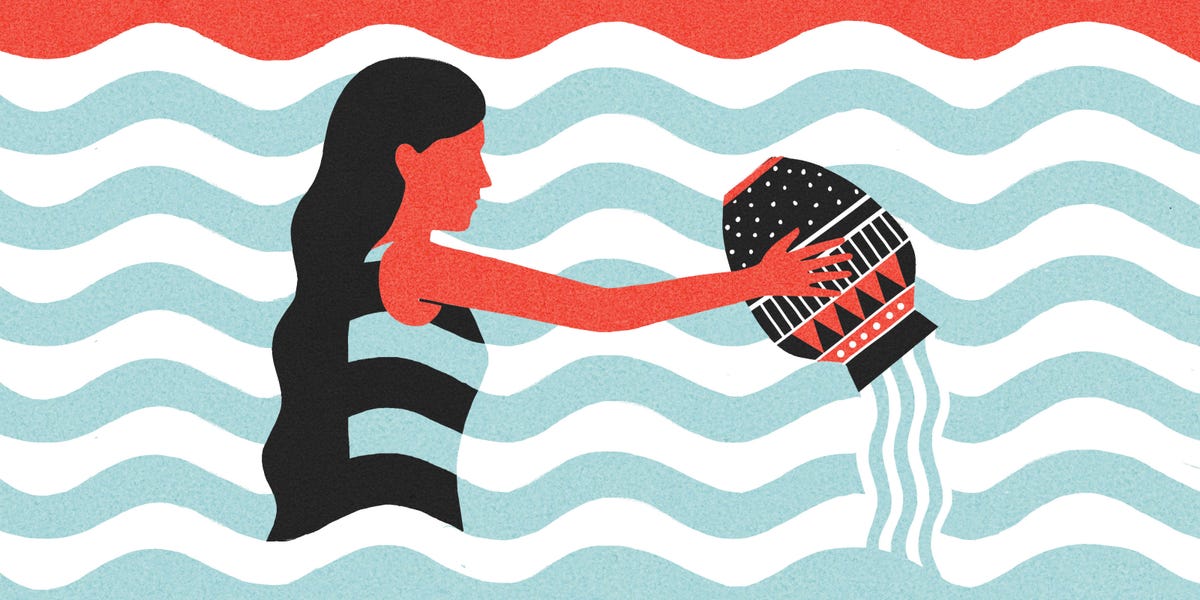 [editoriallinks id="bfe7884b-1fae-4bd8-9e10-20f2d0420f0d"][/editoriallinks]
MONTH OF March
Steady as she goes! Now that your birthday season is behind you, you're ready to roll up your three-quarter sleeves and get down to business. Take those ambitious ventures one step at a time, Aquarius. Until March 20, the Sun is in Pisces and your grounded second house of work and daily routines. Before you squander your precious productivity, make sure you've got a realistic plan in place. Crafting a budget or timeline might seem like a drag, but your path to success will be paved by simple and steady daily actions, not a wild adrenaline-fueled burst that ends with a crash.
That said, it may be hard to time your inner fire as the month progresses. On March 6, magnetic Venus and intensifier Mars BOTH move into Aquarius, a welcome spring awakening that will shake off the heavy vibes you've been carrying all year. Since November 5, Venus has been in Capricorn and your foggy, sloggy twelfth house. When Mars joined the Capricorn cluster on January 24, your energy may have flagged, making it hard to stay focused and productive.
When this dynamic duo zooms into your sign on March 6, your confidence, clarity and charisma will return with a vengeance! Even better? There are NO retrograde planets in March, so the world will be oh-so glad to have you back. Reconnect with friends and kindred spirits after March 20, when the Sun moves into Aries and your social, communicative third house. Get ready for a spring awakening in every sense—of your love life, your friendships and some much-needed lightness all around.
Pisces season is productive and profitable
Ready to turn your birthday dreams into reality? The first three weeks of the month are ideal for that as the Sun visits Pisces and your stabilizing second house of work and money until March 20. Practical matters prevail this month, so sweep up those birthday cake crumbs and get down to business.
A great day to put your name in the hat for a job or promotion or to start building your ideas into concrete plans arrives on March 2. That day, the Pisces new moon opens up a six-month window to help you increase your earnings and establish yourself from then right up until September 10 Pisces full moon. But there's no need to wait that long! Your efforts at the new moon could pay off within two weeks…or even a couple days.
One of the most incredible days of opportunity and evolution arrives on March 5. That day, the Sun and abundant Jupiter make their annual meetup, which could bring an exciting financial opportunity from afar. Nicknamed the "Day of Miracles," the Sun-Jupiter conjunction is believed by some astrologers to be one of the most fortunate dates of the year. As this duo unites in Pisces, you've got an open invitation to take a major leap of faith on one of your greatest goals.
Mars-Pluto conjunction pushes unconscious buttons on March 3
Don't cruise along on autopilot today, Water Bearer. Strong emotions and unconscious motivations could derail you if you don't stay on your guard. A powerful meetup of erratic Mars and shadowy Pluto in Capricorn and your elusive twelfth house can trigger behaviors you aren't fully conscious of this March 3. Things might get said in anger that you regret the minute you utter them. Avoid people who push your buttons, and if you feel inner tension, don't numb out with mind-altering substances. Talk to a friend or supportive person to get to what's at the core of this. Luckily, Venus—the planet of love, harmony and peacekeeping—is also involved in this Mars-Pluto meetup, which can help ease tensions or maybe even find you working them out in the bedroom.
The March 18 Virgo full moon heats up intimacy and mergers
Stronger together? On March 18, the Virgo full moon beams into your eighth house of sex, shared finances and merging. A sizzling soulmate attraction might consummate, and longtime couples could make things permanent (or, in some cases, part ways). A joint venture may become official, and you might close an important deal related to real estate or other investments. This spotlight on your long-term finances also gives an unflinching look at where you need to manage your money better.
Aries season begins March 20 at the spring equinox
Lightness returns after March 20, when the Sun kicks off a monthlong tour of Aries and your communicative third house. You've had your nose (mostly) to the grindstone, and now it's time to reconnect with your fanbase. Set up coffee dates, pitch meetings and (safe) social outings. Use this intellectually awakened time to brainstorm big projects or revive an abandoned hobby. Kindred spirits pop up everywhere, so watch your friends list and followers multiply as you share your colorful ideas. Ah, this is more like it!
The March 22 Mars-Uranus square stirs frictioclass="body-el-link standard-body-el-link" n
Just watch for a curveball square between hotheaded Mars in Aquarius and your ruler, volatile Uranus, which is visiting your domestic zone. Tension could spike under your roof with a roommate or relative. Your effort to carve out autonomous time and space could lead to unexpected aggravation and in-fighting. Stand your ground, but be careful not to be selfish or combative since Mars-Uranus contacts can drive up aggression. If you're inspired by the full moon to revamp your home, be careful not to get overly ambitious and create even more chaos. A meditation nook or desk area is easy enough. Constructing new closets, painting or putting up drywall? Maybe not the best idea right this minute.
Get ready for a romantic awakening! After four intensely long months in Capricorn and your hazy, escapist twelfth house (since November 5), amorous Venus rouses from her rest and blazes into your sign on March 6. Joining Venus is spicy, sexy Mars, which will blaze into Aquarius that same day, forming an exact meetup upon entry. Venus will be in your sign until April 5 and Mars through April 14, turning up the heat with each passing day.
And you won't be glad to see Venus in Capricorn gone, especially after the hack job it did on the holidays. Venus was retrograde from December 19 until January 29, disrupting the harmony of your closest ties. Suit up, Water Bearer: The tides are about to turn!
Not all Aquarians were out of canoodling commission, of course. For some, it was a fantasy-fueled respite from life's daily stressors. You might have gotten a break from a demanding partner or had the chance to get to know someone WAY better before moving things forward.
But at some point, no Aquarian can suppress the urge to flirt, exchange witty banter and be adored. With magnetic Venus now in residence in your sign until April 5, you can get out and try new things, meet intriguing people and have some stimulating experiences.
Single Water Bearers will be thrilled to get back in the game—to whatever degree you're comfortable—flirting, attracting, magnetizing and just letting yourself feel unabashedly passionate again. The yellow cautionary flag is that you could come on a bit strong with feisty Mars leading the charge. Check in with yourself AND take a read of the room to ensure you're not overwhelming people or making them feel pushed or rushed. Thinking about getting serious, or ready to talk about the future? The March 28 Venus-Saturn conjunction will set the stage for a mature conversation about your long-term plans.
Couples may crave more solo time for personal adventures or just "permission" to flirt without anyone getting upset or jealous. Get honest about your needs, especially for freedom and autonomy. The question to ask any time you're in doubt is: Will this make me happy and not harm anyone else?
Your energy and drive are back with a vengeance this month, and it feels great! For this you can thank motivator Mars, which finally blazes into Aquarius on March 6, turning the power back on. Since January 24, Mars has been puttering in low-energy mode, slogging through Capricorn and your sleepy twelfth house. If it's been hard to focus or find your footing, this is why. But when Mars wakes up on the 6th, it's all systems go. Even better? You'll host the red planet in your sign until April 14.
Don't squander a minute of it, Water Bearer. With the Sun in Pisces and your second house of work and money until March 20, you'll be ultra productive—an excellent time to pad your nest egg or attract a dynamic new work opportunity. Start circulating your resume at the March 2 Pisces new moon. An offer, perhaps with long-distance or travel options, could arise at the March 5 Sun-Jupiter meetup. An investment, real estate or large lump sum could come your way at the March 18 Virgo full moon, perhaps something you've been building toward for the past six months.
Get soul-centered business mentorship from us! Join Astropreneurs.
Calling all mystics on a mission! Got a brand, business or passion project you're developing? We want to be your mentors. Our new Astropreneurs mastermind group supports soul-centered entrepreneurs with the tools ofclass="body-el-link standard-body-el-link" modern business and astrology—with a supportive community and a private platform. https://galaxy.astrostyle.com/astropreneurs
Love Days: 10, 14
Money Days: 21, 2
Luck Days: 18, 27
Off Days: 12, 17, 25
[editoriallinks id="f66a5d55-284e-45fc-ad7a-3b8d871fdd36″][/editoriallinks]
This content is created and maintained by a third party, and imported onto this page to help users provide their email addresses. You may be able to find more information about this and similar content at piano.io