Australia give support to Palestinians before WCQ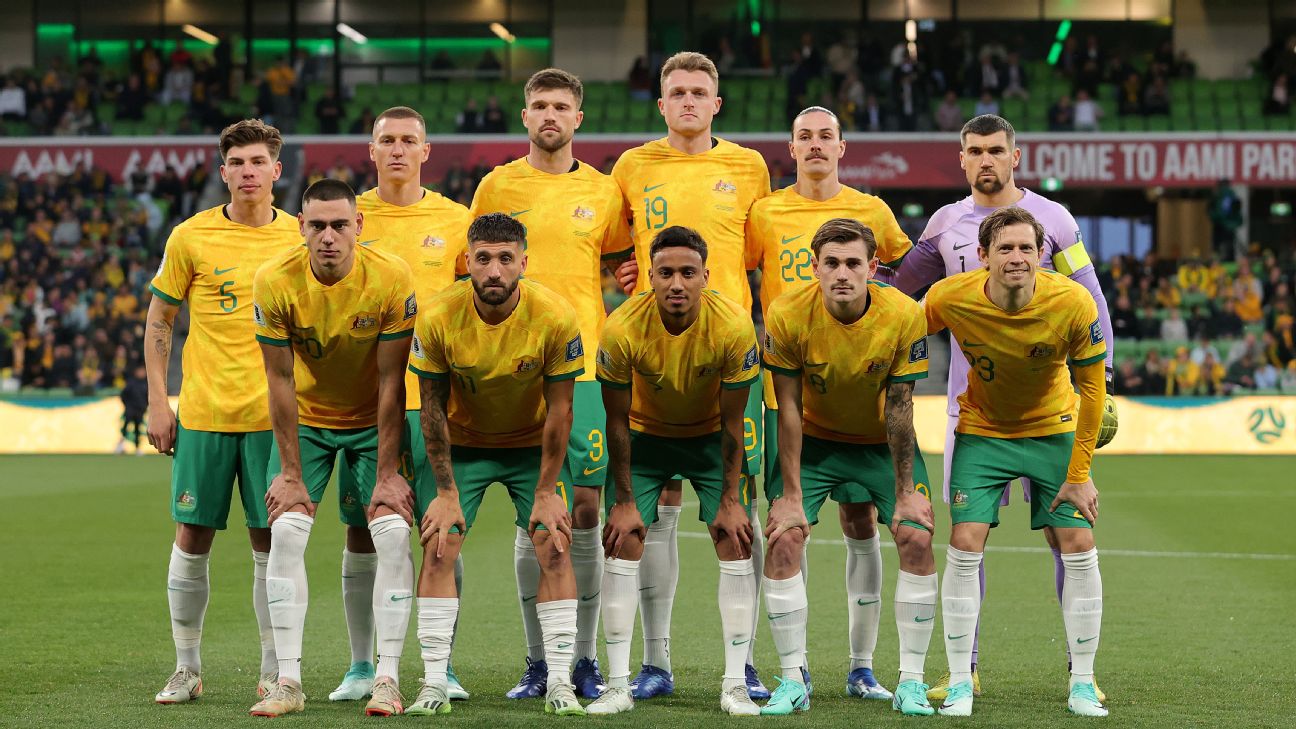 Australia's players will donate a portion of their match fees from their World Cup qualifying fixture with Palestine on Tuesday towards Oxfam's ongoing humanitarian efforts in Gaza, with midfielder and player's union president Jackson Irvine calling the ongoing conflict in the region "unfathomable."
The Socceroos will face Palestine in a FIFA World Cup qualifier at Kuwait's Jaber Al-Ahmad International Stadium on Tuesday evening after the fixture was relocated following the security situation in the region amid the Israel-Hamas war
Football Australia representatives had been on the ground in the West Bank a week before the outbreak of the conflict to scout training and accommodation options for what would have been the first competitive fixture Palestine had hosted since a World Cup qualifier was staged against Saudi Arabia in Al-Ram in 2019.
At least 11,470 Palestinians — two-thirds of them women and minors — have been killed since the war began, according to Palestinian health authorities, who do not differentiate between civilian and militant deaths. About 2,700 people are reported missing.
Israel vowed to wipe out Hamas after the militant group launched its Oct. 7 incursion. Some 1,200 people have been killed in Israel, mostly during the initial attack, and around 240 were taken captive by militants.
"It's unfathomable to comprehend," Irvine told ESPN and AAP.
"You're talking about one of the most complicated geopolitical issues of the last 100 years.
"It's something we're aware of, something we have spoken about as a group and as staff in terms of not just the game, but recognising what that means.
"For us, even thinking about the Palestinian players themselves and what this game means for them as individuals and trying to process playing football in a time like this. It's a difficult situation to process.
"We understand that football at this moment is probably not the priority in some ways.
"But at the end of the day, we've got a game to win and a performance to focus on. Everything has been put in place in terms of security and safety. So we know that we can go out and focus on that."
The PFA's Footballers' Trust and national association Football Australia will match the contribution to Oxfam made by Socceroo players from their match payments.
"At the end of the day, I support any humanitarian cause," said Irvine, who earlier this year was voted president of the union. "The deaths of civilians is a tragedy in any conflict and that's got to be the priority of the conversation.
"Any other view of it leads down a hugely complicated conversation. In its simplest form, I think most human beings would call for the same."
In keeping with the union's history of involvement in human rights promotion, Australian players have also been provided with written resources by the PFA to provide them with a better understanding of the ongoing conflict in the region and its context.
"The thoughts of the PFA are with all of those impacted by the conflict and the humanitarian crisis that is unfolding as a result," PFA co-chief executive Beau Busch told ESPN and AAP.
"Aid agencies and humanitarian groups have been clear on the scale of need and the players were able to play a part.
"The Socceroos have long used their platform for positive impact and this is another example of their commitment to Australian football being a force for good."
The Australian squad has largely sought to keep attention on football during the build-up to the fixture, flying out Kuwait on a specially chartered flight on Saturday morning following a 7-0 win over Bangladesh at AAMI Park on Thursday.
"It's horrific what's going on over there at the moment," coach Graham Arnold said.
"But I don't think we have any control over that. What we do have control over is our performance, playing against Palestine and going out and getting the job done for Australia."
"We know that Palestine are going to be right up for it," added defender Harry Souttar. "We know that they're going to be playing for a lot more than just football."
Palestine, who have also qualified for next January's Asian Cup, opened their World Cup qualifying campaign with a 0-0 draw against Lebanon on Thursday at the Khalid Bin Mohammed Stadium in the United Arab Emirates — that fixture also moved due to security concerns arising from the ongoing conflict.
With a large population of expatriate Palestinians in Kuwait, members of the Australian camp are expecting close to a sell-out for Tuesday's fixture.
"Nowadays, whether we are going to the training or hotel, players spend 24 hours on their phones to follow what is happening," Palestinian coach Makram Daboub said.
"When it comes to the sensitive cases, such as the loss of children, civilians, and their families, it motivates them to react and achieve victory to make the Palestinian people happy.
"As they say despite the pain, there is hope."
The Associated Press contributed to this report.