Are Barcelona back to their best under Xavi? Expect Van Bommel, Antwerp to push them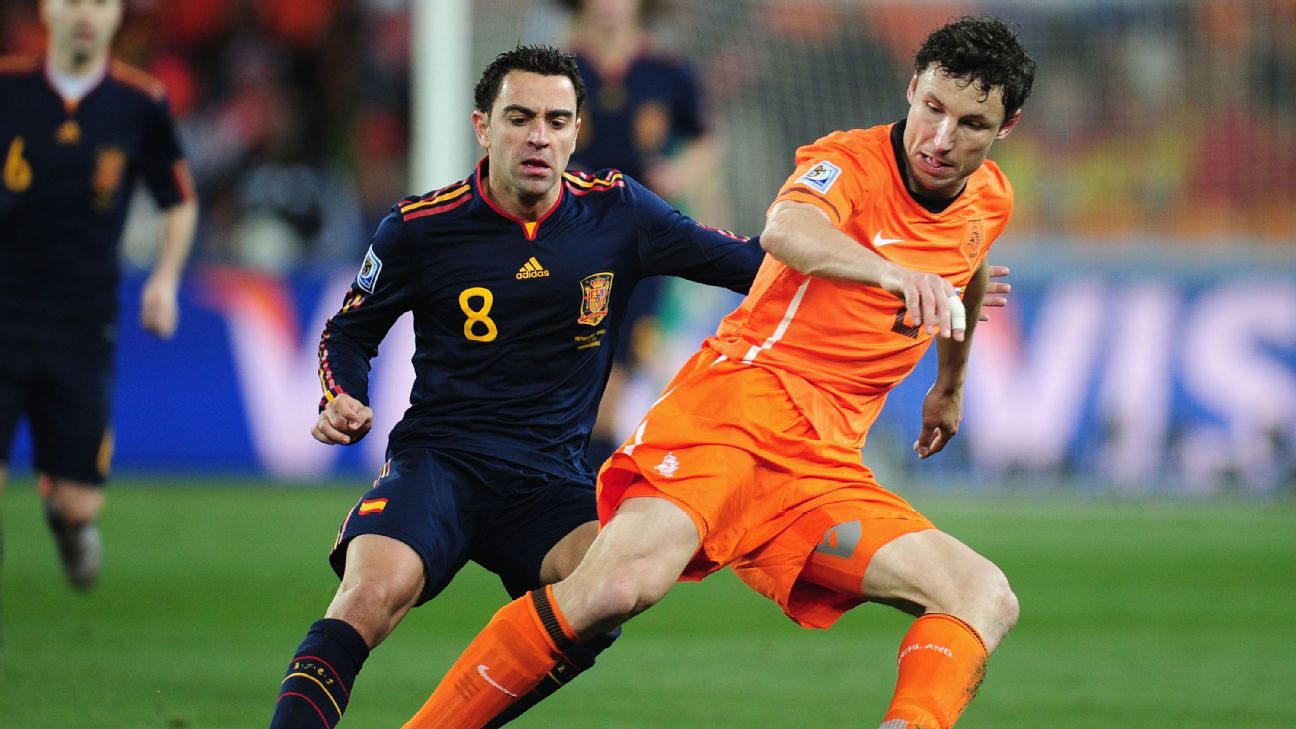 FC Barcelona have suddenly begun to play like Barca again, which is to say they look like the overwhelming, attractive, dynamic teams in which their current manager, Xavi, used to conduct magical football symphonies.
There has been a lot of dross from Spain's champions over the past few months. Winning dross, but pattern-free, stubborn, uninspiring stuff all the same. Yet this weekend's 5-0 win over Real Betis was an exhilarating display of instinctive, daring, one-touch, third-man running, passing-triangle soccer. Not since Xavi's team played with dash and delight in beating Real Madrid 3-1 in January, in the Super Cup final, have the men in Blaugrana produced anything even vaguely similar.
That performance was eight long months ago, so maybe it's the perfect time for the Catalan manager to be reacquainted with someone who symbolises both the best and worst of times for Xavi, and for the values of Johan Cruyff that have infused this club since the Dutchman became coach in 1988. That someone is Mark Van Bommel, the Royal Antwerp manager and someone whose personality, physique and football mentality embodies a debate that could corrode and undermine the values Xavi's trying to establish, just as the Champions League arrives in Catalunya's capital city again.
Explained in brief, that debate is: height, power and aggression vs. vision, technique, speed of action and thought.
Van Bommel joined Barcelona in 2005 just as Xavi suffered the worst injury of his career. The Dutchman started well — in fact, there's no better introduction to Cules (Barca fans) culture than to announce that you'd supported the club since visiting the Costa Brava on holiday as a kid and stumping up the money it cost to go on the Camp Nou tour.
Cut to the end of that 2005-06 season. Xavi had missed 31 LaLiga and Champions League matches through injury but played four times, including two starts, immediately before the Champions League final against Arsenal in Paris. He was ready; still more ready was Andres Iniesta. He'd starred throughout that championship-winning season, but when game day arrived in Paris, three dramatic lightning strikes hit in the Barcelona starting XI, announced well before Jens Lehmann's 18th-minute red card.
How Joao Felix is proving the doubters wrong at Barcelona
Gab & Juls discuss Joao Felix's performance in Barcelona's 5-0 win against Real Betis in LaLiga.
Lionel Messi — who'd enjoyed six matches and four starts in the competition that season — was left out of the squad altogether in favour of Maxi Lopez, a big, brawny, not noticeably talented forward who'd played one single minute in that Champions League campaign.
Next: both Xavi and Iniesta were benched for the test against Arsenal, which offered Barcelona their first European Cup win since 1992. Instead, Van Bommel started in midfield alongside Edmilson and Deco. Barcelona's then-coach, Frank Rijkaard, had opted for height, power, strength and brawn right across the board — preferring those attributes over the smaller, slighter, technically brilliant, Barca-trained, house-style talents.
What happened? Barcelona were outplayed by 10-man Arsenal for a long time, trailing 1-0 before Iniesta came on at half-time. Henrik Larsson joined him 15 minutes later and the final turned on those two men. Xavi would later state that "unless Andres came on in that match, we weren't going to win."
Iniesta eventually revealed in 2018: "Rijkaard took me aside and said something really tough to me, something that had no logic to it, and that meant he chose not to start me in that match. It's still one of the toughest things to digest all these years later in a sporting sense — one of the career moments that left the worst taste in my mouth."
Van Bommel, big, aggressive and tough, was whom Rijkaard went with. When Iniesta left Barcelona to play for Vissel Kobe, Xavi wrote him an open letter that alluded to that situation. "It made me furious when people used to say that Barca needed more 'muscle,'" he wrote. "What were they saying? The more important muscle needed to play football, as Cruyff said, is the brain. The bravest, most valuable thing is to use intelligence. You and I just had to suffer in silence: we preferred to do our talking on the pitch."
As for Messi? He was so furious at having been displaced by a bang-average player like Lopez, countryman or not, that he lost his temper and refused to come down to the pitch and join the trophy celebrations with the rest of his teammates. A couple of months later, I had my first-ever interview with him and he was clear that he regretted the attack of fury, stating firmly that "God willing, I'll have many more chances to win it."
There were a couple of other parallels between that rainy night in Saint-Denis and the visit of Van Bommel's team to Barcelona's temporary stadium on Montjuic this week — not just the apparently perpetual brains vs. brawn argument. Barcelona beat Arsenal 2-1 that night thanks to a striker in his mid-30s (Samuel Eto'o), Larsson with his two assists and a Portuguese-speaking right-back, Juliano Belletti, who crashed home the winner.
Before drawing the thread tight, and mentioning Robert Lewandowski (a striker in his mid-30s) or rampaging Portuguese right-back João Cancelo, it might be fun to throw in a very little-known anecdote.
How Barcelona's transfer strategy is affected by spending limit being slashed
Alex Kirkland discusses Barcelona's spending limit being slashed by almost €400 million and how that affects them moving forward.
Two weeks ago I was with Larsson, and we had a replica Champions League trophy. Inspired by being with "my old friend" (the trophy, rather than me), he told me that once the celebrations in Paris were eventually finished that night, he and his wife, Magda, ushered all the other squad members into taxis and then couldn't find one themselves. A couple of drinks had, understandably, been enjoyed and they randomly asked the nightclub bouncer if he knew how to get a cab. Instead, he phoned his brother, who was a painter and decorator by trade, got him to get out of bed at 5 a.m. to turn up in his work van and drive the Larssons back to Barca's hotel in Versailles.
Imagine the scene of a Champions League winner and his wife rattling around in the back of a fan surrounded by paint pots, ladders and a variety of workman's tools. "Painting the town?" At any rate, what glamour!
Just before leaving the Van Bommel subject to focus on Xavi's Barcelona, it's worth remembering that these ill feelings, which sprung up between the Dutchman and his two former Camp Nou teammates, resurfaced in the World Cup final four years later. That night in Johannesburg, the now-Antwerp coach properly put the boot in, was extremely lucky not to be sent off before half-time and bullied Iniesta so often that the man who eventually scored that glorious goal reacted and admitted that he, himself, was a little fortunate not to be sent off.
This week, it'll be interesting to see whether Van Bommel sanctions tactics aimed at testing the referee's tolerance by aggressively bullying a side packed with physically diminutive talents like Alejandro Balde, João Félix, Gundogan, Frenkie de Jong, Ferran Torres, Lamine Yamal and Gavi.
Back to the comparisons with Larsson and Belletti. With the arrival and immediate eruption of Joao Felix next to him, Lewandowski has begun to look like… Robert Lewandowski again.
His goal against Betis, the crucial strike to make it 2-0, was embellished by him turning to Felix and warning the Portugal international that he wanted a dummy when the ball was played in. Then getting that, when Andreas Christensen slid the ball through, and the Pole produced the type of sprint and finish he hasn't really shown for just short of a year.
Last week Lewandowski admitted to the Polish media that "before coming to Barcelona, I was a bit of a goal machine … here I've become a bit more 'human.'" Is he back?
And then there's Cancelo. Like his Portugal teammate Felix, he looks custom-made for this team not only because of his abilities, but because of the problem he solves at right-back. He plays with Pep Guardiola orders in his head and pops up as an "inside" fullback, perpetually offering himself as a "free" man in midfield. It's intoxicating to watch.
Each of the Joaos scored, each of them looked like the "missing piece" and each of them, you might say, has arrived at Barcelona just in time. I bet Van Bommel will have his own thoughts on the matter. They'll probably be grumpy ones, too.