The inside story of Pochettino's move to Chelsea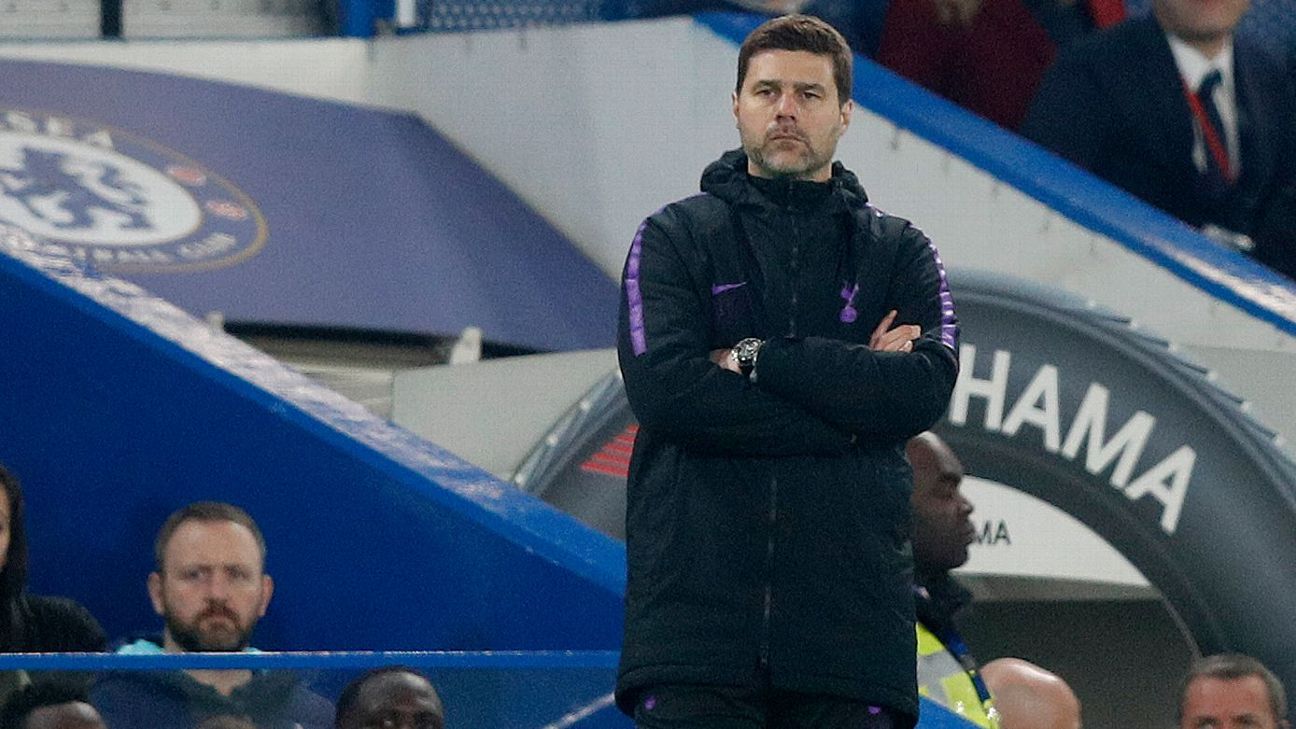 LONDON — The Todd Boehly-Clearlake Capital era at Chelsea is less than a year old, but Mauricio Pochettino's arrival as head coach marks the dawn of a new era. It cannot come soon enough.
Nobody could question the new owners' ambitions; having bought the club for £2.5 billion last May they committed a further £600 million to signing new players across two transfer windows, including the British transfer record of midfielder Enzo Fernandez from Benfica for £106.8m. But that huge financial investment has produced an embarrassing return: two sacked managers, the club's second trophyless season since 2016, and a bottom-half Premier League finish that sees them miss out on European football next season. Things could hardly have gone much worse.
The bloated first-team squad lacks direction and cohesion, with caretaker boss and club legend Frank Lampard unable to inject any impetus after replacing Graham Potter in April. Lampard's record: eight defeats, two draws and one win from his 11 games.
– Stream on ESPN+: LaLiga, Bundesliga, more (U.S.)
After so much upheaval, Chelsea needed a leader capable of moulding their expensive parts into a working machine. Step forward, Pochettino — a man who forged his reputation with the club's London rivals, Tottenham Hotspur. The 51-year-old remains one of the most highly respected managers in Europe, taking Tottenham from flirting with European football to four consecutive top-four Premier League finishes (2016-2019) and a Champions League final (a defeat to Liverpool in 2019).
However, a mixed spell with Paris Saint-Germain raised as many questions as answers about the Argentine's ability at the highest level. Pochettino won the Coupe de France and Ligue 1 with PSG but was unable to make inroads in the club's quest for a maiden Champions League trophy amid rumours of rifts with the team's biggest stars such as Kylian Mbappe and Neymar. Yet for many in England, the team spirit and high-octane football that Pochettino's Spurs team produced in going to the brink of winning major honours lingers stronger in the memory.
It was enough to convince Chelsea's beleaguered owners that Pochettino is the man to lead them at this crucial juncture in the club's evolution. But how did it come about?
Why Pochettino?
Boehly and Clearlake Capital executive Behdad Eghbali moved quickly after firing Thomas Tuchel on Sept. 6. Sources have told ESPN that Tuchel felt he was close to the sack during a preseason in which he became frustrated at both the amount of travelling Chelsea were undertaking (they travelled across the U.S., often in high temperatures, starting with a training camp in Los Angeles and ending in Orlando, Florida) and the amount of engagement the new owners were demanding from him internally.
Although Boehly and Eghbali were familiarising themselves with possible alternatives, the decision to appoint Potter from Brighton was swift. They spoke with other candidates — including Pochettino and also, according to club sources, multiple managers who offered themselves up for the position without solicitation — but Potter was almost immediately identified as the club's first choice. He was appointed two days after Tuchel's exit.
Yet the way in which Potter's tenure unravelled in less than seven months, with 11 defeats and eight draws from 31 games, made the Chelsea hierarchy determined to follow a more measured process this time around. While Boehly and Eghbali would get involved in the later stages, they were keen for co-sporting directors Paul Winstanley and Laurence Stewart to lead the search.
The club planned to speak to a variety of candidates about the role in creating a first formal shortlist of seven names. That septet was then gradually whittled down over the ensuing weeks in what one source connected to a manager involved described as "like a beauty pageant."
But not every interested party was content with walking through the hoops. Former Spain and Barcelona boss Luis Enrique flew to London to hold in-person talks with the Chelsea hierarchy shortly after Potter's exit. Sources told ESPN that Enrique made it clear he was willing to take the job immediately, and the loose framework of a contract lasting the rest of this season and then for a further two years was even discussed. Enrique left the meeting believing he was a strong candidate, but Chelsea then appointed Lampard as caretaker until the end of the season, creating a fresh sense of frustration.
Chelsea also met with former Bayern Munich boss Julian Nagelsmann, with initial talks said to have been positive on both sides. However, with the Blues still at a formative stage of their thinking, Nagelsmann withdrew from the process, with club sources suggesting he became irritated by the lack of progress. On the other side, a source close to Chelsea argued the club's due diligence on Nagelsmann came back with "mixed results" and suggested the 35-year-old wanted a "coronation" rather than to engage fully with a detailed manager search.
Sources have told ESPN that Celtic boss Ange Postecoglou and Feyenoord's Arne Slot were among others the club discussed, before a three-man shortlist of Pochettino, Burnley's Vincent Kompany and one other candidate was identified.
As talks intensified, Pochettino emerged as the preferred option. The composition of his backroom staff was eventually agreed, with longtime assistant manager Jesus Perez, plus first-team coach Miguel D'Agostino, goalkeeping coach Toni Jimenez and his sports scientist son, Sebastiano, all joining the club.
Sources have told ESPN that further discussions have taken place on ensuring Pochettino has an active say over player recruitment. There has been an acknowledgement internally at Chelsea that to attract an elite coach, a degree of compromise on how the club's hierarchy works on a day-to-day basis will be required in order for the transition to be as smooth as possible.
Boehly has hired two sporting directors — Winstanley and Stewart — as well as technical director Christopher Vivell, while Joe Shields, Kyle Macaulay and Jim Fraser are responsible for talent management and recruitment. Chelsea are keen to allow data analytics to play a significant role in their decision-making, but Pochettino is expected to have a prominent voice within this group to help shape the squad in a satisfactory and collaborative way. Pochettino will not officially begin work until the end of the season, but sources have told ESPN he will speak to Lampard as part of a series of conversations to garner as much information about the group as possible to ensure he can hit the ground running and reach their goals.
"We're a long way off when Antonio Conte last won the title," Dan Silver, Chelsea Supporters Trust board member, told ESPN. "Pochettino has done enough for Tottenham in terms of how he developed them. He took a while to get his ideas across but he turned them around.
"Chelsea are arguably now where Tottenham were when he took over. He's not coming into a dressing room of winners. He's got young players who have been parachuted in very quickly. He'll have time to work with them on the training ground with no European football and hopefully he'll get us challenging for top four which is the minimum expectation next season."
For his part, Pochettino has not been short of job offers since leaving PSG, but although there was speculation he could return to Spurs after they sacked Conte, sources said that Tottenham never made a formal approach to rehire him. Pochettino was reported to have been concerned about the impact on his legacy of potentially choosing Chelsea over Spurs; ultimately that situation was avoided because his old club never actively pursued him.
Laurens: Boehly should let the people around him lead Chelsea
Julien Laurens believes Chelsea chairman Todd Boehly should let the right people at Chelsea lead the club as they have the experience to do it.
What has been the reaction within the squad to his appointment?
Sources close to multiple players in the squad have told ESPN that Pochettino's appointment has been greeted positively, not least because of the clarity it will bring this summer. Potter had his favourite players and while Lampard criticised the overall fitness of the squad, those within it knew meaningful conversations about their status in the squad would occur only once a new permanent head coach was in place. There is respect for Pochettino's achievements as a coach and a willingness to embrace the style of football he became synonymous with at Tottenham.
Fans are feeling positive too. "I'm very pleased, very excited," Silver added. "Pochettino has got Premier League experience, arguably made Tottenham into the best Tottenham team in my lifetime and I started football in 1982. He's got that edge that we need. He's got an iron fist, won't accept mediocrity and very good appointment given who was out there. He was the best of what was available and we didn't have to pay compensation to another club for another manager."
Some supporters have had a more mixed reaction, though, chiefly due to Pochettino's history with Spurs. The Argentine managed the north Londoners for 5½ years up to November 2019, overseeing a period in which they finished above Chelsea twice in his five full seasons (although the Blues won two Premier League titles in that time.)
Perhaps most infamously, Pochettino became personally involved in what became known as the "Battle of the Bridge" in May 2016. Spurs had to beat Chelsea at Stamford Bridge to keep their chances of a Premier League title alive, while Chelsea were languishing in mid-table after a dreadful season that saw manager Jose Mourinho depart in December. Their only motivation was to stop Tottenham from catching Leicester to win the title.
Pochettino was a bundle of aggression on the touchline, setting the tone for a fiery contest. And, when Spurs defender Danny Rose and Chelsea winger Willian clashed close to the dugouts just before half-time, the manager entered the field of play and split the pair up before moving toward Willian as players from both sides ran to involve themselves in the melee.
Spurs blew a 2-0 lead to eventually draw 2-2, a result that ended their title hopes, sparking another scrap at full-time. They ended the game with nine yellow cards — a Premier League record for one team in a single game — and it would have been worse had referee Mark Clattenburg not let so much go (he later admitted there should have been three red cards in the match.)
Spurs have had a history of appointing former Chelsea managers in the Premier League era — Conte, Mourinho and Andre Villas-Boas — but this is the first time since Glenn Hoddle in 2001 that the Blues have hired someone so closely associated with Spurs to be their manager. In the intervening 22 years, the shift in power between the two clubs has been profound, with the Blues winning every major club trophy possible in a total haul of 21 and Tottenham landing only the 2008 League Cup.
Pochettino has won the Ligue 1 title with Paris Saint-Germain, but there are doubts about his ability to deliver the game's biggest prizes. His behaviour in the "Battle of the Bridge" was cited by some as evidence of inexperience under pressure but, seven years on, Chelsea will feel they have a more polished version of Pochettino.
What is on Pochettino's to-do list?
The Chelsea squad in its present form is almost unmanageable. There are 31 first-team players, plus eight players out on loan including Romelu Lukaku, Callum Hudson-Odoi and Tiemoue Bakayoko.
Sources close to the club have told ESPN that Potter struggled to arrange training sessions that fully engaged such a vast number of players, while veteran defender Thiago Silva admitted recently that the club had to "increase the size of the changing rooms because they didn't fit the size of the team."
While some managers join a club with a wishlist of players they would like to sign — and Pochettino will likely be no exception — the first priority is to make decisions on which players should be allowed to move on. The clock is ticking. Any exits completed before June 30 would help offset the £600m expenditure overseen by Boehly and Clearlake Capital as they would fall in the 2022-23 tax year and would help reduce the overall loss and comply with financial fair play.
In March, the club announced a loss of £121.3m, but the total commitment on new signings under Boehly/Clearlake has been estimated at over £1.2bn including transfer fees, wages and agent fees. The club sought to offset some of that outlay by handing out seven- or eight-year contracts, meaning transfer fees are amortised over a longer period, mitigating the potential losses for 2022-23 to the year ending June 30.
But the absence of any European football is a loss in revenue that Boehly and Clearlake did not anticipate, leading in part to the timing of Potter's departure as they desperately hoped the return of Lampard would spark a short-term uptick in form. Consequently, compliance with UEFA's financial fair play rules is a mounting concern. Money from player exits has always been important to Chelsea. The club have reported overall losses totalling £343m over the four years of published accounts up to 2021-22, despite £354m profit in player trading in that period.
"If they get this appointment wrong and it is another year without Champions League football, that is huge from a financial perspective," Silver said. "We need to have a good season. They need to get this right — if not what do we become? A mid-table team? Could they then build the new stadium? It is a huge season for us moving forward, almost as much as it was when Roman Abramovich came in in 2003."
Why it's time for Christian Pulisic to leave Chelsea
Steve Nicol explains why he thinks Christian Pulisic should leave Chelsea in the summer transfer window.
Pochettino will be expected to work with several young players Chelsea have invested huge sums in as part of a strategy to develop a fresh core. Fernandez, Benoit Badiashile, Mykhailo Mudryk and Wesley Fofana are four members of that group. But as ESPN reported on Feb. 10, Chelsea have long planned a host of departures this summer as they look to streamline their squad and balance the books.
Pochettino wants a say in identifying which players are allowed to depart, although the club's recruitment team has already established views of its own. Christian Pulisic, Pierre-Emerick Aubameyang and Hakim Ziyech are among the players expected to leave, while the club will likely listen to offers for many others including Kalidou Koulibaly and Hudson-Odoi. Talks with £97.5m striker Lukaku are planned at the end of the season once he returns from his loan at Inter Milan.
Contractual situations elsewhere will influence decisions. Sources close to the player have told ESPN that midfielder Mason Mount is increasingly likely to leave given he has one year left on his deal and there has been no progress over an extension for several months. Sources said Pochettino is an admirer of Mount's abilities, but Liverpool, Manchester City and Manchester United are among the interested clubs.
Elsewhere, Mateo Kovacic is in a similar position, with City reportedly monitoring the Croatia midfielder, and N'Golo Kante is out of contract this summer with his latest injury setback casting doubt over the recent optimism that he will sign a new deal.
Pochettino must quickly identify the players he wants while creating a sense of identity to give Chelsea some structure to their football. Improving fitness is also likely to be high on the agenda. Sources at Chelsea's Cobham training ground have told ESPN that while Potter was generally liked, even as results soured, the atmosphere around the place was considered too relaxed for an elite team. Lampard seemingly picked up on that when suggesting shortly after joining the club that the players he inherited lacked requisite fitness to perform consistently at the highest level. He did his best to avoid criticising Potter directly, but the implication was clear.
Pochettino's high-press, high-energy style means a gruelling preseason likely lies in wait for Chelsea this summer amid five friendly games in the United States starting with Wrexham on July 19 in North Carolina and ending with Borussia Dortmund in Chicago on Aug. 2.
Underpinning it all, Pochettino must establish strong relationships with the hierarchy Boehly has appointed above the head coach. Tuchel was fired, in part, for his reluctance to work with hands-on owners and engage with differing voices about the team's progress. Potter was identified as a more amenable character able to work in a collaborative environment.
Chelsea will hope Pochettino is a combination of Tuchel's pedigree and Potter's personable manner. If that happens, the new era at Stamford Bridge looks bright.