Nicolas Cage reveals what he loves about "Renfield": "You're laughing and then you're screaming"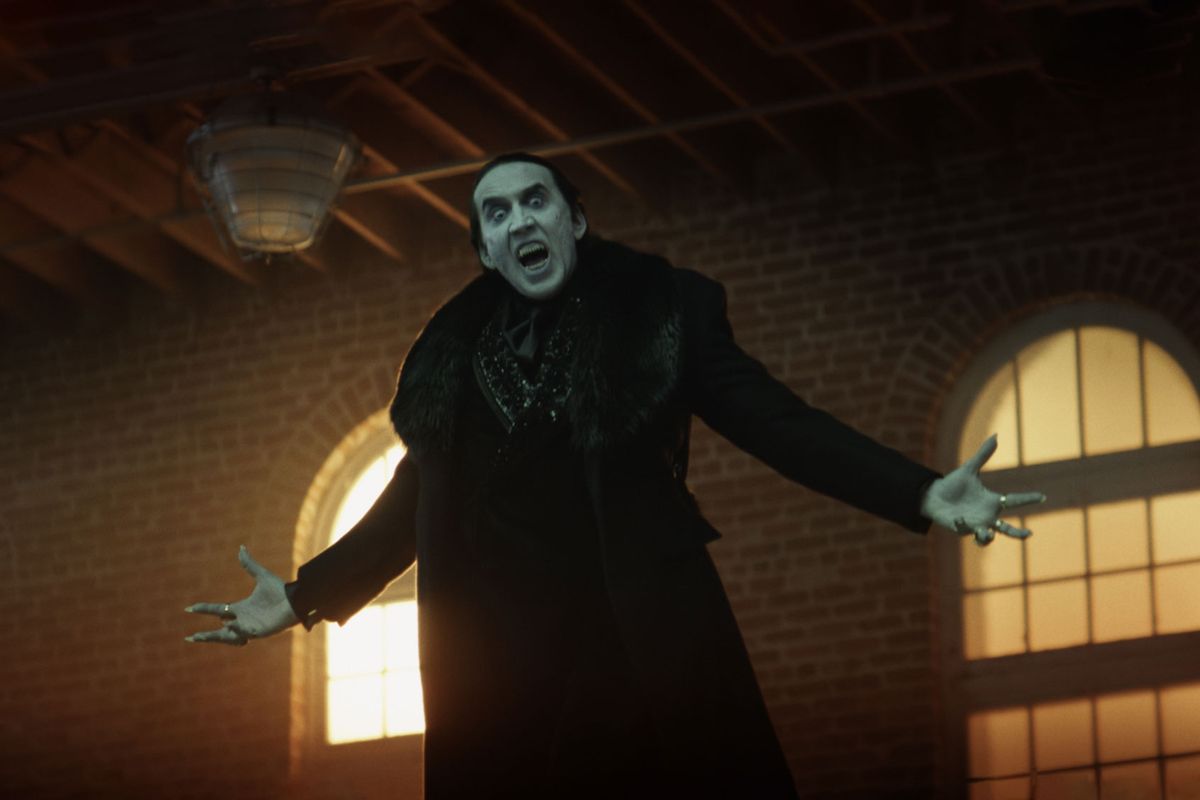 "Renfield" — a modern furthering of the "Dracula" story starring Nicolas Cage as the dark prince himself with Nicholas Hoult in the title role as his codependent familiar — celebrated its world premiere on Thursday in New Orleans on the opening night of The Overlook Film Festival.
As Salon's in-house New Orleanian, and someone who has been a fan of both vampire lore and Cage's work since an early age, I jumped at the chance to attend. Arriving early for the press line and staying late for a Q&A after the film, I was able to hear firsthand from Cage, director Chris McKay, executive producer Samantha Nisenboim and screenplay writer Ryan Ridley how infusing horror with comedy results in a gory, action-packed masterpiece that effectively sets itself apart from the Dracula films that have come before it.
Set in present-day New Orleans, where filming took place starting in February 2022, we first meet Robert Montague Renfield as he attends a church-run support group to learn how to gain autonomy and start a new life for himself, away from Dracula. Withholding the details of the person he's trying to leave until that person shows up at a meeting and kills everyone, Renfield uses super-human strength obtained from eating bugs and the help of a love interest — a local cop named Rebecca Quincy (Awkwafina) — to battle his scorned master and the local crime affiliate he's glamoured into his ranks.
Cage is no stranger to New Orleans, or vampires. A former resident who once owned the infamous Madame Delphine LaLaurie mansion in the French Quarter, he visits what will be his final resting place frequently. A massive pyramid-shaped tomb, located in the city's most famous cemetery — St. Louis Cemetery No. 1 — will one day contain the (undead?) body of this legendary actor whose role in 1988's "Vampire's Kiss" gave him practice in delivering lines with a mouthful of fangs. But, like you'd imagine, he has a signature sense of humor about it all and seems to get a kick out of melding the dark and light aspects of life and beyond. And viewers love watching him do it, judging by my own experience as a fan, and the applause that came at the end of the "Renfield" screening Thursday night.
During the press line portion, I asked Cage why he thinks horror and comedy complement each other as well as they do.
"It sort of knocks you around. One moment you're laughing and then you're screaming. You just don't know what you're gonna get," Cage told Salon. "It keeps you on the edge of your seat. And I had that experience with 'An American Werewolf in London,' and I've been wanting to hit that bullseye ever since I saw that movie as a teenager in the cinema."
Specifically pertaining to "Renfield," which somehow manages to illicit laughs in scenes where people are shown being cut in half with serving trays and stabbed with others' ripped-off arms, Cage said, "I think that Chris McKay really got there with this movie. I think he found that perfect tone. It's just so unpredictable because the movie becomes almost like a ride, and you're laughing and screaming."
During the Q&A that came at the end of the screening, Cage went into what inspired his portrayal of the world's most famous vampire.
"Dracula as a character, as we know, has been done many times. It's been done well a few times, but the lion's share is it's been done not so well. And I think the ones that I looked at as a starting point were of course the Bela Lugosi one. But Bela, as great as he was, that wasn't my Dracula. My Dracula was Christopher Lee. I love his '60s hairdo. I love the clothes. I loved his animality when he was on the attack."
On the voice he took on for the character, Cage said he got inspiration from his father.
"He was a literature professor and he always spoke with distinction. And Chris said, 'Well that's a good voice.' Because we didn't want to do the Transylvanian accent, so I landed on that mid-Atlantic accent that dad had and, believe it or not, I thought about Anne Bancroft as Mrs. Robinson in 'The Graduate.' She had that mid-Atlantic accent too and there's something very Dracula-seductive about her in that. So those were the two influences that I most looked at."
After a remark from McKay on the unique way Cage moved his body in the film, the actor stood up to give an example.
"I wanted to do this posture," he said, giving what could be described as an 'I'm a little tea cup' pose.
On the script itself, screenwriter Ryan Ridley talked about finding balance between reverence and invention when it came to taking on a new Dracula story saying, "I think first and foremost it's the idea of the ultimate narcissistic human being archetype and then just mapping the lore of Dracula over that."
---
Want a daily wrap-up of all the news and commentary Salon has to offer? Subscribe to our morning newsletter, Crash Course.
---
In a quick one-on-one with executive producer Samantha Nisenboim, I asked her about the decision to film in New Orleans and what role she saw the city itself playing in the film.
"We wanted to embody everything about New Orleans. The lore, the spooky tendencies associated with it; and just really highlight all the gorgeous architecture of the city," Nisenboim said. "So it was really important to us. We very specifically chose to shoot here, and we loved the idea that we could be in Charity Hospital. That was a huge draw because that was one of the original pieces from the screenplay, this idea of being in an abandoned hospital. So that was one of the most fundamental parts of coming here too."
Charity Hospital took on massive flooding during Hurricane Katrina in 2005, trapping "roughly 360 patients and 1,200 staff members inside," according to WWLTV. Abandoned since the flood, the city has made moves renovate it, with plans now branching into 2025.
Modern in its setting and modern in its action driving soundtrack, "Renfield" also infuses present-day touches that punch up the film and mark it as unique. In one scene, Dracula comments that he's not concerned with genders when it comes to who he feeds on. And, in another, the Dracula trope of needing to be invited into a dwelling is modernized when he's able to gain entry to Renfield's new bachelor pad by the fact that it has a welcome mat outside.
In a supporting role to Hoult, Cage's runtime here is brief when added all together, but he still manages to steal the show. As I told my Uber driver on the ride home when he commented that he hoped Cage would make a comeback: "He's back."
"Renfield" releases in theaters nationwide on April 14.
Read more
about this topic