Jennifer Lopez Wears Sexy Silver Dress With Thigh High Skirt Slit and Feathered Jacket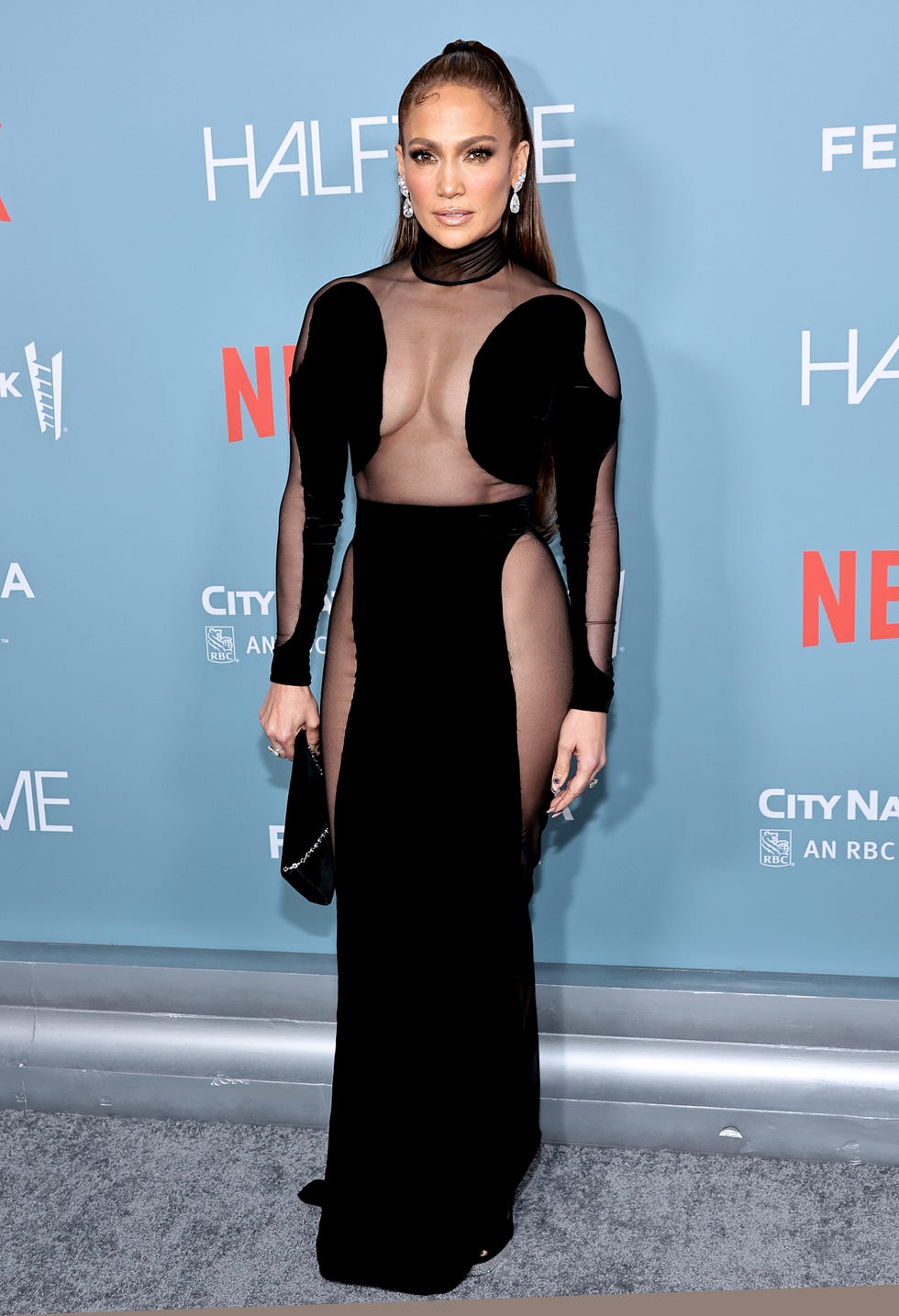 On Saturday night, Jennifer Lopez and the brand Revolve hosted a party in Los Angeles soon after the pop star announced her new line of fashionable shoes in collaboration with the company. As always, J.Lo was dressed to impress, wearing a long velvet dress in metallic shades of silver and grey. The bodice was made of two wrapped pieces of fabric forming cutouts across her torso and bust, and the skirt featured a thigh-high slit revealing her long toned leg and a pair of purple strappy platform heels.
Over the gown, the Marry Me actress had on a feathered grey cropped coat with long sleeves that draped off her shoulders. Lopez had her hair down and slicked back away from her face in a "wet" style and wore a pair of dangling gold statement earrings.
The big night was attended by Tiffany Haddish, Chloe and Halle Bailey and Christina Milian. Ben Affleck was missing from the event, but that's because he and bestie Matt Damon were premiering his new movie AIR at SXSW.
J.Lo's collection with Revolve launched for sale on Thursday with a 16-piece collection of heels ranging in price ranging from $145 to $200. She started promoting the new shoes with a photo shoot on her Instagram page already, showing of glittering knee-high boots, platform heels, and strappy pumps with fluffy details.
"At Revolve, collaborating with influential tastemakers in fashion and entertainment has been one of the keys to our success," said Raissa Gerona, Revolve chief brand officer, in a statement on the collab. "Through these partnerships, we are able to provide our customers with exclusive products that they can only purchase from Revolve. Jennifer Lopez is a pop culture icon and an inspiration to millions of people all over the world, so there was no question of doing an exclusive collaboration with her line, JLO Jennifer Lopez. We're so excited to introduce the new line of footwear and collaborate with Jennifer Lopez."

Aimée Lutkin is the weekend editor at ELLE.com. Her writing has appeared in Jezebel, Glamour, Marie Claire and more. Her first book, The Lonely Hunter, will be released by Dial Press in February 2022.