From matzo ball ramen to cacio e pepe orzo, here's how a travel writer eats through Brooklyn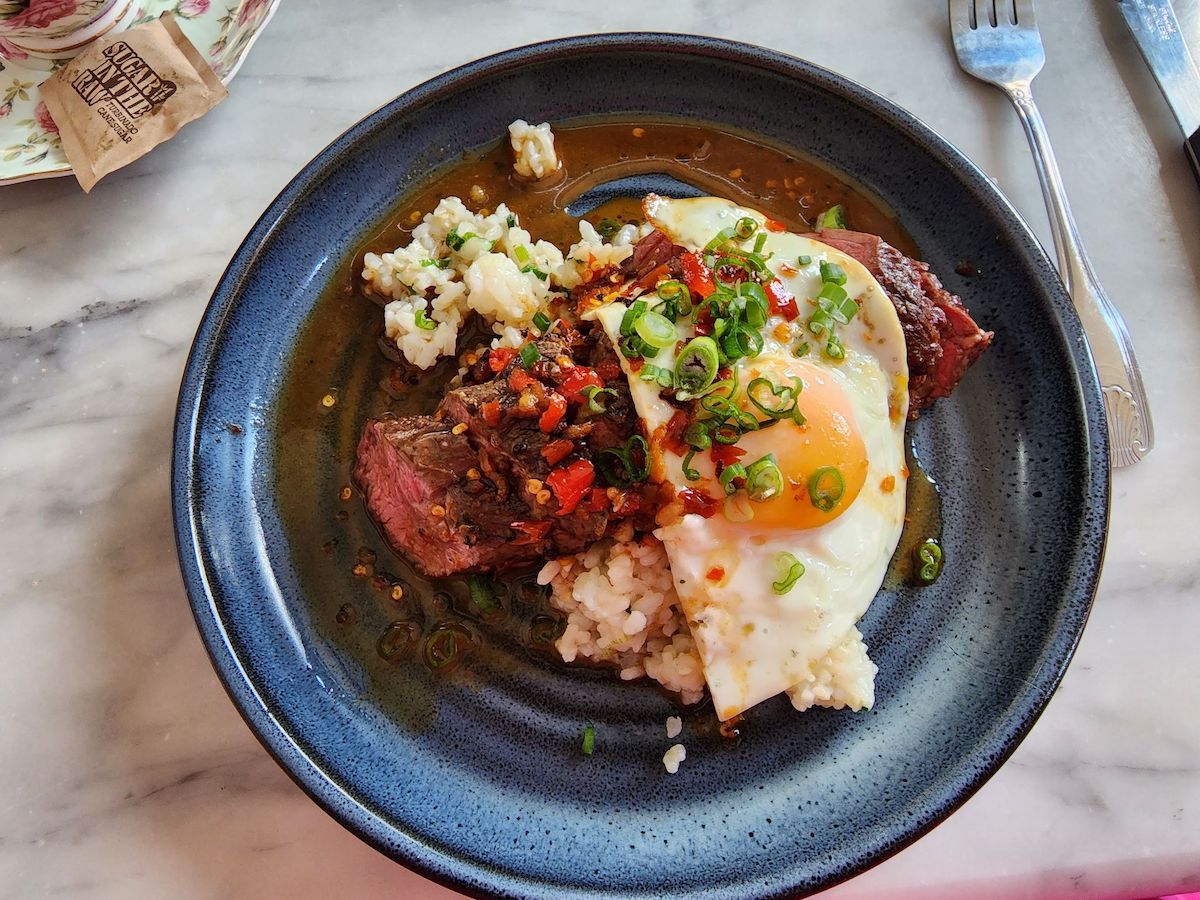 It's no secret that I love New York City (check out my column focused primarily on Manhattan for more on that). This time around, we'll dive into Brooklyn: where I met my wife, started my business, and learned to fall in love with my body thanks to other queer, fat femmes.
Brooklyn is full of incredible food, wonderful entertainment, a whole lot of hard-working people — and it's just over three times the size of Manhattan, with 900,000 more people. Since I could write multiple books with all my favorite places, the following suggestions are just a drop in the bucket, focusing on some standouts from my December visit. I primarily stuck around the Williamsburg area, with a few (really exciting, if I can say so myself) exceptions.
Where to Stay:
Hotel Indigo – The Williamsburg Hotel Indigo was open for just a few months before the pandemic forced it to temporarily close its doors. Now reopened, the conveniently located hotel (there are two subway lines right outside!) offers an excellent place to lay your head while adventuring in the city. A bar/coffee shop hybrid can be found in the massive lobby, perfect for getting your day started right and relaxing at the end of a busy night. The rooms are modern, with hardwood floors and massive windows. Some have balconies too! And, in case shopping is in the cards or you lost your bags, Plus BKLYN is right next door. It's a fat owned boutique that sells both vintage and thrift clothing.
Wythe Hotel – You might not expect that the stunningly edgy Wythe Hotel used to be a waterfront factory, but somehow, the nod toward its history is simply charming. The rooms offer an excellent view of Manhattan through the floor-to-ceiling window and high ceilings, and the beds are wicked comfortable! I was pleasantly surprised by the fantastic service, from carrying my suitcase to the kind welcome every time I walked through the doors.
The hotel is also home to Le Crocodile, a highly-rated French restaurant that is beloved by guests and neighbors alike. The cacio e pepe orzo, which, while not French, was my favorite dish of the meal! For a really decadent treat, the burgundy duck paired with pear and pancetta is simply divine. Be sure to venture up to Bar Blondeau, where you can drink away while enjoying the crystal-clear views of the Manhattan skyline.
Where to eat:
Clover Hill – For an unforgettable evening, dine at Clover Hill, under the helm of Chef Charlie Mitchell, the country's second Black chef to receive a coveted Michelin star. The restaurant is small and cozy, seating just 34 people, but it felt full of life and laughter. You'll be surrounded by whimsical decor made up of books, art, musical instruments, and lots of plants. Dress up in your fanciest clothing — or don't, because Clover Hill is "come as you are"
And the food! It's simply amazing. Complex, layered flavors with a menu that is seafood-heavy. Clover Hill offers a tasting menu as well as al a carte options, but for the full experience, definitely go with the tasting menu (at least, that's my philosophy). The meal was full of unexpected and rich flavors, like a rice course with uni and white truffle and raw tuna toro on top of a house-made brioche, resembling nigiri. The dessert suited the meal very well, light, perfectly balanced lemon curd, cake, and ice cream, with crumbs for textural balance. Be sure to leave room for the last bites, they are definitely some of the best bites of the meal.
Rana Fifteen – It's hard to miss Rana Fifteen, which is painted white and stands out among the rest of the buildings on the street. The interior is similarly stunning, with white brick ways and an arched ceiling. Rana Fifteen is named after owner Ahmet Kiranbay's mother, Rana, and serves food from Aegean and Western Turkey, where Ahmet grew up.
We ordered Rana's Table Feast, which included fifteen different dishes: eight appetizers, and four seasonal mezes, followed by an entrée to share and dessert. We opted for the whole Bronzino, which was spectacular, flaky, and perfectly prepared. At only $39 per person, this meal is as affordable as it is delicious.
Shalom Japan – As an avid Japanese food lover who grew up in a Chassidic Jewish home, when I heard about Shalom Japan, a fusion restaurant by a husband (Jewish) and wife (Japanese) team, I knew I had to try it. The small restaurant was buzzing with people when we stopped by for lunch, and the menu was just what could be expected from a Kosher / Japanese fusion restaurant. There was the Matzo Ball Ramen — with a chicken broth base, char siu chicken, scallion and nori — a Lox Bowl, complete with sushi rice, avocado, Japanese pickles, fried capers, and chili mayo, and more. The food was all really good, but I did wish they leaned a bit more into the fusion, playing up the Japanese flavors, not just the ingredients. Overall, definitely an excellent place for brunch while visiting Brooklyn.
As a sucker for a great steak and eggs — I had to order theirs, composed of a tender shoulder-cut of domestic Wagyu and spicy garlic fried rice. It was an absolute flavor explosion and I am still thinking about it, it was that good
Leroy's Greenpoint – Leroy's has the feel of a traditional American bistro, with a giant bar in the center and plants, but the food is anything but traditional. We started brunch with coffee, orange juice, and a Bloody Mary with oysters. The oyster was perfect, but I really didn't like the bloody mary. Can't quite put my finger on why! Every other thing we tried was fabulous. It's a very small menu, so if you struggle with indecisiveness, you'll really appreciate that. If you're a salad person or can appreciate a really solid caesar salad, you'll have to try Leroy's version, which features grilled little gem lettuce instead of the traditional romaine. It's topped with fresh anchovies (ask for extra!), and crispy gremolata for a delicious result.
As a sucker for a great steak and eggs — I had to order theirs, composed of a tender shoulder-cut of domestic Wagyu and spicy garlic fried rice. It was an absolute flavor explosion and I am still thinking about it, it was that good. The chairs in Leroy's weren't very comfortable, unfortunately, so pick the bench seating if you can. We finished our meal with a crunchy chocolate chip cookie topped with salt.
Squish factor: The bathroom at Leroy's is tiny, so fair warning, you might want to avoid it.
What to do:
Brooklyn Botanical Garden – Nearly one million people visit the Brooklyn Botanical Gardens every year, and it's for good reason. Located right next door to the beautiful Prospect Park, the 52-acre botanical garden boasts over 14,000 plants. Think of your favorite park, but on steroids, with stunning trees, plants, and a lovely relaxing outdoor space to wander around, journal, and take countless photos. Be sure to swing by the gift shop for lots of unique gift items for the plant lovers in your life.
World Spa – I've had the privilege of visiting a lot of spas over the last few years.. But none of those spas could have prepared me for the sheer magnificence of the newly open World Spa in Brooklyn. Definitely clear your day, you're going to want to soak up every minute. You'll get a bracelet when you check in, which you use to open your locker, pay for food, and for treatments. The spa is filled with a variety of steam rooms, dry heat rooms, and pools of every temperature, celebrating the bathing practices of people from across the world. You'll find Turkish and Moroccan hammams, Eastern European banyas, Finnish saunas, Japanese onsens, and more.
World Spa also offers a wide range of treatments, but I highly recommend you, at the very least, try the venik treatment. The venik is an Eastern European "massage" which involves someone smacking you with a wet broom made of leaves and branches. I know, I know, this might sound a little out there, but it was a magical experience that I simply can't wait to do again. You'll lay down on a table in a small private banya, and they will alternate between the hot brooms and cold water before ending the treatment in a cold plunge or snow room (I opted for the snow room for a milder cold). And it doesn't hurt!
And when you need a little reprieve from all the relaxing, sit in your robe in the middle of the spa and enjoy some delicious bites, like the trio of tartars — Hokkaido scallops, bluefin tuna, and king salmon — or the rich potato varenyky with fried onions and sour cream.
If dinner is in the cards after a long day at the spa, you don't have to go far for a spectacular meal, as the newly opened REN Restaurant is just downstairs. The not-quite dimly lit restaurant has high ceilings, tasteful decor, and a beautiful skylight. The chilled diver scallop with sea urchin, radish, and caviar is perfectly balanced, and you must get the Maine lobster with saffron risotto and chives!
Squish factor: The provided robe was a tad small, but still fit. They were able to find me a larger one a little while after I got there, so don't hesitate to ask.
Brooklyn Bowl – You might not be thinking of going bowling while on vacation, but just hear me out! While Brooklyn Bowl suggests a bowling alley, this is more of a music venue that comes with a bowling alley. And you can enjoy the show, bowl, dance and eat all in one place. Getting a bowling alley allows you to enjoy the show in your own space, with a comfortable couch and a server. The large warehouse venue is full of reclaimed wood and cork, with a large dance floor and tall ceilings.
There's a cover charge for show nights, but bowling is reasonable if you have a group, as it's only $35 per lane, per half hour. The drinks are strong, and my favorite drink, a spicy margarita, was dope, and the fried chicken was pretty good too. Brooklyn Bowl definitely has a club vibe, with a light show and glow-in-the-dark bowling pins – which I found really enjoyable despite not usually being the partying type. And if you stay at the Wythe hotel, it's right across the street!
Read more
about food and travel