Trump lights up the MAGA signal in an all-caps call to protest his foretold arrest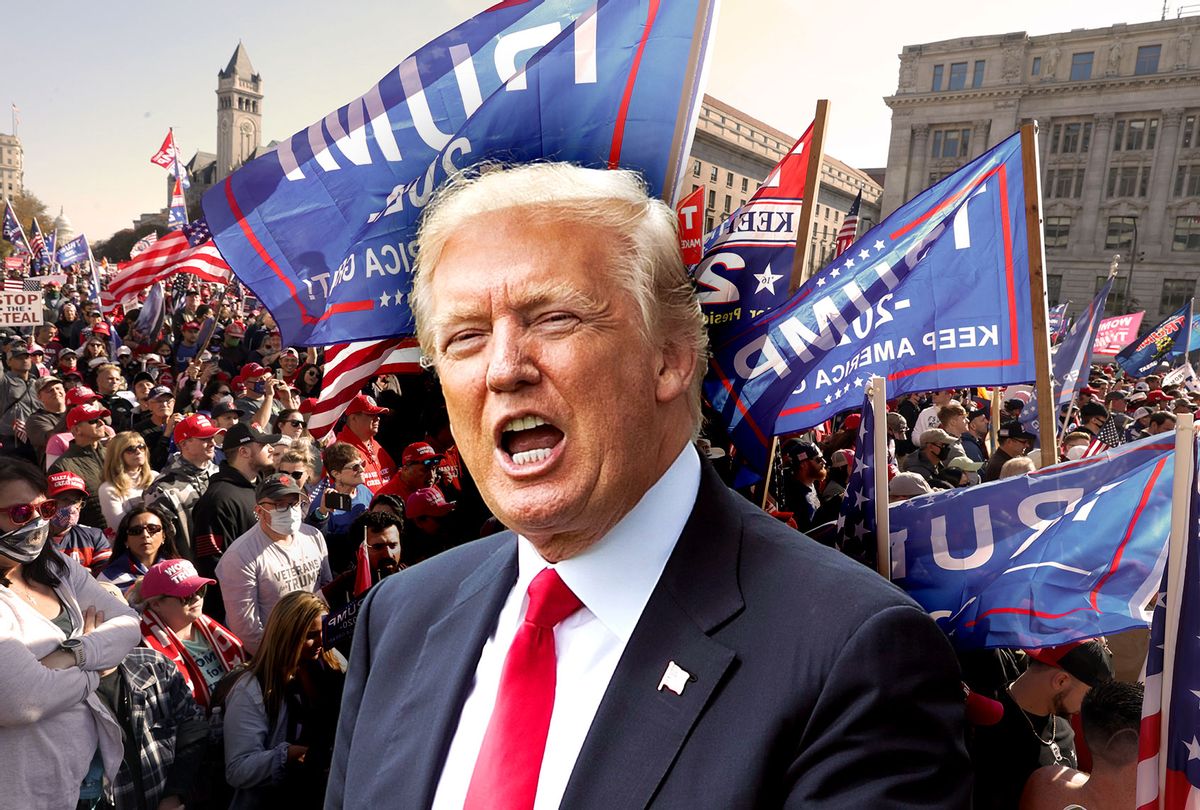 In an all-caps rant posted to Truth Social on Saturday, former President Trump sent a distress signal to his MAGA supporters, asking them to protest his looming indictment.
Claiming that "illegal leaks from a corrupt and highly political Manhattan District Attorney's Office" indicate that he'll be taken into custody on Tuesday "in connection with a years-long investigation into a hush money scheme involving adult film actress Stormy Daniels," as CNN reports, he's all but bracing arms and legs in the doorframe to avoid being pulled out.
"OUR NATION IS NOW THIRD WORLD & DYING," Trump writes. "THE AMERICAN DREAM IS DEAD! THE RADICAL LEFT ANARCHISTS HAVE STOLLEN OUR PRESIDENTIAL ELECTION, AND WITH IT, THE HEART OF OUR COUNTRY. AMERICAN PATRIOTS ARE BEING ARRESTED & HELD IN CAPTIVITY LIKE ANIMALS, WHILE CRIMINALS & LEFTIST THUGS ARE ALLOWED TO ROAM THE STREETS, KILLING & BURNING WITH NO RETRIBUTION. MILLIONS ARE FLOODING THROUGH OUR OPEN BOARDERS, MANY FROM PRISONS & MENTAL INSTITUTIONS. CRIME & INFLATION ARE DESTROYING OUR VERY WAY OF LIFE…"
In part two of his call to action, Trump continues with:
"NOW ILLEGAL LEAKS FROM A CORRUPT & HIGHLY POLITICAL MANHATTAN DISTRICT ATTORNEYS OFFICE, WHICH HAS ALLOWED NEW RECORDS TO BE SET IN VIOLENT CRIME & WHOSE LEADER IS FUNDED BY GEORGE SOROS, INDICATE THAT, WITH NO CRIME BEING ABLE TO BE PROVEN, & BASED ON AN OLD & FULLY DEBUNKED (BY NUMEROUS OTHER PROSECUTORS!) FAIRYTALE, THE FAR & AWAY LEADING REPUBLICAN CANDIDATE & FORMER PRESIDENT OF THE UNITED STATES OF AMERICA, WILL BE ARRESTED ON TUESDAY OF NEXT WEEK. PROTEST, TAKE OUR NATION BACK!"
---
Want a daily wrap-up of all the news and commentary Salon has to offer? Subscribe to our morning newsletter, Crash Course.
---
As CNN highlights in their coverage, "Any indictment of the former President, who is running for reelection in 2024, would mark a historic first and quickly change the political conversation around an already divisive figure."
Read more
about this topic