Trump's Clinton lawsuit badly backfires after judge hits him and his lawyers with $938K bill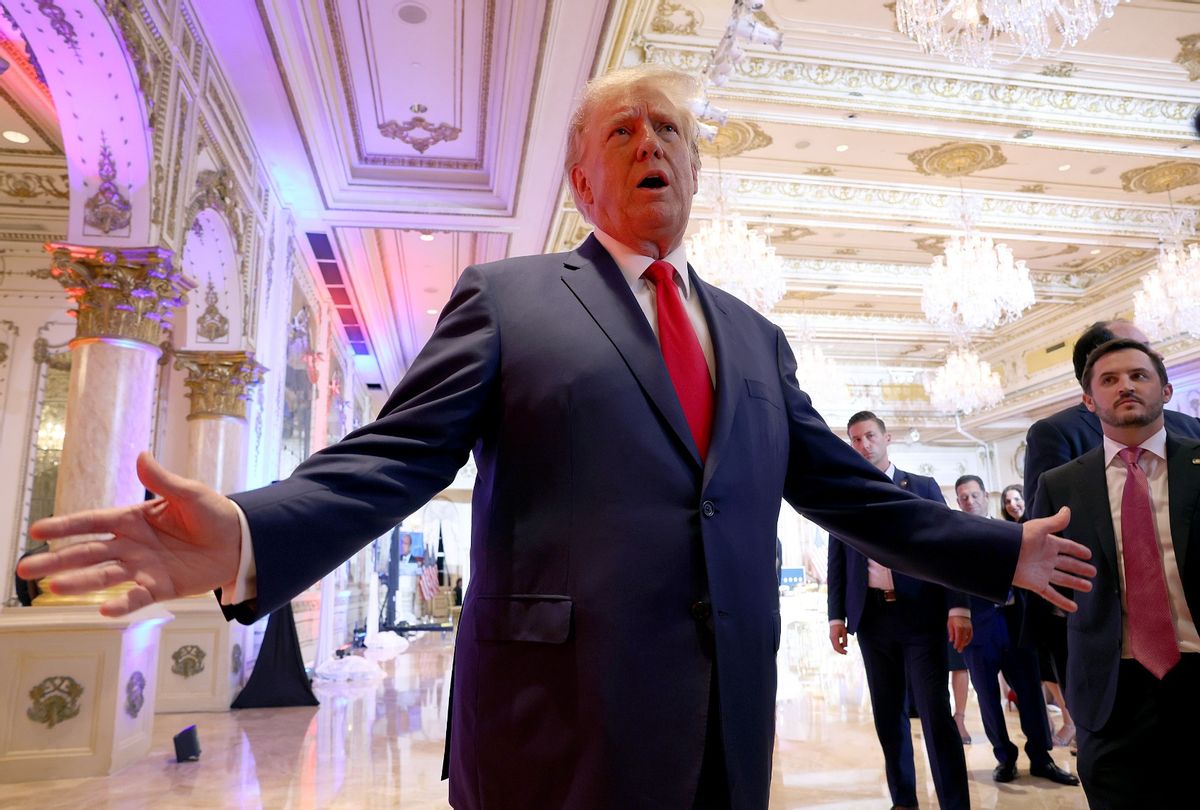 A federal judge on Thursday ordered former President Donald Trump and his attorneys to pay nearly $1 million in sanctions over a "frivolous" lawsuit they filed against Hillary Clinton.
Trump last year filed a sprawling lawsuit against Clinton, the Democratic National Committee, multiple former FBI agents and two other dozen entities, accusing them of conspiring to undermine his 2016 presidential campaign with claims tying him to Russia. U.S. District Judge Donald Middlebrooks, a Bill Clinton appointee, dismissed the lawsuit in September, writing that what Trump's lawsuit "lacks in substance and legal support it seeks to substitute with length, hyperbole, and the settling of scores and grievances.'
Middlebrooks last year ordered Trump's lawyers to pay over $66,000 in court penalties and legal fees and on Thursday ordered Trump, his attorney Alina Habba, and her firm, Habba Madaio & Associates, to pay $937,989.39 in sanctions.
"This case should never have been brought. Its inadequacy as a legal claim was evident from the start," Middlebrooks wrote. "No reasonable lawyer would have filed it. Intended for a political purpose, none of the counts of the amended complaint stated a cognizable legal claim."
Habba, the lead lawyer in the lawsuit, is also representing Trump in a $250 million fraud lawsuit filed by New York Attorney General Letitia James, a lawsuit filed by rape accuser E. Jean Carroll, and has offered Trump advice on the federal investigation into classified documents found at Mar-a-Lago, according to The New York Times. Habba also faces potential sanctions in James' case over her delay tactics and verbal confrontations with the judge overseeing the lawsuit.
Middlebrooks called out the legal team's "abusive litigation tactics," arguing that their court filings were "drafted to advance a political narrative; not to address legal harm caused by any Defendant."
Though Trump has often blamed his legal problems on his attorneys, the judge pointed out that the former president is a "prolific and sophisticated litigant who is repeatedly using the courts to seek revenge on political adversaries."
"He is the mastermind of strategic abuse of the judicial process, and he cannot be seen as a litigant blindly following the advice of a lawyer. He knew full well the impact of his actions." Middlebrooks wrote.
The judge also cited Trump's "pattern of misusing the courts to serve political purposes" after he repeatedly brought lawsuits that failed or were dismissed.
"Frivolous lawsuits should not be used as a vehicle for fundraising or fodder for rallies or social media," Middlebrooks wrote. "Mr. Trump is using the courts as a stage set for political theater and grievance. This behavior interferes with the ability of the judiciary to perform its constitutional duty."
---
Want a daily wrap-up of all the news and commentary Salon has to offer? Subscribe to our morning newsletter, Crash Course.
---
Trump's racketeering lawsuit sought $70 million in damages and named 31 individuals and entities, including former FBI Director James Comey and his deputy, Andrew McCabe, who launched the agency's probe into the Trump campaign's ties to Russia. Middlebrooks wrote that the suit's central claims, that Clinton and Comey conspired to damage Trump's campaign, were "implausible and "categorically absurd."
Trump's claims were "a hodgepodge of disconnected, often immaterial events, followed by an implausible conclusion," Middlebrooks wrote, adding, "This is a deliberate attempt to harass; to tell a story without regard to facts."
The sanctions were requested by the defendants and Middlebrooks ordered Trump and his attorneys to pay nearly $1 million, about $120,000 less than the amount requested jointly by the defendants.
Clinton was awarded $171,631, with most of that money going toward his legal fees in the case. The Democratic National Committee, former Chairwoman Rep. Debbie Wasserman Schultz, D-Fla., and a related corporation were awarded $179,685.
"The amount of fees awarded in this case, while reasonable, is substantial," Middlebrooks wrote, adding in a footnote that if Trump or his attorneys cannot pay the amount they must file a "verified statement of net worth which includes assets and liabilities."
Read the judge's full scathing order below:
gov.uscourts.flsd.610157.302.0 by Igor Derysh on Scribd
Read more
about Trump's courtroom stunts