A 2-ingredient marinade for sheet pan chicken breasts that makes weeknight dinners a breeze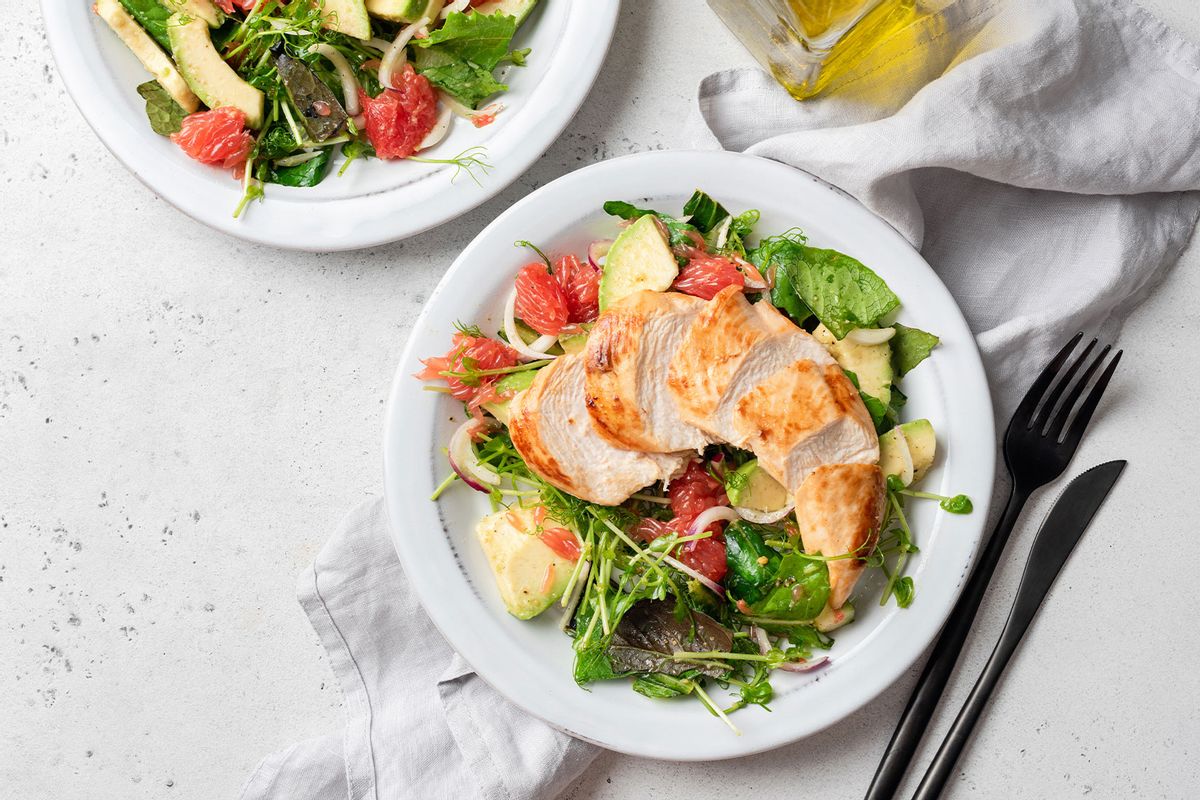 If you love a simple marinade, you've come to the right place. Trust me, it doesn't much easier than this . . .
I think it's wild that grapefruit is still such an underappreciated fruit in 2023. I know, I know, grapefruit doesn't mix well with certain medications, and it can be overtly tart for some. But the idea of enjoying a singular grapefruit in a bowl with an old-fashioned grapefruit spoon (and maybe some brown sugar) is one of my favorite food-based conceits.
I love grapefruit desserts and cocktails, especially the Paloma (which also just so happens to be one of my favorite human names). However, as you're about to discover, you should be marinating your chicken breasts in grapefruit, too.
When you hear the word "citrus," lemons, limes or oranges are likely the first fruits that come to mind. But let's put an end to the world of citrus gatekeeping, shall we?
Blood oranges, clementines, finger limes, Meyer lemons, kumquats, pomelos, tangelos, tangerines and yuzus all deserve their moment in the sun. Some of these fruits have bright flavor profiles, some are super sweet, some are tart, some lend themselves well to zesting and some are perfect in desserts.
Citrus yields a truly veritable cornucopia of terrific tastes, but today the spotlight is on one specific fruit. In this marinade, grapefruit is the star, so I've doubled down on the grapefruit flavor with both juice and zest. I've also taken it another step forward with a decisively citrus-y flavor from an optional, non-citrus source.
---
Want more great food writing and recipes? Subscribe to Salon Food's newsletter, The Bite.
---
A terrific, zero-liquid way of adding citrus flavor comes via one of my absolute favorite spices: sumac. With its bright, uncannily lemon-esque acidity, rounded out by its pleasant floral note, sumac is the ideal addition to this marinade party. It's a flavor that perfectly complements most citrus.
If, however, you don't have any sumac on hand, don't worry. Because grapefruit is the crown jewel here, the sumac can just as easily be omitted. While a low-ingredient marinade is always welcome, especially if you're a minimalist in the kitchen or you don't have extra ingredients on hand (hey, groceries are expensive right now!), you're obviously more than welcome to add, mix-and-match or swap as your heart desires. Remember, it's your kitchen.
Without further ado . . . a two-ingredient marinade for sheet pan chicken breasts that makes weeknight dinners a breeze. (Remember: Salt and pepper don't count.)
Grapefruit Marinated Chicken
Ingredients
1 pound chicken breasts (boneless/skinless)
2 grapefruit, peeled and zested
1/3 cup neutral oil
Kosher salt, to taste
Freshly ground black pepper, optional
2 teaspoons sumac, optional
4 garlic cloves, minced, optional
1 tablespoon honey, optional
1 teaspoon Tamari, optional
Scallions, optional
Directions
Preheat the oven to 375 degrees Fahrenheit.
In a large food storage bag, add the chicken breasts, grapefruit juice and zest, neutral oil, salt and pepper. "Massage" or shake well to combine and refrigerate for at least 30 minutes or up to 90.
With tongs or a fork, transfer the chicken to a sheet pan. (Be sure to leave as much marinade as possible behind in the baggie in order to ensure that the chicken isn't overly saturated on the pan.) Drizzle with some extra oil and place the sheet pan in the oven; cook the chicken for 30 minutes, or until well browned and cooked through. Discard the remaining marinade and baggie.
Slice the chicken on the bias. Garnish with sliced scallions and serve with your favorite sides. Conversely, top your favorite salad greens with the sliced chicken, as well as grapefruit segments, candied pistachios, crumbly cheese, dried apricots and a quick vinaigrette made with grapefruit juice, olive oil, salt and pepper.
---
Cook's Notes
– Not a chicken person? This marinade would be really interesting on fruit and vegetables. It would also work well with other proteins, such as pork. (Bonus: You could even use these flavors to create a vinaigrette.)
– I'm generally a very high-heat cook, but this isn't a recipe that lends itself well to heat. Very high temperatures may cause the sugar in the grapefruit to burn before the chicken is cooked through. To ensure perfectly cooked, tender chicken breasts with brightly flavored, crisp exteriors, keep those heat levels in check.
– Overall, the general flavor note here is a mix between umami and bitter. If you're looking to sweeten up the affair or offset the inherent tartness, lean on agave, brown sugar or honey. If you'd like to deepen the savory notes, opt for a dash of balsamic; fish, oyster or soy sauce; Tamari; Worcestershire; or even mirin.
– When it comes to the fat, I opt for a neutral oil, but if you're more of an EVOO person, go wild! And if you're trying to avoid mincing garlic, you can just as easily shake some garlic (or onion) powder into the marinade.
Learn more
about easy, breezy marinades
Salon Food writes about stuff we think you'll like. While our editorial team independently selected these products, Salon has affiliate partnerships, so making a purchase through our links may earn us a commission.