Everything You Need To Know About Gel Nail Extensions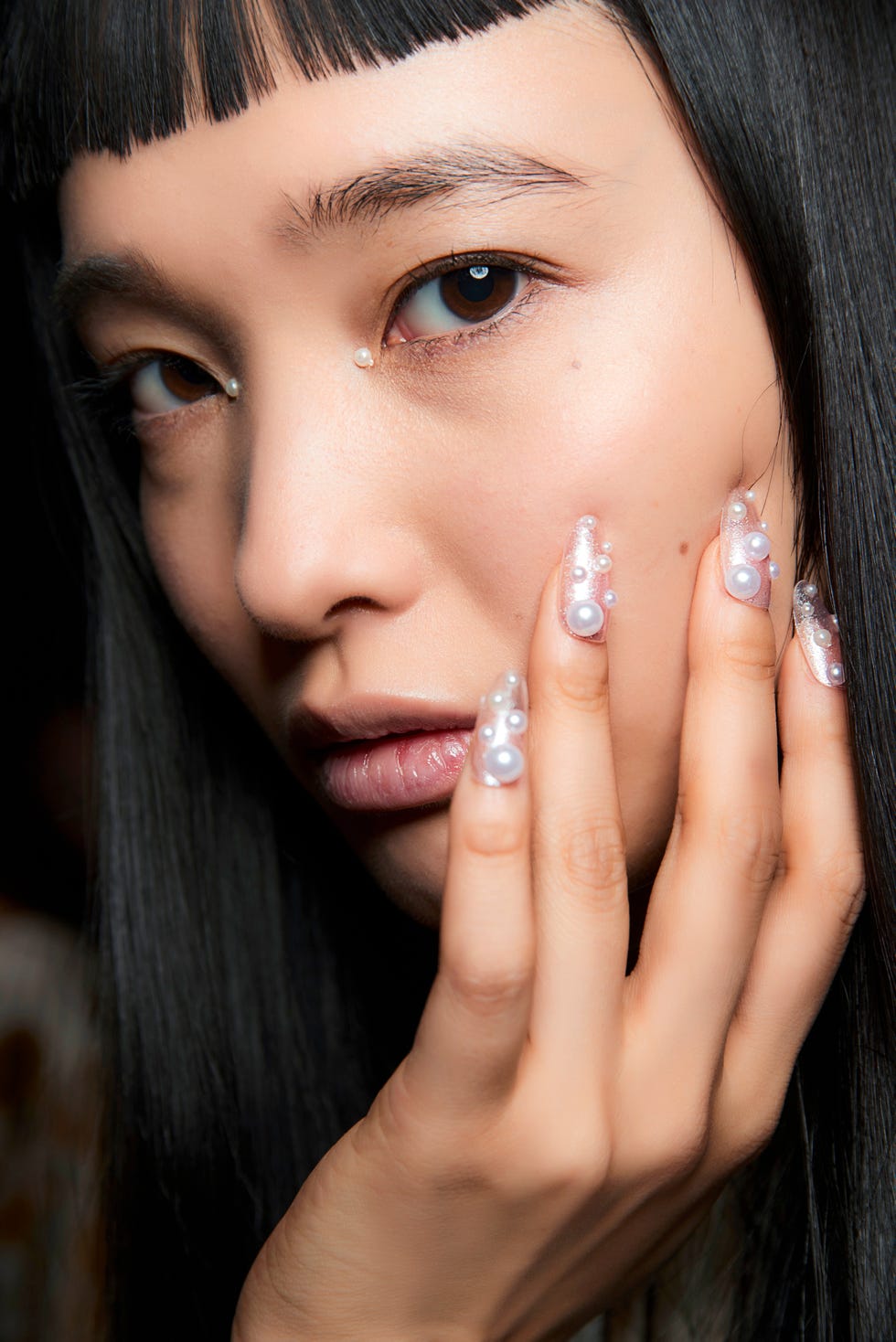 My nail journey has been fraught. I love the look of long nails but can't grow them on my own—so I've turned to press-ons, acrylics, and gel nail extensions. I stopped by Julie Kandalec's Manhattan nail atelier to learn more—and was so excited after that I sent a pic of my gorgeous hand-model-worthy mani to one of my best friends. She assumed the hand pic was me announcing I was engaged. Nope, just excited about my manicure.
Gel extensions give you the look of long, acrylic nails (the material is similar to that used in extensions) but are much lighter and have less risk of damaging the nail when it comes to removal.
What are gel extensions?
What separates gel and acrylic nails is the nail's material. An acrylic tip is made of plastic and requires a monomer liquid and polymer powder to create the sculpted nail. In contrast, gel nail extensions are made of "a molecule called an oligomer that usually comes in a pot and is the consistency of honey," says celebrity nail artist Julie Kandalec. "Gel extensions are created when the hard or semi-hard gel is sculpted, cured, and then shaped to add length and strength to the nail."
Gel nails are a healthier alternative to acrylic nails, adds freelance nail artist Trenna Seney. And while you might be tempted to channel your inner nail artist, Seney recommends resisting the urge to do gel extensions. Instead, please seek a professional like Kandalec or herself. Here's a guide to everything you need to know about gel extensions.
Are there different kinds of gel extensions?
There are two basic types: hard gel and soft gel. In short, hard gels are non-porous, making them acetone-resistant. "These enhancements are powerful and can be worn long and filed into different shapes like coffin, stiletto, and ballerina," Kandalec says. Soft gels (like classic gel polish) are porous. That's why they can be soaked off with acetone—but cannot be made into extensions. A semi-hard gel is a hard enough hybrid to be made into extensions but can also be soaked off (it just takes longer).
How long do gel nail extensions last?
"Most clients that wear gel extensions go two to four weeks between appointments," says Kandalec, who uses the CND Plexigel on her clients. "They come in for a 'fill' to rebalance the nail. This is important because it re-positions where the strongest part of the nail is to prevent damage from the tip being too heavy."
How are gel extensions applied?
Step 1: Prep the nails. The nail tech will file the client's nails, push cuticles back, trim dead cuticles, and buff nails. The nails must be clean (and dry) before application.
Step 2: After the tech applies a bonder for longevity, they will place a tip or paper form to get the shape and length, and then build up the gel atop that to create the desired length and shape.
Step 3: The nail is cured between each layer of gel.
Step 4: Once the set is completely built, it's filed further to the perfect shape.
Step 5: The gel extensions can either be left as is or painted.
Step 6: Finish with a top coat for an ultra-glossy shine that lasts weeks.
What's the aftercare like for gel extensions?
It's important to let your natural nails get some oxygen between extension sets. Both agree that cuticle hydration, in the form of great oil, is key.
How do you remove gel extensions?
If you have hard or semi-hard gel extensions on, a professional needs to remove your set. "First, the enhancement is gently filed down to about 10-15% of its thickness, avoiding filing the natural nail," Kandalec says. "The rest is soaked off by saturating a small piece of cotton in pure acetone and wrapped in foil. After about 15-20 minutes, the remainder will flake away, leaving behind a healthy nail."
This content is created and maintained by a third party, and imported onto this page to help users provide their email addresses. You may be able to find more information about this and similar content at piano.io