From Ukraine Down To Uromi, Calm Down Seems To Be The Buzzword – The Nigerian Voice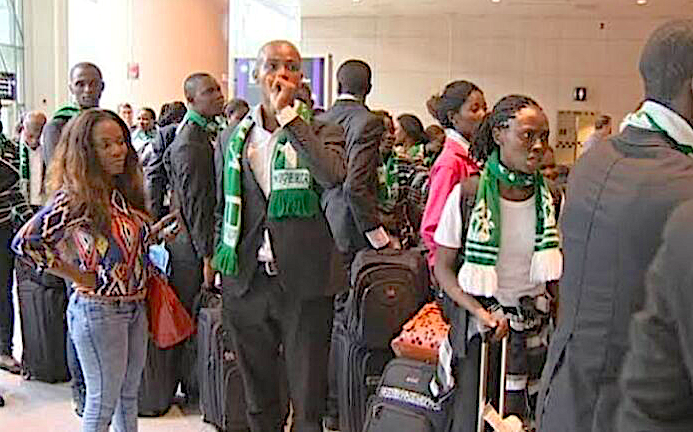 It is not an exaggeration to say that when General Theophilus Danjuma, former Chief of Army Staff and Minister of Defence on March 24, 2018 called on Nigerians to rise up and arm themselves against attacks from suspected herdsmen that were on rampage at the time, following the failure or inability of the Federal Government to defend the citizens, that not many Nigerians believed him. In fact, the same cynical reactions also trailed similar advice from other eminent Nigerians, particularly Professor Ben Nwabueze and Governor Samuel Ortom of Benue State who gave their backings for Nigerians to arm themselves in the face of killings across the country.
In a similar vein, Professor Itse Sagay (SAN), Chairman, Presidential Advisory Committee Against Corruption (PACAC), had on at least two occasions advised President Muhammadu Buhari to allow Nigerians bear fire arms in order to protect themselves, arguing that the state of insecurity in the country then had assumed a huge dimension and that communities and individuals need to defend themselves against attacks.
Sagay, who at the time said the Federal Government was overwhelmed by various security challenges, such as Boko Haram insurgency, banditry, kidnapping and herdsmen attacks that were sporadically carried against the people from virtually all parts of the country contended that Nigerians should be allowed to defend themselves when attacked. "We should all be armed so that anybody coming to attack you will know that he too has no chance of surviving. Communities should be armed; individuals should be armed. That is balance of terror", Sagay had said.
Against the foregoing backdrop, it cannot be said to be a misnomer to opine in this context and elsewhere that the consolatory idiomatic expression that aptly finds interpretation in how bad the security situation of Nigerians has become; both at home and in Diaspora, is the one that says, "Everyone for himself, and God for us all". For the sake of clarity, the idiom is used to describe a situation in which people do not help each other and each person has to take care of himself or herself.
You might have wondered why this writer is sounding gloomy about the security situation in Nigeria, to the extent that he alluded to the fact that Nigerians in Diaspora are equally not safe. In fact, given the situation that Nigerian Embassy in Ukraine on Thursday, specifically on the 24th day of February, in the year 2022, urged citizens in Ukraine to remain calm, and take responsibility for their personal security and safety, the reason as to why this writer is sounding gloomy over security of Nigerians in this context cannot be farfetched.
The warning which was contained in an Embassy notice jolted not few Nigerians, particularly as it was made public at a time when so many countries across the world were stepping up the evacuation of their citizens, convening their security councils and, in some cases, stockpiling relief resources.
The notice was made public as Russian President Vladimir Putin announced a military operation in Ukraine with explosions heard across the country and its foreign minister warning concerning a "full-scale invasion" which was underway.
"The Embassy urges Nigerian nationals resident in Ukraine to remain calm but be very vigilant and be responsible for their personal security and safety.
The notice partly reads, "The Embassy wishes to add that should any of Nigerian nationals considers the situation as emotionally disturbing, such nationals may wish to temporary relocate to anywhere considered safe by private arrangements. They should, however, ensure that they do all the needful to validate all their resident documents for ease of return to the country when desired.
"In addition, in case of students seeking such temporary relocation, they are enjoined to seek proper clearance and guarantee from their respective institutions, authorities/agents on the way forward in respect to their studies during this period and/or thereafter.
"For those who still consider it appropriate to remain in the country, be assured that the embassy remains open for its consular duties and responsibilities at all times. It will always avail you of updates when necessary."
Against the backdrop of the non-committal tone that the statement was considered to be inherent with, not few Nigerians have been commenting that the government has predilection to not protecting its citizen; both at home and in Diaspora. For instance, Mr. Mark Okunbor said, "Our government has never being protective over her citizens in at home, not to talk of protecting her citizens in Diaspora. We've have had instances where nationals of other countries where fast evacuating their citizens from crises-torn countries, only for Nigerian leaders to be thinking of what to do" He added, "How can a country that has been unable to protect her citizens at home protect those in Diaspora?"
Okunbor may not be wrong to say that the lives of Nigerians are not secured; both at home and abroad, particularly when analysed from the perspective of the fact that not few Nigerians were taken aback when they watched videos, yesterday being February 24, 2022, on how armed robbers roguishly attacked some reputable banks in Uromi, Edo State without intervention from the Police. Worrisome enough is that the operations lasted for hours as if Uromi was yet to have the presence of security agencies, particularly the Police. The videos, which trended on social media, conveyed footages of the armed robbers ferrying bags of money from the bank, and consequently loading them into the booths of exotic cars parked by the other side of the road with residents of the community seen scampering for safety as the attackers shot sporadically.
Without any scintilla of exaggeration, what it is now is that the lives of Nigerians are not safe from Ukraine Down To Uromi. As it is, "Calm Down" seems to be the buzzword. Despite the fact that the federal government is planning a special flight operation to evacuate Nigerians from Ukraine amid the escalating crisis in the country, not few Nigerians can be said to be confident of that the government will quickly do that as "Calm Down" has been reverberating as the refrain since Russia and Ukraine started flexing muscles.
Disclaimer: "The views/contents expressed in this article are the sole responsibility of the author(s) and do not necessarily reflect those of The Nigerian Voice. The Nigerian Voice will not be responsible or liable for any inaccurate or incorrect statements contained in this article."