11 Korean Sunscreens You Need In Your Skincare Routine ASAP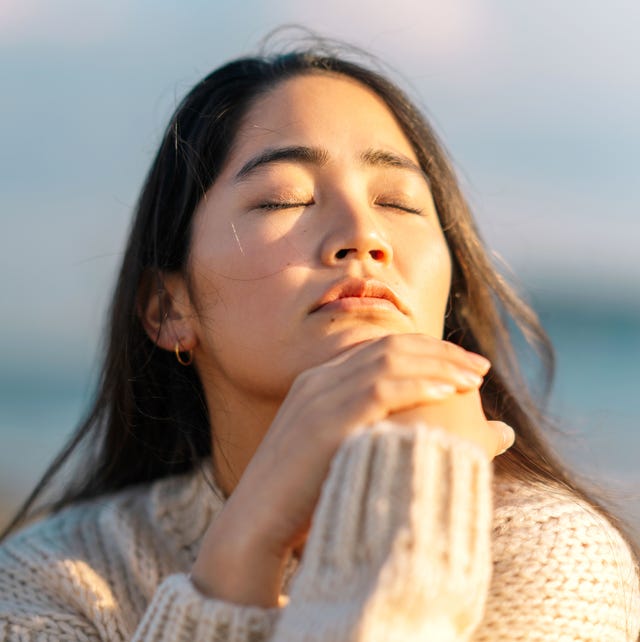 recep-bgGetty Images
For decades, South Korea has led the beauty industry with product innovations (think: cushion compacts and essences), and sunscreen is no exception. Korean sunscreens have become a superior option for sun protection because of their skincare-like properties and advanced ingredients. Michelle Shieh, Scientific Communications Manager at Amorepacific US, notes that sunscreen and skincare hybrid products have been a part of K-beauty since its inception. "With mature and constantly evolving advanced technologies as well as formulation techniques, we have developed effective sunscreens infused with skincare benefits like hydrating, soothing, and additional antioxidant protection," she says. "On top of making sure the texture is super comfortable with minimal to no white cast."
Ahead, Shieh shares why Korean sunscreen deserves a spot in your skincare roster.
K-beauty prioritizes sunscreen.
The essential step in the K-beauty skincare regimen? The application of sunscreen. "In Asia, the concept of daily usage of sunscreen dates way back," Shieh explains. "Daily sunscreen wear has been a prevalent practice that has been passed down for many generations already. It's been considered to be more as a part of the skincare routine to prevent sun damage rather than an extra step for outdoor occasions to prevent sunburn."
Korean sunscreens are comparable to skincare.
Thanks to advanced technology and ingredients, Korean sunscreen has a similar texture and feel to regular skincare products. "When compared to traditional western sunscreens, K-beauty sunscreen formulations are a lot more lightweight and more like skincare," Shieh says. "It's also common for users to carry around a cushion compact for easy reapplication of sunscreen (or a foundation with SPF) throughout the day."
Korean sunscreens offer more coverage.
When it comes to the broad spectrum rating system, Korea differs from the U.S. "SPF value indicates the level of UVB protection, which is responsible for causing sunburn on the skin, while UVA penetrates deeper into the skin and causes damage that leads to extrinsic aging," Shieh explains. "Both Korea and the U.S. use the same SPF numbering system to indicate UVB protection level. However, when it comes to the UVA protection level, Korea uses the P.A. system. So when you look at a sunscreen sold in Korea, you need to make sure that both SPF and P.A. levels are indicated to know that the sunscreen protects the skin against both (SPF 50+/PA ++++)."
The U.S. doesn't follow the P.A. system for UVA. "If a sunscreen covers both UVB and UVA protection, it would be labeled as 'broad spectrum' along with the SPF value," Shieh adds.
Advertisement – Continue Reading Below
1 Color Control Cushion Compact Broad Spectrum SPF 50+
amore pacific
amorepacific.com
$60.00
Get coverage in more ways than one. This cushion compact contains a tinted moisturizer loaded with SPF 50+, so you can refresh your complexion and sun protection on the go.
2 Daily UV Defense Sunscreen SPF 36
innisfree
sephora.com
$15.00
A lightweight formula and water-based formula makes this pick gentle on the skin but effective against UV rays.
3 Aloe Soothing Sun Cream SPF50 / PA+++
You won't believe this formula isn't a moisturizer. With soothing aloe and a featherlight texture, this sunscreen seamlessly blends into skin without white cast.
4 UV Defense Me Blue Ray Sun Gel SPF 50+ / PA++++
MAKEP:REM
amazon.com
$27.99
A gel formula hydrates dry skin without feeling oily or sticky. Try it under makeup for smooth foundation application.
5 Dermalogy Day-Light Protection Sun Screen SPF50 / PA+++
Address all your skin concerns—age spots, fine wrinkles, blemishes, and elasticity—thanks to Neogen's multi-tasking formula.
6 Daily SPF 32
Mineral-based and reef safe, this daily SPF is ideal for protecting skin and the environment.
7 Laser Sunscreen 100 SPF 50+ / PA+++
cell fusion c
sokoglam.com
$19.99
A combination of chemical and mineral ingredients combat ultraviolet-A and ultraviolet-B rays, which contribute to premature aging.
8 Sun Project Light Sun Essence
thank you farmer
sokoglam.com
$27.00
Not only does this formula protect against UVA and UVB rays, but it also repairs the skin barrier, thanks to ingredients like aloe leaf extract, lotus flower water and soybean lipids.
9 I'm Safe For Sensitive Skin
suntique
sokoglam.com
$24.00
The 70+ reviews on Soko Glam say it all. "I have sensitive skin and live in a hot humid climate," one customer wrote. "This goes on smooth and doesn't feel heavy. I adore this!"
10 Our Vegan Basic Daily Sun Cream
man:yo
oliveyoung.com
$33.00
Innovative ingredients like licorice root extract, broccoli extract, and lavender flower have anti-inflammatory properties and work to equalize the skin's pH balance
11 Sunprise Mild Airy Finish Sun Milk SPF50+ / PA+++
Etude House
amazon.com
$13.00
An Amazon favorite, this milk formula contains 100 percent mineral ingredients, soothing aloe vera, and Barbados cherry—all under $15.
This content is created and maintained by a third party, and imported onto this page to help users provide their email addresses. You may be able to find more information about this and similar content at piano.io
Advertisement – Continue Reading Below