Report 'lawless' city guards to police – Madina MCE to pedestrians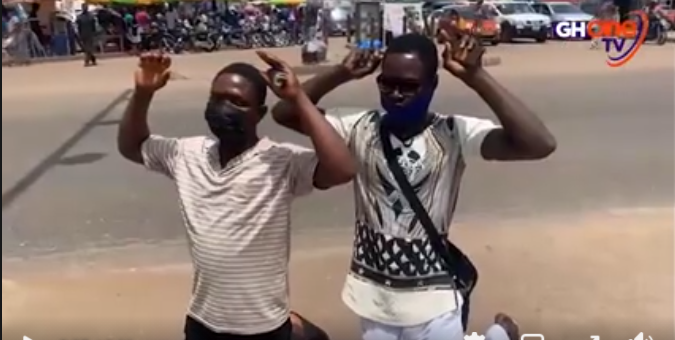 The Municipal Chief Executive of the La Nkwantanang-Madina Municipal Assembly, Jennifer Dede Afagbedzi, has urged pedestrians who were lashed for not using the footbridge at the Madina Zongo junction by city guards to report the matter to the police.
According to her, neither her office nor the office of the Member of Parliament authorized any officer to lash anyone who refused to use the footbridge. She insisted that the officers are paid to direct pedestrians and not to punish them.
Last Wednesday, GHOne TV reported from the La-Nkwantanang Municipal assembly where guards subjected pedestrians at Madina to corporal punishment for failing to use the newly constructed footbridge.
In a video report, the Municipal guards were seen caning pedestrians and forcing some to kneel in the sand and wave in the full glare of the public.
But in an interview with GHOne TV after the incident, Madam Afagbedzi said "no one has authorized anyone to lash any pedestrian, the officers are there to direct passers and not to beat them, their canes are for directions not lashing."
"I'm appealing to the pedestrians to obey their orders and use the footbridge for their own safety. If we refuse to use the footbridge, people knocking down people's rights are also violated, let's protect both rights. Let's use the footbridge when we get to Zongo Junction if you want to cross the road."
She, however, added that she will not apologize to anyone who was lashed.
—starrfm