A/R: Brofoyedru community gets new market complex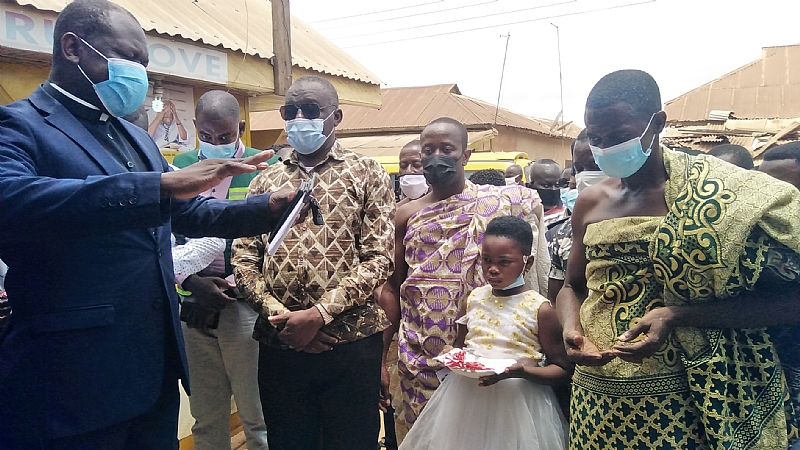 The joy of traders at Atwima Brofoyedu, a community in the Atwima Kwawonma district cannot hide their joy as the DCE Hon. Nana Okyere Tawiah Antwi commission new market for business.
The market centre funded through the Internal Generated Fund (IGF) is intended to provide a serene environment for business activities, as well as enhancing the livelihood of the people.
At a short durbar to commission the facility, Hon Nana Okyere Tawiah Antwi indicated that, "the newly constructed market would enable residents of the community to undertake their day to day economic trading activities to improve their lives as well as increase revenue generation".
He said the importance of a market centre in the rural communities cannot be overemphasized with the significant role it plays in the local economy of community members, coupled with the revenue generation towards implementation of development projects.
He reiterated the need for all district assemblies to invest the tax payer's monies into developmental projects through the provision of basic social amenities such as market centres, clinics, toilet facilities as well as schools.
He however appealed to residents within the district to be responsible in honouring their tax obligation in order to increase the revenue generation of the central government for the implementation of transformational projects such as road infrastructure, potable drinking water, improved healthcare facilities, as well as educational facilities.
He charges the traders to ensure good maintenance culture.
On his part, Hon Michael Kwabena Boateng Assemblymember for Atwima Brofoyedu electoral area expressed gratitude to the DCE for constructing a modern market, saying "The efforts of the DCE to bring development to the doorstep of residents, especially women within the district would not go unnoticed".
He said the new market would help to sustain business trading activities in the community.
He used the opportunity to appeal to government to come to their aid to complete their abandoned projects for the community.