Asokore Mampong Assembly Members trained to utilize Community Score Card (CSC) tools by SOS-NBU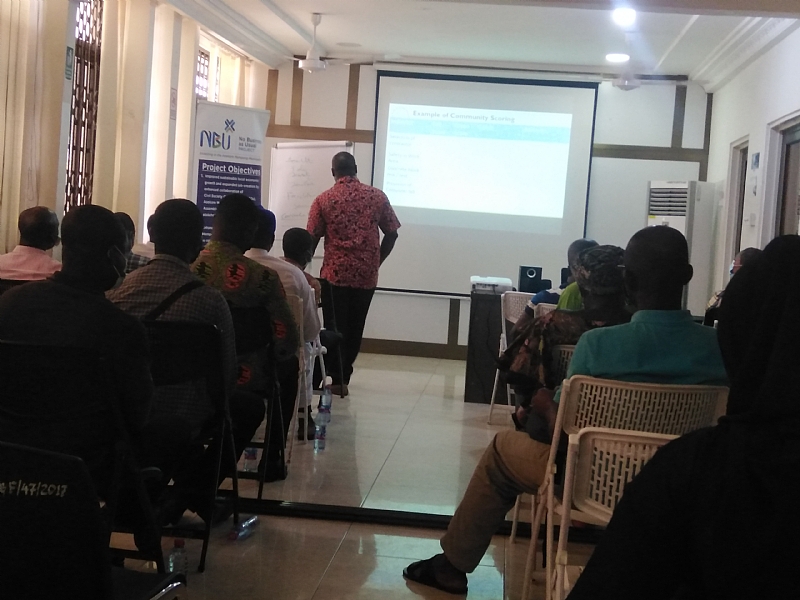 Assembly members of the Asokore Mampong Municipal of the Ashanti region have received a day's training on utilization of the Community Score Card (CSC).
The training organized by the officials of No Business as Usual (NBU) is to empower participants to track and monitor service providers on how they utilize state resources through the usage of CSC tools, to help deepen social accountability and transparency within the Municipality.
Participants, dominantly elected assembly members drawn from the 15 electoral areas making up the municipality were equipped with knowledge and skills on how best to inform citizens on the availability of public good and solicit their opinions on the effectiveness or otherwise of the public good or service.
It as well educated them on the CSC process of empowering citizens to make their voices heard and demand improved service delivery from public officials.
Mr. Hamza Bawa Mahama, a Communication Expert for TREE Project and trainer educated members on the phases of CSC implementation, advantages of CSC, requirements for an effective CSC, goals and core strategies of CSC, uses of CSC when CSC is useful among others.
According to him, CSC will enable participants to follow government projects awarded by the assembly in their various jurisdictions, seek accountability and progress of such projects.
In an interview, Mr. Hamza expressed worry over how Community Score Card is scarcely used in Ghana, underling that appropriate and broader usage of CSC tools will help keep service providers in check and will compel them to do the right thing.
He indicated that the majority of the citizenry appreciate the concept of social accountability,
"However, tools on social accountability of which CSC tools are part are not implemented."
The utilization of CSC tools he stressed will go far in fighting corruption in the country and that position holders will be made to do the right thing.