K-NET vows to remove 'juju' TV channels
Internet and data service provider, K-NET has warned television stations that promote spiritualists and money doublers.
"In recent days our attention has been drawn to the fact that some channels on our DTH platform use the medium to promote scammers, fraudsters, juju, and occultism, among others.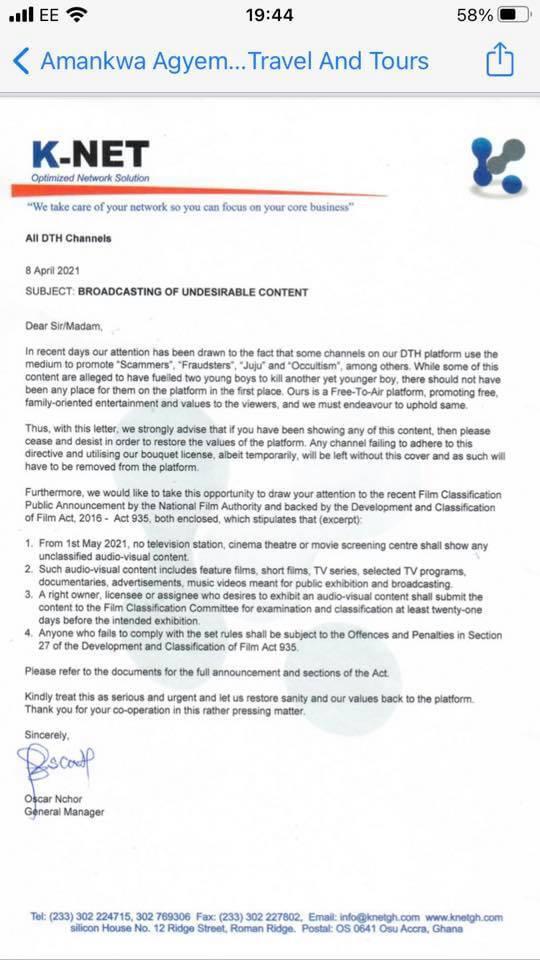 "While some of this content is alleged to have fuelled two young boys to kill another yet younger boy, there should not have been any place for them on the platform in the first place."
"We strongly advise that if you have been showing any of the content, then please cease and desist in order to restore the values of the platform.
"Any channel failing to adhere to this directive and utilizing our bouquet license, albeit temporarily will be left without the cover and as such will be removed from the platform," a statement from K-NET said.
This follows the gruesome killing of the 11-year-old boy killed at Coca Cola, near Lamptey Mills, in Kasoa in the Central Region allegedly for spiritual purposes.
The murder of Ishmael has raised fears in the area as his killers – both teenagers – had carried out the act allegedly for money rituals.
Felix Nyarko, aka Yaw Anane, 16, and Nicholas Kini Kwame, 18, are standing trial at the Ofaakor District Court for the murder.
They have since been remanded in police custody.
—3news.com