Akatsi South: Residents raised funds to support accident victims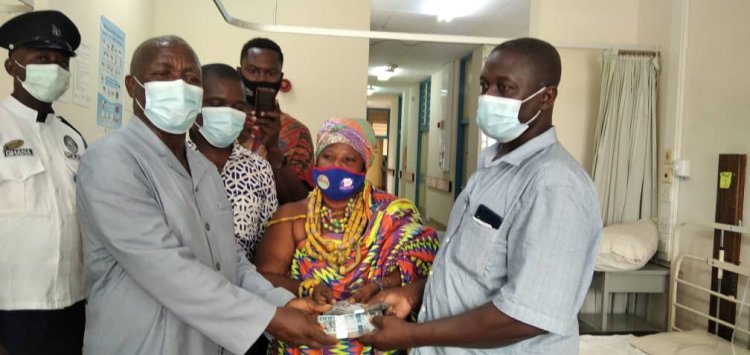 Residents of Akatsi South and its surrounding towns in the Volta region have raised thousands of Ghana cedis through a local based radio Kaleawo FM to help Ernest Adabla, a 15 year old pupil of Kingship Knowledge Academy who was hit by an over speeding vehicle at Akatsi District Assembly road some three weeks ago.
Ernest, had his two legs fractured with varying degree of injuries whilst his motor rider, Kobby Tugbah, who also sustained severe injuries on different parts of his body.
Both victims were rushed to the Akatsi Municipal Hospital before little Ernest was later transferred to the Ho teaching hospital for further medical attention.
Doctors at the hospital indicated little Ernest needed over Ghc18,000 for surgical operations on the legs.
The situation according to reports, touched the hearts of some members of the general public after Kaleawo Fm appealed to the general public for financial assistance to help the accident victims.
That notwithstanding, saw some voluntary donors contributing to foot the , medical bills of the accident victims.
On Tuesday March 30, management of Kaleawo Fm together with some members from the Avenor Traditional Council and the assembly member for Tatorme Fiato, where the incident occured, handed over a cash donation of Ghc 18000 to the guardians of Ernest at the Ho Teaching Hospital and Ghc 800.00 to Kobby Tugbah at the Akatsi Municipal Hospital as initial hospital bills.
The team, led by Mr Raphael Bedzo, Manager of Kaleawo Fm and Mama Korkor Tsahaye IV, the queen mother of Gefia of the Avenor Traditional Area presented the amounts to parents of the accident victims.
Mr Edward Doe Adade, the assembly member for Akatsi-Tatorme Fiato electoral area, thanked all philanthropists and well wishers for their kind gestures and encouraged the communities to do more.
It would be recalled that on Sunday March 14, in a commercial ford transit vehicle with registration number GG 4257-19 knocked down the victims on the Accra-Aflao road through Akatsi township near Louis gas feeling station near the AKatsi South Municipal Assembly.
The situation which angered the residents of the area, made them to block the road with logs, blocks and other materials in a protest against authorities whom they said have refused to construct speed ramp since the area has been noted for lost of lives in the past.
Mr Leo Nelson Adzidoga, the Municipal chief Executive for Akatsi South (MCE) has since assured the residents for immediate action.
The Municipal police commander for the area, superintendent Joseph Atsu Dzineku also promised the residents that his men will continue checking over speeding of vehicles on the road.
However, residents have given a warning to embark on another demonstration if authorities fail to comply with their demands.