MPs were fighting in Parliament, sitting on others laps, others chewing papers; so gov't can't blame Covid-19 spike on churches— Prophet Oduro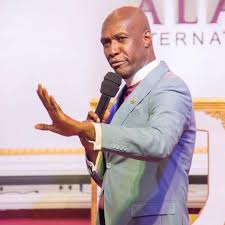 General Overseer of the Alabaster Prayer Ministry, Prophet Dr Isaac Oduro says government must take the blame for the surge in coronavirus cases in the country.
He indicated that the political campaigns last year contributed to surge in covid-19 cases in the country.
According to him, government should not blame the spike on church activities.
"Don't be a hypocrite, don't be hypocritical. Government must take responsibility. We can all look at the way everyone is wearing nose mask, washing of hands, sanitising their hands, sitting down nicely, yet you had political campaigns. Do you want us to show the videos, we will. Be responsible," he stated.
Prophet Oduro intimated, "I'm not a hypocrite and when you do something that will bring us a problem, we should tell you. In September, October and December, it was spreading and if you don't know, I'm telling you".
According to him, during the campaigns, several people flouted covid-19 safety protocols without any regret.
"I'm telling the government, lead and be an example. Don't tell me when we're campaigning, there was no Corona. When the people were fighting in Parliament, where was social distancing? When people were chewing paper and sitting on people's lap, where was social distancing? When people were slapping people, pulling people from people's seats, where was social distancing. People are pulling people, so that didn't bring a spread?" he quizzed.
He added, "Don't lie and bring this blame game on anybody. That is hypocrisy and God would judge hypocrisy."
The Alabaster General Overseer made these remarks in a sermon delivered in his church monitored on One Ghana TV Facebook page today Wednesday, 3rd February, 2021.