iPhone 12, Pixel 5 and Mate 40 Pro cameras put to the test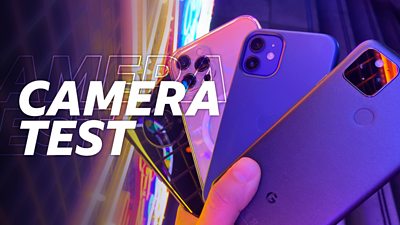 BBC Click has put four of the latest smartphone cameras through their paces.
Chris Fox went hands-on with Apple's iPhone 12 Mini and iPhone 12 Pro Max, Google's Pixel 5 and Huawei's Mate 40 Pro to see how they stack up.
Night Mode Portrait and Sensor-Shift Stabilisation – two headline features of the iPhone 12 Pro Max – were among those tested.
.css-14iz86j-BoldText{font-weight:bold;}See more at .css-yidnqd-InlineLink:link{color:#3F3F42;}.css-yidnqd-InlineLink:visited{color:#696969;}.css-yidnqd-InlineLink:link,.css-yidnqd-InlineLink:visited{font-weight:bolder;border-bottom:1px solid #BABABA;-webkit-text-decoration:none;text-decoration:none;}.css-yidnqd-InlineLink:link:hover,.css-yidnqd-InlineLink:visited:hover,.css-yidnqd-InlineLink:link:focus,.css-yidnqd-InlineLink:visited:focus{border-bottom-color:currentcolor;border-bottom-width:2px;color:#B80000;}@supports (text-underline-offset:0.25em){.css-yidnqd-InlineLink:link,.css-yidnqd-InlineLink:visited{border-bottom:none;-webkit-text-decoration:underline #BABABA;text-decoration:underline #BABABA;-webkit-text-decoration-thickness:1px;text-decoration-thickness:1px;-webkit-text-decoration-skip-ink:none;text-decoration-skip-ink:none;text-underline-offset:0.25em;}.css-yidnqd-InlineLink:link:hover,.css-yidnqd-InlineLink:visited:hover,.css-yidnqd-InlineLink:link:focus,.css-yidnqd-InlineLink:visited:focus{-webkit-text-decoration-color:currentcolor;text-decoration-color:currentcolor;-webkit-text-decoration-thickness:2px;text-decoration-thickness:2px;color:#B80000;}}Click's website and @BBCClick