VIDEO: Don't Bury Me Where Mills, Amissah Arthur Were Buried — Rawlings Told Osofo Kyiri Abosom As He Reveals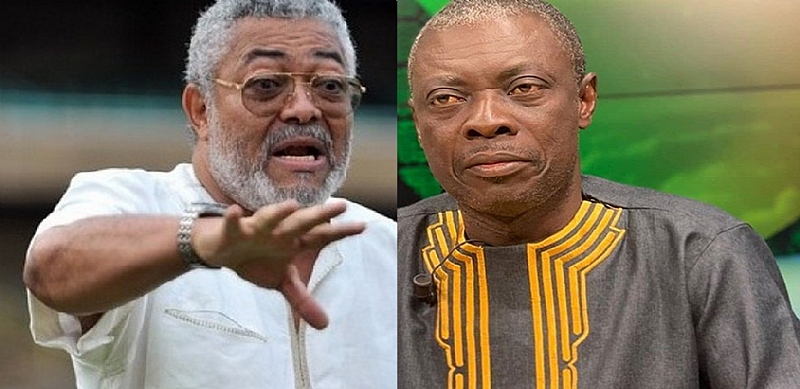 The Founder and Leader of the Ghana Union Movement [GUM] Reverend Christian Kwabena Andrews aka Osofokyiri abosom has revealed where the late Flight Lieutenant Jerry John Rawlings wants to be buried when he dies.
According to him, in an interaction with the former President a few weeks before his demise, he (Rawlings) informed him to see to it that he is not buried where statesmen are buried "so he can sleep in peace."
Speaking to Hot93.9 FM's reporter Awal Saeed at the Ridge residence of Rawlings on Friday, November 13, 2020, the Presidential candidate stated, "The day I came to him, he told me he is praying I win and when I win and he dies, I should make sure where former Vice President Kwesi Amissah Arthur, President Evans Atta Mills and other statesmen were buried he should not be buried there. Somewhere different should be found for him to be buried."
Osofokyiri Abosom continued, "he told me as I was laughing that if I do not know and I should win and he dies and I bury him where statesmen were buried, he will knock at my door whilst I am asleep at night and rush on me… So I think if all Ghanaians will listen to me, the body of late Rawlings should be sent to his hometown for a befitting burial. I will prefer that….but Rawlings did not disclose the exact place he should be buried."
The popular Man-of-God further shared fond memories of the late Rawlings – describing him as a man who thinks about the betterment of all and sundry.
Former President Rawlings died on Thursday November 12 at the Korle Bu Teaching Hospital following a short illness.
He died at age 73.
Watch Video of Osofo Kyiri Abosom's statement below:
[embedded content]