21 Tinted Moisturizers That Puts the Effort in So You Don't Have to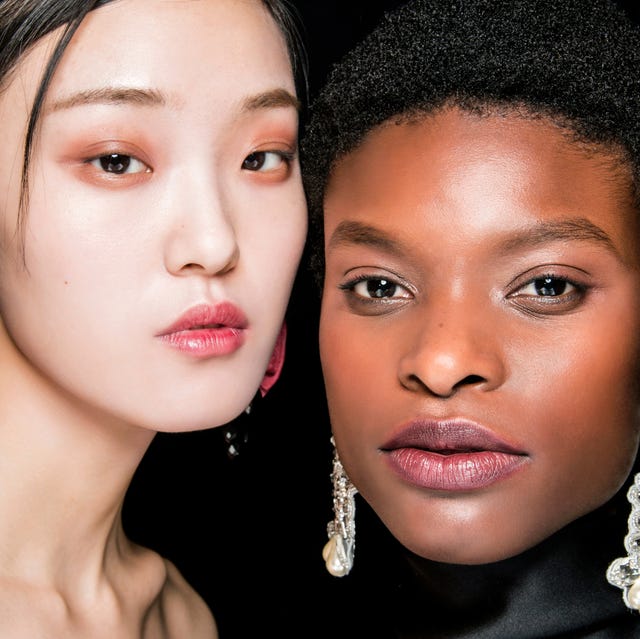 Imaxtree
What's the secret to the perfect no-makeup makeup look, you ask? A reliable tinted moisturizer. A tinted moisturizer is basically the cure-all for indecisive folks who can't decide between just a moisturizer or full-coverage mug. The double-duty product perfectly blends makeup and skincare to fix imperfections, enhance your complexion, protect you from the sun, boost hydration, and give you a healthy glow. Whether you have sensitive or oily skin, or just want an effortless beauty routine, we've compiled a list of the 20 best tinted moisturizers you never knew you needed.
Advertisement – Continue Reading Below
For a Subtle Tint
Skin Tone Evener BB Crème
Iman
imancosmetics.com
$16.00
This OG in the beauty game deserves to be an OG in your beauty bag. Technically, it's a BB cream but it's purpose is the same: to enhance the skin's natural beauty with a sheer hint of color.
For Skincare Lovers
Clean Corrective With Vitamin C Tinted Moisturizer
Honest Beauty
amazon.com
$21.99
Honest Beauty packed all the good stuff to protect your skin in this pint sized bottle, like vitamin C, broad spectrum SPF 30, and blue light defense.
For a Calming Effect
Winky Lux White Tea Tinted Veil Moisturizer
Winky Lux
target.com
$28.00
Keep troubled skin calm with the light blend of white tea and pomegranate extracts that soothe the skin throughout the day. This tinted moisturizer also features Broad spectrum SPF 30 just in case you skip sunscreen (never do that!).
For A Plumped Effect
ColourPop Pretty Fresh Hyaluronic Acid Tinted Moisturizer
ColourPop
ulta.com
$14.00
Hyaluronic acid is the main ingredient to keep your skin hydrated, plumped, and glowing all for $14.
For Dewy-Looking Skin
Perfecting Skin Tint
Glossier
glossier.com
$26.00
Glossier's Perfecting Skin Tint aims for "more skin, less makeup." It will get you that cool-girl-on-Instagram-who-doesn't-have-nearly-enough-followers look. It's lightweight and meant to let your freckles show through.
For Sheer Coverage
No Makeup Foundation Broad Spectrum SPF 30
Perricone MD
sephora.com
$60.00
If you want the barely-there look, try Perricone MD's No Foundation Foundation. It's a tinted serum, so it is packed with antioxidants that help diminish fine lines.
For All Skin Types
Tinted Moisturizer Natural Skin Perfector Broad Spectrum SPF 30
Laura Mercier
sephora.com
$47.00
If you love Laura Mercier's cult classic Broad Spectrum tinted moisturizer, the brand returned with its much cooler big sister. As the name suggests, this formula mixes SPF30 and vitamin C and E to make your skin look and feel as healthy as possible.
For Hydration
Skin Feels Good Hydrating Skin Tint Healthy Glow SPF 23
LANCME
nordstrom.com
$29.75
A little goes a long way, so your face will never feel cakey or weighed-down.
For Drugstore Lovers
Dream Fresh BB Cream 8-In-1 Skin Perfector
Maybelline
ulta.com
$8.99
While there aren't a lot of shades to choose from, Maybelline's BB Cream is perfect for those looking for extremely sheer coverage. Top it off with Maybelline's Super Stay Full Coverage concealer for extra support.
For Hyperpigmentation
Pure Radiant Tinted Moisturizer Broad Spectrum SPF 30
This tinted moisturizer not only provides buildable coverage, but also works over time to reduce discoloration and dark spots caused by hyperpigmentation.
For A Glow
Tinted Face Oil
Kosas
net-a-porter.com
$42.00
It's an oil, yes, but don't let the consistency fool you. Kosas Tinted Face Oil blends into your skin to even out your complexion while avocado, jojoba and rosehip extracts work together to give your skin a plump, youthful glow.
For Anti-Aging
Illusion Hyaluronic Skin Tint
Hourglass
sephora.com
$56.00
This skin tint includes hyaluronic acid, which helps promote firmer skin and elasticity.
For Oily Skin
Amazonian Clay BB Tinted Moisturizer Broad Spectrum SPF 20 Sunscreen
This multitasking, oil-free formula is perfect for building up coverage on days when the sheer look is not enough.
For Extra Oily Skin
Lightful C + Coral Grass Tinted Cream SPF 30
Packed with Vitamin C, M.A.C's tinted moisturizer helps reduce the appearance of pores and discoloration. It goes on smooth for a natural finish, and is best for non-sensitive skin.
For Dry Skin
Complexion Rescue Tinted Moisturizer
Bare Minerals
nordstrom.com
$28.05
Although moisture should be a given in tinted moisturizers, that's not always the case. If you are looking for a hydrating product, grab this one from Bare Minerals. Mineral electrolytes work to nourish dry and thirsty skin and marine botanicals boost hydration. The hydrating gel cream also offers mineral-based SPF 30 sun protection.
Nude Finish Tinted Moisturizer
Bobbi Brown
neimanmarcus.com
$48.00
Bobbi Brown's lightweight formula will instantly hydrate your reptilian skin, all while giving you sheer coverage.
For a Blurred Finish
Naked Skin One & Done Hybrid Complexion Perfector
Urban Decay
urbandecay.com
$36.00
Urban Decay's answer to tinted moisturizers is this hybrid foundation. The Naked Skin One & Done Hybrid Complexion Perfector provides SPF protection and beneficial ingredients like collagen-stimulating peptides that promote youthful skin, and a formula that blurs imperfections for a flawless finish.
For Smoother Skin
Light Wonder Foundation
Charlotte Tilbury
nordstrom.com
$46.00
This is technically not a tinted moisturizer, but we're still going to count Charlotte Tilbury's foundation because of its lightweight feel. The product goes on effortlessly to minimize pores and reduce the appearance of wrinkles.
For a Universal Shade
Argan Daily Moisturizer Tinted SPF 47 Protect + Perfect
Josie Maran
sephora.com
$36.00
This product is the lightly tinted version of Josie Maran's bestselling daily moisturizer. The product only comes in one universal shade that has been proven to match a wide variety of skin colors. The star ingredient is squalene, a hydrocarbon that is found naturally in the skin, which works to keep the skin fresh and hydrated.
Fo On-The-Go
Sunshine Skin Tint SPF 30
Milk Makeup
sephora.com
$42.00
The rollerball provides easy application of the weightless and translucent formula. Just roll and blend, roll and blend.
For An All-In-One
Touche Eclat All-in-One Glow
A BB cream? Check. A CC cream? Check. A moisturizer? Check. YSL's all-in-one provides all the coverage and hydration you would ever need in one tube. You can use it daily as a tinted moisturizer or as part of a more layered foundation routine. The options are endless!
This content is created and maintained by a third party, and imported onto this page to help users provide their email addresses. You may be able to find more information about this and similar content at piano.io
Advertisement – Continue Reading Below