Facebook Oversight Board plans to take time over rulings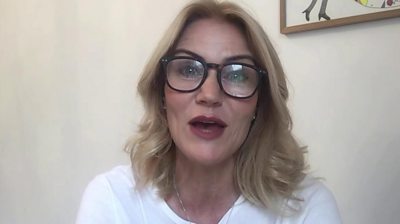 The former Danish Prime Minister Helle Thorning-Schmidt has revealed that Facebook's forthcoming "supreme court" will be up and running by mid-October.
That means it will be able to make decisions when people appeal against the deletion of their posts before and immediately after the the US Presidential election.
But Ms Thorning-Schmidt told the BBC not to expect any snap judgements from the Oversight Board.
.css-yidnqd-InlineLink:link{color:#3F3F42;}.css-yidnqd-InlineLink:visited{color:#696969;}.css-yidnqd-InlineLink:link,.css-yidnqd-InlineLink:visited{font-weight:bolder;border-bottom:1px solid #BABABA;-webkit-text-decoration:none;text-decoration:none;}.css-yidnqd-InlineLink:link:hover,.css-yidnqd-InlineLink:visited:hover,.css-yidnqd-InlineLink:link:focus,.css-yidnqd-InlineLink:visited:focus{border-bottom-color:currentcolor;border-bottom-width:2px;color:#B80000;}@supports (text-underline-offset:0.25em){.css-yidnqd-InlineLink:link,.css-yidnqd-InlineLink:visited{border-bottom:none;-webkit-text-decoration:underline #BABABA;text-decoration:underline #BABABA;-webkit-text-decoration-thickness:1px;text-decoration-thickness:1px;-webkit-text-decoration-skip-ink:none;text-decoration-skip-ink:none;text-underline-offset:0.25em;}.css-yidnqd-InlineLink:link:hover,.css-yidnqd-InlineLink:visited:hover,.css-yidnqd-InlineLink:link:focus,.css-yidnqd-InlineLink:visited:focus{-webkit-text-decoration-color:currentcolor;text-decoration-color:currentcolor;-webkit-text-decoration-thickness:2px;text-decoration-thickness:2px;color:#B80000;}}Read more