Student from Nigeria wins Sheetz award | Announcements – Indiana Gazette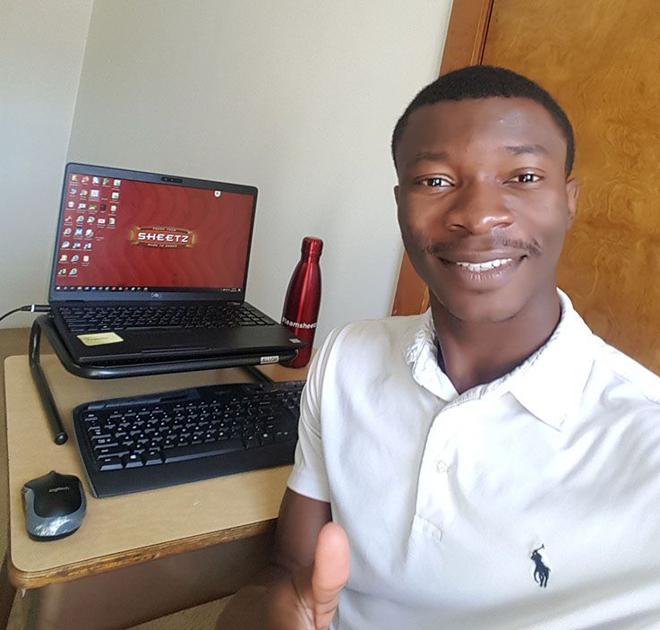 Aziegbemi "Okis" Okisamen, a graduate student in Indiana University of Pennsylvania's Applied Mathematics master's degree program, is the winner of the Sheetz Internz 2020 Greatest of All Team (GOAT) Internz Award.
This past summer, Okisamen interned at Sheetz Inc. as a people data scientist. He was supervised by Dr. Christoph Maier from IUP's Department of Mathematical and Computer Sciences.
The GOAT Award is issued to one intern per program that meets this criteria: goes above and beyond; demonstrates the values of the company; impeccable work ethic; provides a meaningful contribution to their internship and the company; contributes to all internship program activities; and is admired by peers and encourages others to participate in the program. Internship supervisors and peers contribute to the evaluation of interns for this recognition.
Okisamen is from Uromi, Edo State, Nigeria. He has a degree in industrial mathematics from Ambrose Alli University, Edo State, Nigeria. during which he interned as a field officer at the National Bureau of Statistics, Edo State, Nigeria.
Prior to attending IUP, Okisamen worked as a mathematics teacher at Command Day Secondary School, Abuja (Nigeria) and as a part-time further mathematics teacher at the Naowa College, Abuja. He also worked as a data entry USAID contractor at Chemonics International, Abuja.
Sheetz praised Okisamen for "Going Above and Beyond" by reaching out to the intern team and making continuous improvement suggestions.
In making the announcement, Sheetz officials commented that "Okis demonstrates core Sheetz DNA and values" by always being respectful in his engagements with the program leaders and his peers; by being pioneering in asking questions and learning new software independently; and by staying connected to his team and community through engagement in social activities like team lunches and Career Advice Day.
"Okis is as real as he is an honest and unique individual and is fearless to be himself. We could depend on Okis to attend every event and could always count on him to participate. He showed a high level of energy and enthusiasm for the program and for working at Sheetz, and he is eager to be successful with his projects," Sheetz officials said.
Stephanie Doliveira, Sheetz vice president of human resources, praised Okisamen for his "impeccable work ethic" and for his "self-motivation" and "great sense of independence."
Doliveira also recognized Okisamen for his ability to explain technical aspects of data science to the layperson, and his ability to help identify learning preferences of employees within the organization.
After he graduates from IUP's program, Okisamen plans to pursue a PhD in data science.