30+ Books to Educate Kids and Teens about Race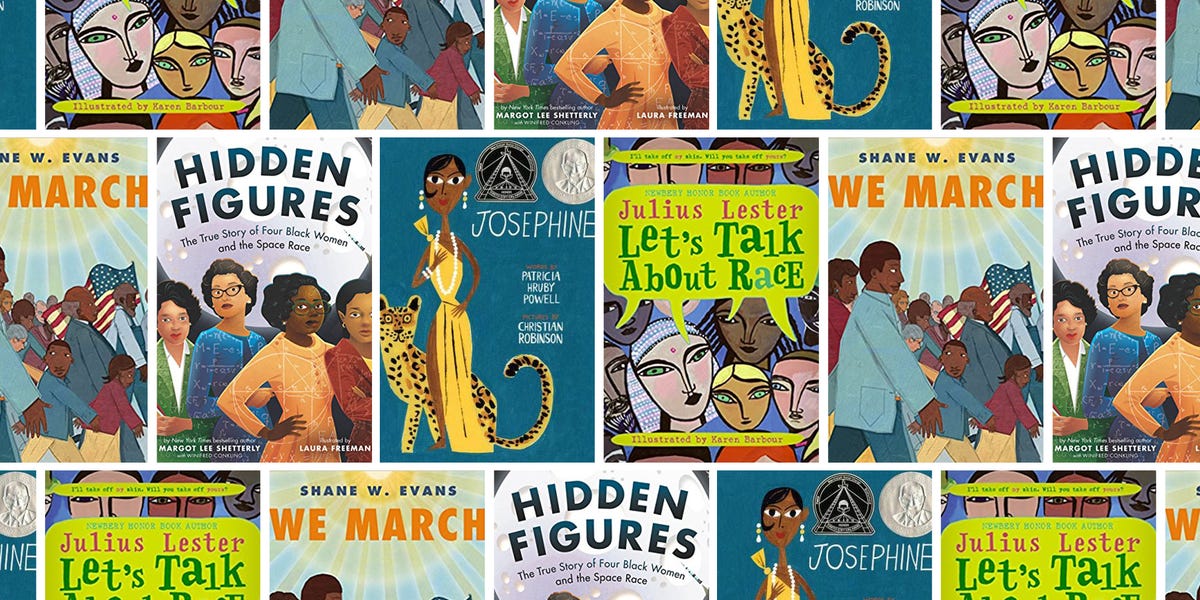 Speaking to children and teens about diversity might seem daunting, but it is more important than ever. Studies from Harvard University suggest that children as young as three years old, when exposed to racism and prejudice, tended to embrace and accept it, even though they might not entirely understand what they were feeling.
If you're struggling with how to open up about these challenging subjects or clarify confusing times for the young people in your life, books are a great way to begin to tackle tough topics and expose children to different narratives. With that in mind, we've put together a list of stories for all ages that not only discuss race, but also celebrate diversity and the differences that make us special, to help begin these crucial conversations. From babies to young adults, try gifting your child one of these important narratives.
AntiRacist Baby
Studies have found it is important for even babies to begin to learn about race and justice. Antiracist Baby teaches young readers (and their parents) nine steps to help create a more equitable world.
A is for Activist
Not your typical ABC board book. Teach your toddler the alphabet while also promoting messages of racial justice and the power of activism. The book uses rhyming and colorful illustration to delight young readers and introduces important concepts like community and equality.
Counting on Community
Another board book by writer and illustrator Innosanto Nagara, Counting on Community is a great way to teach about the impact of community, diversity, and togetherness, while also teaching toddlers about numbers.
The Snowy Day
Ingram Book & Distributor
$7.92
This Caldecott Medal-winning classic follows a little boy on a very snowy day in the city. Written in 1963, this unique and beautiful story was the first full-color picture book to feature a young African American hero.
We're Different, We're the Same
In this sweet picture book, the cast of Sesame Street teaches that our differences are what make us special, but that, deep down, we are very similar. Elmo and his Muppet friends teach toddlers and adults alike that differences are to be celebrated.
Last Stop on Market Street
Matt De La Peña's award winning children's book celebrates the relationship between a grandparent and grandchild, a bustling city, and economic and racial diversity. This heartwarming story is sure to become a family favorite.
All Are Welcome
This lively picture book celebrates diversity in a classroom by walking readers through a day at school. Students of all races and religions arrive, many wearing hijabs, yarmulkes, and patkas. These kids learn to celebrate each other's differences and play alongside one another.
Let's Talk About Race
Author Julius Lester shares his story while also talking about what makes us special. By celebrating our heritage and diversity, Lester makes race a part of the conversation, but not the whole story.
I Am Enough
This beautifully illustrated book implores us to be kind to ourselves and to one another. The book, written in the style of a poem, asks us to respect one another and shares motivating positive messages: "We are more than enough. We just need to believe it."
Hidden Figures
Inspired by the best-selling book and acclaimed movie, this picture book tells the true story of the four African American women imperative to the space race. The book illustrates the obstacles both African Americans and women have had to overcome, and how important it is to have diverse voices present.
The Other Side
This classic children's book gives a historical perspective on race. In the book, two little girls, one black and one white, are separated by their town's segregation laws. However, the pair create a friendship that defies their town's arcane rules and embraces difference.
The Story Of Ruby Bridges
This picture book tells the story of Ruby Bridges, the first African American child to attend and desegregate the all-white William Frantz Elementary School in Louisiana during the New Orleans school desegregation crisis. The book illustrates her bravery and the incredible impact a young person can make.
We March
We March takes a look back at the historic 1963 March on Washington. Award-winning author and illustrator Shane W. Evans depicts the march, Martin Luther King, Jr.'s "I Have a Dream" speech, and the fight for racial equality with stunning poise and detail.
Let It Shine: Stories of Black Women Freedom Fighters
Let It Shine celebrates the Black women who fought hard for equality and a better life for all people. Spanning centuries and generations, young readers will learn about icons from Harriet Tubman to Shirley Chisholm and the incredible impact women can make on history.
We've Got a Job: The 1963 Birmingham Children's March
We've Got a Job tells the lesser-known story of the 1963 Birmingham Children's March, where 4,000 Black elementary, middle, and high school students voluntarily went to jail in order to help desegregate one of the most divided cities in the nation.
Esperanza Rising
This beloved novel follows a Mexican family's escape to California, and the poverty and struggle that ensue as a part of their journey. A powerful story about immigration and facing adversity, Esperanza Rising will truly inspire young readers.
Rosa
Few figures are as iconic as Rosa Parks, famed civil rights activist. With lyrical text and striking images, Rosa shares her story in a unique light that will still be accessible to young readers.
Fred Korematsu Speaks Up
This book tells the inspiring true story of Fred Korematsu, an American citizen who refused to go to the World War II-era Japanese internment camps. Korematsu spent his life fighting against discrimination, and helped make the world a better place.
The Crossover
A New York Times bestseller, this bold novel is written in free-verse poetry and rap. It follows African-American, basketball-playing twin brothers who begin to grapple with their own lives as they drift apart.
Josephine: The Dazzling Life of Josephine Baker
Baker was both a passionate performer and civil right's activist. The book, written as a free verse poem, tells Baker's story and her ascent from a poor childhood in St. Louis to some of the world's largest stages, all while confronting racism and sexism.
The Hate U Give
A stunning fictional adaptation of current events, this best-selling novel follows sixteen-year-old Starr Carter, who witnesses her unarmed best friend get killed at the hands of a police officer. When the story becomes national news, Starr grapples with her own choices and the effect they will have on her community.
This Is What I Know About Art
This young adult book demonstrates how protest and art are inextricably intertwined. In this personal story, art curator and writer Kimberly Drew explains that the art world can and should have a place for everyone.
March: Book One
Written by American civil rights icon John Lewis, March tells the story of Lewis' life—and, by extension, the Civil Rights Movement—in the form of a graphic novel.
The Rock and the River
Taking place in 1968 Chicago, thirteen-year-old Sam struggles with being the son of a well-known civil rights activist. Throughout the book, Sam grapples with his own identity, and how to best use his voice in a tale that will resonate for young readers.
The Absolutely True Diary of a Part-Time Indian
The National Book Award winner follows Junior, a Native American teen who leaves his reservation to attend an all-white farm town high school. Based on the author's own experiences, this novel depicts the struggle of being torn between two very different worlds.
All American Boys
Told in alternating perspectives between a white basketball player (Quinn) and an African American ROTC student (Rashad), a town grapples with the aftermath of Rashad's beating at the hands of a white police officer.
The Bluest Eye
Morrison's novels are acclaimed both for their prose and for their thorough examination of race relations in this country. The Bluest Eye is a sharp portrayal of our culture's fixation on beauty, and the consequences of trying to conform.
This content is created and maintained by a third party, and imported onto this page to help users provide their email addresses. You may be able to find more information about this and similar content at piano.io