25 Adult Board Games to Fill Your Now-Very-Free Evenings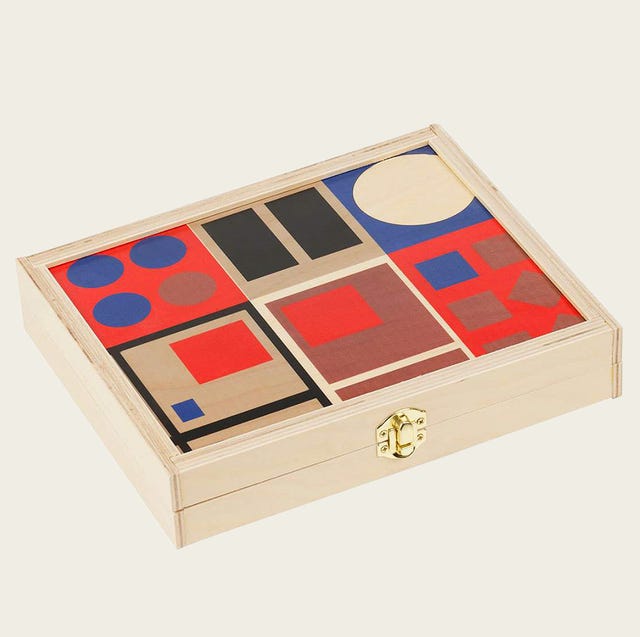 Courtesy
Thanks to the current state of *gestures wildly* everything, I'm guessing your evenings are looking a lot less busy than normal. If you've already exhausted your TV binge list and finished that one puzzle sitting in your closet, it's time to turn to board games. More specifically, these 25 actually-fun games that even adults will enjoy.
Advertisement – Continue Reading Below
1
For Creative Minds
Codenames
Codenames looks like a word game, but it's really a test of creativity, teamwork, and stealthy strategy.
2
For Adventurers
Catan Board Game
A deceptively simple game, Catan will turn you into a competitive settler out to secure resources and build roads. Remember: There's only one winner, but you have to make deals with your friends to get ahead.
3
For Only Two Players
Alexander Travel Backgammon Game Set
Wolfum
neimanmarcus.com
$42.00
One of the oldest boardgames in history, all you need for Backgammon is two players, a board, some checkers, and endless time on your hands.
4
For Word Lovers
Bananagrams Game
Bananagrams
target.com
$14.99
If you ever thought, "How can I play next-level Scrabble?" then you'll love Bananagrams.
5
If You Want to Color
Cartographers: A Roll Player Tale
Thunderworks Games
amazon.com
$21.43
The best part about Cartographers? You get to play with colored pencils as you work to fill in your game board Tetris-style.
6
If You've Got the Travel Bug
Ticket To Ride Board Game
Days of Wonder
target.com
$44.99
Stuck inside? Ticket to Ride lets you pretend you're traversing the country as you connect cities with different train routes.
7
For the Internet Obsessed
What Do You Meme? Adult Party Card Game
What Do You Meme?
target.com
$29.99
We know you've been endlessly scrolling through quarantine memes. Put that knowledge to good use with this Cards Against Humanity-esque party game that matches captions to different memes.
8
If You Love Scary Movies
Betrayal at House on the Hill
Avalon Hill
walmart.com
$48.58
Not for the faint of heart, players need to survive moving through a haunted house in this game that includes ghosts, mummies, monsters, and betrayal. But also, it's super fun.
9
If You Love Strategy
Risk Board Game
If you're in need of a new stay-at-home project, Risk, which invites you to conquer territories around the world, can take hours or even days to finish.
10
If You're Good at Lying
The Resistance: Avalon Social Deduction Game
Will you end up in a screaming match at some point during this game where you don't know who's good and who's evil? Is that what makes it one of the best games ever? Yes and yes.
11
For the Foodies
Sushi Go
Build the best sushi meal to win the game. Order the best takeout sushi to win at life.
12
For a Fast-Paced Game
Scattergories Game
Scattergories
target.com
$15.99
This fast-thinking game requires you to recall items (all starting with the same letter!) in different categories. Make yours unique though because you'll lose points for having the same answers as your friends.
13
For Those Looking to Save the Planet
Pandemic Board Game
Asmodee
target.com
$35.99
While this game might be a little too on the nose for the moment, here players take on the role of specialists in order to discover the cures for diseases ravaging the world.
14
For Mystery Lovers
Clue Game
Everyone knows how to play the classic game Clue, but it'll still keep you guessing until the very end.
15
For the Art History Major
Azul Board Game
Plan B Games
target.com
$28.99
Channel your inner artisan as you use tiles to decorate a palace wall, all while gaining points, in this beautiful strategy game.
16
For Music Lovers
Spontuneous
Spontuneous
amazon.com
$29.99
17
Teamwork Makes the Dream Work
Taboo Game
Taboo Game
target.com
$13.99
The goal: Get your team to guess the right word. The catch: You can't use any Taboo words in your clues. Good luck!
18
For the GoT Stans
Monopoly Game of Thrones Board Game
Monopoly
walmart.com
$26.00
Use this extra time to both binge-watch Game of Thrones and play a Game of Thrones-themed version of the classic Monopoly.
19
For a Great Party Game
Monikers: Classics
Monikers
amazon.com
$22.00
It's easy, it's interactive, it's sometimes inappropriate. It's basically Charades with a few twists.
20
For the Whole Family
Dixit Board Game
Libellud
target.com
$28.49
If you have kids around the house, try this storytelling card game that's easy to learn but still plenty engaging.
21
The Ultimate Classic
Mancala
Cardinal
target.com
$9.99
Another oldie but a goodie, Mancala has a simple objective: Empty all your cups before your opponent does.
22
When You Want to Go Out, But Have to Stay In
The Game Of Life
Pretend life is normal with this classic game that lets you have a career, a spouse, and a kid, all without leaving your apartment.
23
For the Conversationalists
We're Not Really Strangers Card Game
Urban Outfitters
urbanoutfitters.com
$30.00
Pour a glass of wine, and get in your feelings. When this card game is over, you'll be feeling extra connected to the other players.
24
For the Leos
Cranium Game
Hasbro Gaming
amazon.com
$14.99
You'll sketch, you'll act, you'll solve puzzles. As the box says, everyone shines.
25
For the Jewelry Lovers
Splendor Board Game
Space Cowboys
target.com
$35.99
Congrats! You're now a gem merchant collecting cards and points in this easy-to-learn game you'll be willing to play over and over.
Advertisement – Continue Reading Below