Five Things We Noticed At Design Fashion Africa With Heineken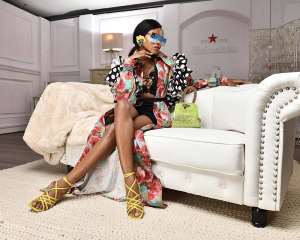 On Saturday, the 5th of October, 2019, Design Fashion Africa wrapped up its first event in Lagos with a live fashion show, and it is very safe to call it a huge success. From the buzz around the announcement to the celebrity crowd at the grand finale, held in partnership with Heineken, pulled, everything about the initiative oozed excitement.
Six of the finalists selected at the DFA boot camp showcased on the runway alongside a number of well-established fashion designers from across Africa. There were also music performances from top rated artistes like Burna Boy and Tiwa Savage.
Amidst all the fanfare, here are four things we noticed:
DFA's New Fashion Designers Are Great Models Too: For a split second, we couldn't tell if they were the designers or the models. Each designer had to step out with their models to salute the guests and boy, did they all own the runway. The female designers didn't put a foot wrong, and their male counterparts had their steps all measured. It was a joy to watch.
Mai Atafo Should Be Involved In More Events: Mai was the fashion resource for the night, and he did a brilliant job; so brilliant, that some of us started to ask ourselves why he does host more gigs. Maybe because he prefers to cloth the show hosts than be them, but he sure knows his stuff and fits the role, just like his suits.
Tiwa Savage and Burna Boy Proved Music And Fashion Are A Fine Blend: When we heard the grand finale was going to be a concert like live fashion show, we weren't sure what to expect. Anyone who knows Lagos knows music is life here and so is fashion, so we guessed it would be exciting, but what we just couldn't guess was how it would play out. We were excited to see Tiwa and Burna not only perform but also blend in their cool dance moves.
Nigeria Can Earn A Lot From Fashion: Asides the fact that Design Fashion Africa exposed the huge amount of fashion design talents we have in Nigeria, all of whom are still untapped, more than half the guests at the show were wearing outfits and accessories made by African designers and it was a joy to behold. The room was filled with bright colours and beautiful patterns that told different stories and we couldn't help but think about all the revenue this could make for Nigeria and Africa.
Fashion And Heineken Is Always A Good Idea: Fashion events in Nigeria are incomplete without the most international premium beer brand, Heineken. With its strides in African fashion, it didn't come as a shock to see the brand pull different tricks from its hat at the event.
With a platform such as Design Fashion Africa's, we are quite hopeful that more African designers get the opportunity to exhibit their talents and show off what they have in store for the world!