First Lady of Lagos State, Dr Mrs Ibijoke Sanwo-Olu, Toke Makinwa, Idia Aisien, Kunbi Oyelese, Others, Grace The DFA Carpet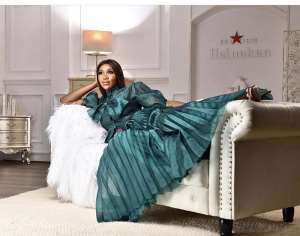 Social media is buzzing, all thanks to photos of top celebrities arriving Eko Hotel, Lagos for Design Fashion Africa. First Lady of Lagos State, Dr Mrs Ibijoke Sanwo-Olu, Toke Makinwa, Idia Aisien, Kunbi Oyelese, and other fashion lovers, have become the first set of celebrities to start a frenzy with photos showing them all stunning in very beautiful pieces from different designers.
Eko Hotel is a beehive as everyone is there to witness the introduction of new fashion designers to the runway, but before these designers take the stage with their models, the celebs are having their own show on the red carpet.
These young budding designers, who recently completed an intense journey through the Design Fashion Africa initiative, will be showcasing alongside other big Africa fashion designers.
The Design Fashion Africa showcase, in partnership with international premium brand, Heineken, is the final piece of the puzzle, as the initiative looks to expose more upcoming fashion designers to a world of opportunities and help them commercialize their talent.
Already, the program had run an online challenge offering entrants an opportunity to learn from some of the very best in the fashion business and even showcase to a wide range of guests who were at the DFA Marketplace.
While everyone isn't talking about the 42nd Miss Nigeria, Chidinma Aaron's showing at the red carpet, probably because she's a beauty queen and we all expect her to come with fire, it is Idia and Toke who have stolen the show with their looks.
Toke on the other hand appeared in a very elaborate custom made dress, by Weizdhurm Franklyn – all for that killer look, which by the comments on Twitter, she is serving.
Some other celebrities arriving are in some outfits they picked from some of the upcoming designers at the marketplace, and this speaks to what the DFA team hoped to achieve, by giving these young talents this platform to exhibit their skills.