President Of Coalition Of Nigeria Entertainers Clash With Showbiz Entrepreneur At 'Who Is Who' Awards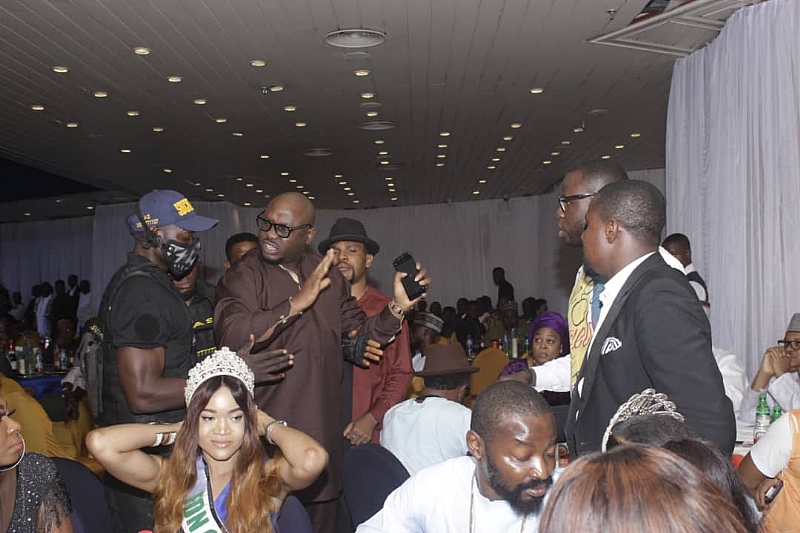 The Who is Who Award ceremony held over the weekend at Transcorp Hilton Hotel was enveloped in a little distraction as the National President of the Coalition of Nigeria Entertainers, Amb. Kenule Nwiye confronted the MD/CEO Face of Democracy Organisation for allegedly attacking his person and possibly the campaign on the marginalization of Southsouth and southeast entertainers in the social responsibility received from a certain Government Agency.
Amb. Kenule was aversed with the pronouncements made by the FDN boss, labelling his campaign as baseless, lacking evidence of proof.
He confronted Alexandra Ajagbonna also known as King Fajag on his table at the event, and when Fajag reacted though still seated with the FDN Queens, Kenule intensified his anger and acted offensively, before security agent intervened to calm the situation.
While the CNE president fuming, Fajag was unperturbed but was prepared for worse. As the crowd was getting distracted, security agents intervened by ensuring that Amb. Kenule was carefully attended to, so as to allow the award occasion continue to fruition. The unpleasant situation arrested the attention of the guests at the event as the echoing voices were louder than the progressing sounds from the highly attended award ceremony.
Few days ago Kenule held a press conference in Abuja to caution the marginalization of Southsouth and southeast Entertainers, stressing that they have been deprived of the supports received from FIRS and other agencies, but Fajag, had responded to the campaign, stating that Kenule's plight was baseless as he made reference to Entertainers like AY, Akpororo and a host of others which the agency had supported.