Entertainment Stakeholder Reacts, Says Kenule Attack On Firs Boss Isbaseless, Lacks Evidence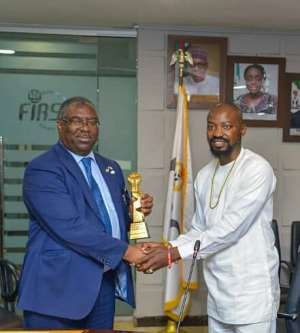 One of the stakeholders in the Entertainment Industry and President Face of Democracy Organisation, King Fajag has asked the National President of the Coalition of Nigeria Entertainers, to produce evidence of his baseless argument and allegations on the marginalized support of Southsouth and Southeast entertainers by the FIRS under Dr. Babatunde Fowler.
He stated that the Federal Inland revenue Service was established to generate revenue and not to support Entertainers, but however, the agency has been socially responsible enough to support and promote the industry in the little ways that they can, and instead of appreciation, they are been attacked for sentiments and bias by a selected group headed by Amb. Kenule.
King Fajag stated that FIRS has never rejected the proposed support of Southsouth and southeast Entertainers, except for those that probably did not come at the right or having the basic requirements for sponsorships or support.
He gave examples with names like popular Entertainment celebrities like Comedians like Alibaba, Akpororo, Okey Bakassi, Buchi, Shortcut, Funny Bone, Wailmouth, MC Galaxy, Faze, MC Bob, Bovi, Chuck D General, Acapela, Pencil, MC Shakara, Emaka Smith, Ajebo, Yaw, Mc Amana, and alot more who are from the south South and southeast region, yet they have continued to enjoy the support of FIRS in their projects and events.
King Fajag noted that Amb. Kenule, the National President of Coalition of Nigeria Entertainers was only making empty noise, in saying that Dr. Fowler has not supported the Southsouth and southeast regions. He stressed that even the support from FIRS was actually contribution for event tickets and tables for their staff and in the intending capacity of Dr. Fowler to improve the industry.
He concluded by asking the Amb. Kenule to stand down his baseless attention seeking approach, because it was indeed unnecessary and in the wrong direction. He narrated that there has never been a time that Amb. Kenule personally seeked the support of FIRS and his proposal was declined or not supported.
48hours ago, Amb. Kenule held a press conference in Abuja claiming the FIRS, under Dr. Fowler is bias.