Project Runway Season 17, Episode 9 Recap: Like a Rhinestone Jockstrap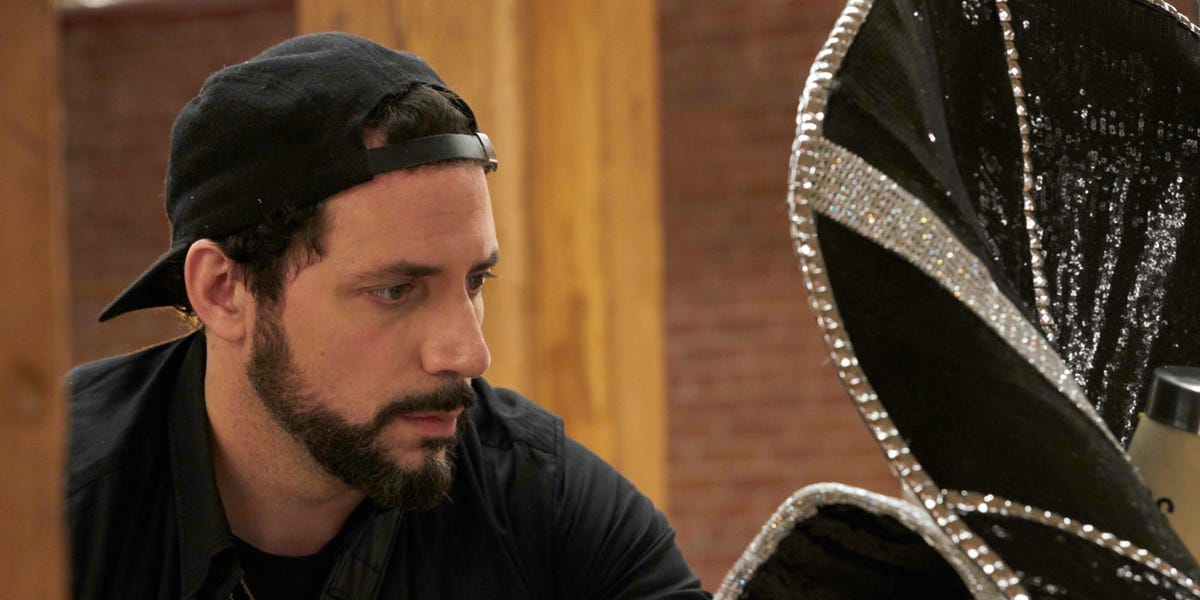 This week's episode is a sparkly bit of marketing synergy in which the designers have to come up with an Elton John lewk. You know Elton John? The guy Taron Egerton plays in the upcoming movie Rocket Man. A movie that is coming to theaters very soon, as luck would have it. What are the odds?!
Does this mean that Taron Egerton will be a guest judge?! Might be be shirtless?!! Actually no. We not doing that much synergy. Taron shows up in a video message like Tyra Mail, wishes the designers luck, and then throws it to the film's costume designer Julian Day. Julian is actually in the studio and he is wearing a huge hat and while I will miss seeing Taron, I am also very excited about Julian invoking some high camp into the proceedings.
The challenge
Karlie tells the designers to channel Elton in the 70s and 80s to create a new looks. I haven't seen Rocket Man, so I can't say for sure what kind of shenanigans he got up to in the 70s, but I feel if I were given this challenge I'd head to Studio 54, unbutton my shirt to the navel, and let the night take me away. So, we'll see if someone takes that route.
This week, the designers are using male models and will also be paired with one of the eliminated contestants as a helper. The latter part is like running into a couple of your exes after a few cocktails at Studio 54. This is a situation ripe for drama. Or making out. Or both, actually.
Garo picks Sonia; Jamall picks Rakesh; Bishme picks Afa; Venny chooses Nadine who monologues that she isn't thrilled to be back. Classic. Lela picks Renee; Hester picks Kovid, which is a perfect pair; Tessa picks Frankie, which leaves Sebastian and Cavanaugh.
Sebastian doesn't really know anything about Elton John but Cavanaugh has dressed a lot of country artists and some of her designs have ended up at Elton John's Oscars party, which is a delightfully unspecific but effective flex. Sebastian being totally unfamiliar with the cultural foundation of the challenge and yet knocking it out of the park has become a running theme. I would actually love a spinoff of Sebastian wandering through the world being flabbergasted by things.
Venny monologues that he picked Nadine because she's very good at tailoring but he doesn't want a lot of opinions along the way. This is definitely not a scenario that has blown up in any past reality show contestants' faces.
The workroom
Sebastian is absolutely in love with the concept of having male models. Not for fashion reason, but for thirst reasons. Not mad, tbh. Would also watch a spinoff of Sebastian being struck dumb by the concept of hotness in his proximity.
Garo has, apparently, done work for Nicki Minaj, Beyonce and Madonna, so, uh, obviously, everyone needs to bow down to him. And yet Sonia has a lot of opinions of her own about how things are going, which rubs him the wrong way. He talks about it a lot and one wonders why he picked her if they don't get along that well.
The runway
Bishme, Jamall, and Garo are in the top three. Bishme comes up with baby blue stretched denim bell bottom jumpsuit with silver straps and a silver belt line, a coat with fur sleeves of many colors, and an appliquéd shirt with a woman in a red bikini. It's exquisitely tailored and very tight and I am not complaining!
Jamall's is sort of a zebra gimp suit with feather shoulders and a giant zebra skirt. It's a look with a fantastic fashion sensibility and a clear concept, which the judge's love. Garo's concert background comes through as his model truly looks like a rocket god. Massive high collar, moon boots, a vision in silver, white, and black. And a bedazzled jockstrap! The model is truly gigantic and the ensemble looks like something that you should worship.
Garo eventually takes him the win and it's well-deserved. This look is a perfect execution of the challenge. That said, I want to buy Bishme's jumpsuit immediately.
In the bottom we find, Tessa, which is a bit of a surprise. Tessa presents bronze and gold striped bell bottoms and a poncho-style coat. This looks too much like dayware to the judges. It has a very "extra in a Woodstock film" vibe. Brandon thinks Tessa is playing it too safe.
Also in the bottom: Venny, who has decided to put a train on the ends of a pair of bell bottoms. This is truly inexplicable. His designs is a sort of captain's jacket with feather shoulder pads. A silver bedazzled captain's hat and a sleeveless silver shirt with a heart cut out of the back. The judges hate it. The train looks like toilet paper stuck to his shoe, Brandon says. The judges think that it looks cheap. The material is not right and the tailoring is off. Nina, reliably, questions his taste.
Finally, Lela joins the other two. Her look, a long blue coat with a fringe and a chap-pant with hip cutouts. The judges don't love the silhouette. Nina thinks it looks like a bad costume. Karlie notices that there's a pin holding part of the pants up; it's not finished.
Ultimately, Lela is cut, which is a surprise because Venny's pant-leg trains are going to give me nightmares.
Who I'm rooting for this week
Bishme, returning fave Afa, and Sir Elton John, of course.