4 Steps to Follow If You Want Thicker Hair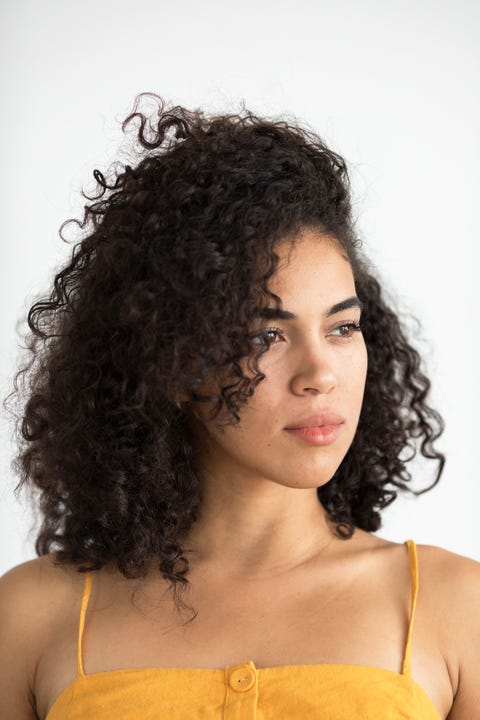 Lisette PooleGetty Images
Thick hair is the total dream, right? That said, hormonal changes, aging, and dyeing can damage and weaken your hair, causing it to thin out. Whether you're worried about your hair thinning or just dreaming of thicker, healthier strands, there are thankfully so many options available to help. We've pulled together some recommendations from hair stylists, as well as a dermatologist and trichologist (a derm specialized in scalp/hair health) who will have you showing off a full, thick head of hair in no time.
Eat gummies, vitamins and supplements.
Say what you will, I believe in my heart that vitamins are the easiest and best thing you can do for your hair. After taking B-Complex gummy vitamins for only three weeks I started getting compliments on my shiny hair. I really do feel like it helped it grow out stronger and thicker as well.
Celebrity stylist Dimitri Giannetos, who works with Meghan Trainor and Maria Menounos, totally agrees. "If you're over your thin hair, the solution is very simple: Try the Maxi-Hair vitamins from Whole Foods," says Giannetos. These vitamins are biotin-rich and have lots of B vitamins as well.
While biotin is found in a lot of products, make sure that you're not overdoing it. Trichologist Penny James, of Penny James Salon, and Dr. Nicole Rogers, a dermatologist who focuses on hair restoration, caution that high levels of biotin have been shown to interfere with blood work.
Rogers recommends Nutrafol for women who are worried about thinning hair. While gummies seemed to work for me, she cautions you to be careful about buying into over-the-counter supplements that boast hair growth.
Do a hair mask.
Consider this the perfect excuse to treat yourself to an at-home spa night. Hair masks definitely strengthen your hair by nourishing it with moisture. Reyad Fritas, of the prestigious Suite Reyad in New York City, recommends Virtue hair masks.
"Virtue Masks have pure human keratin powder," says Reyad. "They restore your hair and return it to 99 percent of its thickness."
The keratin in the mask is supposedly identical to the keratin naturally produced by our hair, skin and nails. This results in soft, moisturized locks that look healthy and feel thicker than ever.
Get regular hair cuts.
Every stylist made it a point to reiterate the importance of regular hair cuts. You don't have to make a drastic change every time you get a cut — in fact, Giannetos recommends just "half an inch every six weeks" for optimum growth.
Focus on scalp health.

James made sure to emphasize the importance of scalp health when it comes to achieving a thick, gleaming head of hair.
"If the scalp is really healthy, clean, and getting vitamins and minerals, it will keep the follicles super healthy," said James. "The hair that's growing will be really strong and healthy."
James recommends a line of hair care products that are formulated for scalp health and sold exclusively at her salon. The Active Clinic Cream is formulated for use on scalps to stimulate blood flow and increase growth.
Another product that focuses heavily on scalp health is the Act + Acre Cold Processed Scalp Detox, which had a complementary shampoo and conditioner. The brand's founder, Helen Reavey, explains that the scalp detox removes product build-up and delivers nutrients to the hair follicle. She also says that it "promotes blood circulation supporting healthy hair growth."
Shop More Hair Thickening Products
---