Comedian, Teju Babyface Shares New Family Photos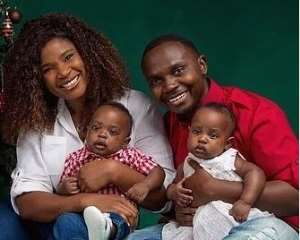 Nigerian Comedian Gbadewonuola Olateju Oyelakin, known professionally as Teju Babyface Oyelakin shares cute photo of his wife Tobi and his set of twins as they were all smiles.
Since welcoming his twins last year 2018, the comedian and public speaker has been on a silent mode as he tries to support the wife in caring for the baby.
It has not been easy for the couple who for some years had been praying for the fruit of the womb until God decided to put smiles on their faces with twins.
Teju has been shuttling between work and baby sitting and it has been fun for him with his wife being fortunate to have someone like him.