Cut your Pants to Shreds, don't Hang Them Close to Windows…Actress, Mosun Filani Warns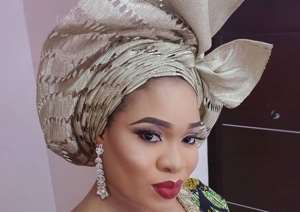 Nollywood actress, Mosun Filani, is not silent at the high rate of missing pants for allege use for ritual sake as the case is now on the increase.
The actress has called on ladies to use peg when hanging their pants and it should be spread in the bathroom away from the windows.
She warned that disposing of old pant should be well cut to pieces before it is disposed for safety sake.
"if you are safe and your pant is not safe, my sister you are not safe o'. 'Please get peg hangers, dry your pants in your bathroom (not close to your windows abeg o). Don't just dispose your old pants anyhow, cut them into shreds (focus on the underlay part), or better still burn them out completely. 2019 yii aiye oni ka pata wa Lo o" she said.