Comedian, Seyi Law Celebrates Mother 73rd Birthday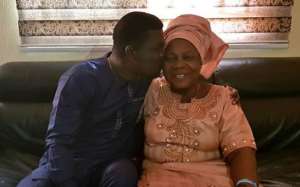 Comedian, Seyi Law, was filled with joy not just having a compete family to celebrate the New Year with him but for the life of his mother.
The comedian was all joyful as his mother turned 73 years of age and being surrounded by all her grandchildren.
The joy of every parent is to be alive and see their grandchildren and even their great grandchildren and for Seyi's mother, it's a part of her lie she has completed and still counting.